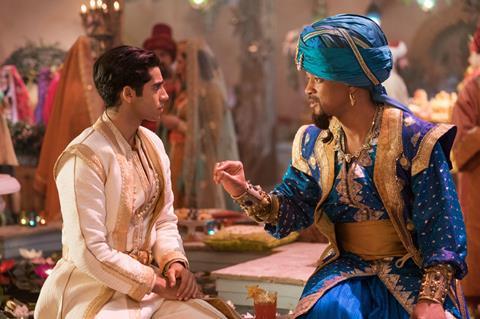 Disney's Aladdin will cross $1bn at the global box office on Friday (26), becoming the studio's third release of 2019 to do so, and the first film in the careers of British director Guy Ritchie and star Will Smith to accomplish the feat.
The tentpole had reached $999.3m through Thursday. It joins a Disney-branded $1bn live-action club that includes Beauty And The Beast, Alice In Wonderland, and the second and fourth Pirates Of The Caribbean films.
Until now, Ritchie's highest-grossing film was 2011 release Sherlock Holmes: A Game Of Shadows on $535.7m. Even adjusted for inflation, Aladdin is by far the filmmaker's best result at the global box office.
For Smith, despite his many box offoice hits, Aladdin also marks a new high as the stand-alone lead in a film in nominal terms. The star's previous highest earner was 1996 hit Independence Day on $817.4m, which trumps Aladdin when adjusted for inflation to $1.337bn – a rough calculation that does not take into account individual territory currency fluctuations.
Aladdin becomes the third film released by Disney to cross $1bn this year after Avengers: Endgame on $2.791bn and Captain Marvel on $1.128bn. There will be more for the studio this year: The Lion King stands at $713.7m and is expected to cross the milestone shortly, while Frozen 2 and Star Wars: The Rise Of Skywalker are waiting in the wings.
Aladdin became the second film to cross $1bn at the global box office this week after Sony's Spider-Man: Far From Home crossed the barrier on Thursday.
The tentpole stands at $656.2m internationally with Japan the lead market on $98.8m since the film opened there on June 7. South Korea has generated $81.4m and Aladdin ranks as the fourth highest Western release of all time. China and the UK have delivered $53.3m and $45.3m, respectively. The North American tally is $343.1m.