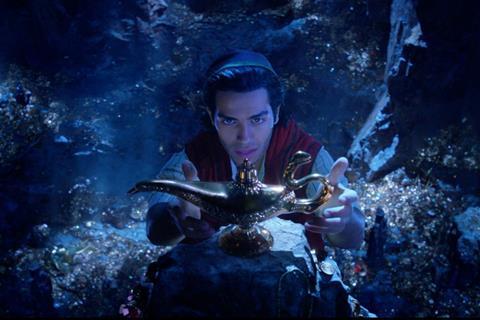 JUNE 3 UPDATE: Disney's magic carpet ride continued to soar in 2019 as the studio reported it crossed $5bn at the global box office, laying the foundations for an unprecedented $10bn target by the end of the year.
The studio has reached $5.147bn, of which $3.509bn comes from the international arena, and $1.638bn from North America.
Meanwhile Godzilla II: King Of The Monsters roared in China and Japan as it arrived with a $179m global bow, ruling global and international weekend box office.
WALT DISNEY STUDIOS MOTION PICTURES INTERNATIONAL
UPDATED: With less than half the year gone, Aladdin still in the early stages, and a runway packed with tentpoles for the rest of the year, the studio is on track for a record annual haul. Still to come for Disney are Toy Story 4 on June 21, The Lion King on July 19, Frozen 2 on November 22, Maleficent: Mistress Of Evil on October 18, and trilogy finale Star Wars: The Rise Of Skywalker on December 20, which is sure to generate high numbers in the final 10 days of the year. Fox's Dark Phoenix opens this week and its gross will contribute to that final Disney tally.
Aladdin flew high again, adding $123.8m worldwide for a $449.3m early running total that overtook the final grosses of Dumbo ($349.9m) and Mary Poppins Returns ($349.5m). Will Smith and Mena Massoud star in the live-action fantasy adventure, which held on to number one in 32 markets, and added $81.5m internationally for $264.3m. By region, Aladdin dropped a mere 26% in Latin America where it remained number one in every market, and dropped 34% in Europe, and 35% in Asia-Pacific. China remains the lead market on $39.8m, followed by the UK on $25m, Mexico on $19.4m, South Korea on $15.2m, and Italy on $12.9m.
Marvel Studios' Avengers: Endgame added $16.4m to climb to $2.713bn worldwide, with China far and away the lead market on $629m, followed by the UK on $112.7m, South Korea on $104.5m, Brazil on $83.9m, and Mexico on $76.2m. The international running total stands at $1.898bn.
WARNER BROS PICTURES INTERNATIONAL
UPDATED: Godzilla II: King Of The Monsters went on a modest rampage across most of the world as it delivered an estimated $178m worldwide, scoring $70.5m in the highest individual market of China, and arriving in Japan on $8.4m. The 2014 Godzilla finished on $328.4m internationally, and $529.1m worldwide.
International markets generated $130m mostly through Warner Bros. In China, Legendary East distributes the monster mash-up and it delivered an estimated RMB 487m to track on par with Kong: Skull Island and overtake other comps such as Godzilla by 116%, The Meg by 40%, San Andreas by 52%, and Rampage by 39%. Toho released Godzilla II in Japan, where ¥918.9m beat all of the aforementioned comps. Across the Asia region, it opened number one in seven markets and beat opening weekend comps San Andreas and The Meg.
Mexico delivered $4.7m (Ps 89.8m) for second place, while the UK generated a disappointing $4.4m (£3.5m) after a non-traditional Wednesday debut, also for second place. Taiwan delivered $4.2m (NT$130.6m) as the film opened at number one and surpassed the opening weekend of Godzilla by 29%, Indonesia's $3.5m debut (IDR 50.1bn) surpassed that of Godzilla by 87%, and France delivered $2.5m (€2.3m) for second place. Elsewhere, Godzilla II opened in Russia in third place on $2.5m (Rub 160m), India at number one on $2.6m (Rup 183.7m), Thailand at number one on $2.3m (Baht 74.6m), South Korea at number three on $2.2m (Won 2.6bn), and Malaysia at number one on $2.2m (MYR 9.2m). Spain will be the last key market to open on June 21.
Pokemon Detective Pikachu grossed an additional $15.4m from 73 markets to reach $262.6m, and $393.5m worldwide, fuelled by a $3.7m (RMB 25.8m) fourth session in China that elevated the tally there to $90.9m (RMB 619.9m). Japan has generated $23.9m (¥2.6bn) after five weekends, and the UK $16.2m (£12.5m) after four.
PARAMOUNT PICTURES INTERNATIONAL
Elton John biopic Rocketman grossed $19.2m from 40 markets to reach an early $31.2m, with almost half of that coming from the UK after two weekends, where $3.2m in third place boosted the running total to $15.3m. The film opened in second place in Australia on $3.9m, third in France on $1.8m, fourth in Germany on $1.5m, third in Brazil on $1.1m, and first in New Zealand on $911,000. Elsewhere it arrived in fourth place in Italy on $838,000, fourth in Mexico on $745,000, and third in Spain on $519,000.
This week brings debuts in South Korea and Russia, where local distributor Central Partnership drew the ire of John and a statement in defence of the film's vision from Paramount after it reportedly cut scenes depicting gay sex and drug use to comply with Russian guidelines.
UNIVERSAL PICTURES INTERNATIONAL
UPDATED: Illumination Entertainment's The Secret Life Of Pets 2 brought in $17.2m from nine territories to raise the early tally including $14.8m after two sessions in the UK to $28.4m, with North America to come this week.
The sequel to the $875m 2016 global hit opened top in Russia on $11.2m after five days of previews, and scored the second biggest debut for a Universal animation in Ukraine on $1.3m. The film generated $3.6m in its second weekend in the UK, where it ranks second. The Secret life Of Pets 2 opens in Italy this week.
Octavia Spencer horror thriller Ma delivered $2.8m after opening in 31 territories day-and-date with North America, arriving in the UK at number eight on $635,000, Germany at number seven on $503,000, and Mexico at number five on $499,000. Crime caper The Hustle added $1.8m from 35 for $34.7m.
LIONSGATE INTERNATIONAL
John Wick: Chapter Three – Parabellum will cross $100m at the international box office this week after a $13.9m session raised the international running total to $98.1m, and $223.9m worldwide.
The Keanu Reeves action thriller with Halle Berry, Ian McShane and Laurence Fishburne arrived in Spain in second place on $763,000, and opens in the Middle East this week. The UK and Australia remain the top two markets after three weekends on $10.4m and $7.6m, respectively.