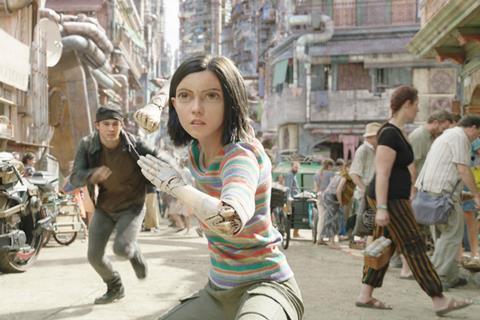 FEBRUARY 25 UPDATE: A mighty debut in China for Alita: Battle Angel helped the cyborg action tale deliver a timely $93.6m weekend result to lead all films at the international box office amid concerns over the film's lacklustre North American performance.
Meanwhile How To Train Your Dragon: The Hidden World swooped past the $200m international milestone, Chinese smash The Wandering Earth reached $684m worldwide, and Mexican comedy My Best Friend's Wedding (Boda De Mi Mejor Amigo) has reached $4.1m after two sessions.
FOX INTERNATIONAL
UPDATED: Robert Rodriguez's Alita: Battle Angel opened at number one in China on $64.1m for Fox's biggest launch of all time as the international running total soared to an early $203.8m. Japan also produced a solid number one debut on $3.1m. The worldwide tally including $61m from North America stands at $264.8m. According to reports the film cost $170m to make, not including marketing spend, and there is still a way to go before the film breaks even, although this early international performance, in particular from China, will encourage studio executives.
In second sessions, Alita ranked second in France and brought in $3.8m for $11.1m, second in Russia on $2.2m for $10.3m, second in Germany on $1.7m for $5.2m, top in Australia on $1.7m for $5.3m, second in Mexico on $1.3m for $6.5m, and fourth in the UK on $1.1m for $10m. Spain and Brazil have produced $3.7m and $2.9m after two weekends, respectively, while South Korea has generated $16.1m after three.
Total Dhamaal from Fox Star opened on $9.9m in two markets, powered by a $9.6m number one debut in India. The adventure comedy starring Anil Kapoor, Madhuri Dixit and Ajay Devgn opened in ninth place in the UK on $325,000. The Favourite added $2.9m from 49 markets for $50.4m and arrived in South Korea on $308,916, and Hong Kong on $180,700. The worldwide haul stands at $82.5m.
A $3.3m weekend for Bohemian Rhapsody in 33 markets boosted the tally to $647.8m, and worldwide to $860.9m. Japan has delivered an exceptional $106.4m after 16 weekends, and the UK $69.6m after 18. The Kid Who Would Be King has amassed $9.4m and brought in a further $845000 for $3.4m in the UK after two weekends.
CHINA UPDATE
Sci-fi The Wandering Earth, China's second biggest local smash of all time that Netflix just acquired for the world (excluding China, where the streaming platform is blocked from operating) added $36.7m for $679.3m internationally, and $684.3m worldwide including North America, Australia and New Zealand. Frant Gwo's hit was produced by China Film Group and Beijing Culture. Pegasus added $8.4m for $251.2m, and the comedy Crazy Alien $8.3m for $324.7m.
UNIVERSAL PICTURES INTERNATIONAL
UPDATED: How To Train Your Dragon: The Hidden World swooped past the $200m international mark as an estimated $35.1m from 53 active markets powered by a thunderous Russia debut elevated the tally to $217.5m, and $275m worldwide. Russia delivered an excellent $10.9m number one debut to record the biggest DreamWorks Animation launch (some 65% ahead of the second film in the franchise) and the second highest animation debut of all time in the territory.
Other notable table-topping bows produced $2.8m in Spain (20% ahead of How To Train Your Dragon 2), $1.8m in the Philippines for the biggest opening day in the series, $1.3m in Sweden (46% ahead of the second film) for the sixth highest animation debut, and $1.1m in Czech Republic (99% ahead of the second film).
France led the holdovers on $3.1m for $16.9m after three weekends, then the UK on $2.1m in a number three hold for $20.3m after four, Germany on $2m for a number one hold and $13.9m after three, Poland on $1.1 for $3.9m after two, Mexico on $951,000 for $18.7m after four, and Brazil on $486,000 for $14.5m after six.
Horror Happy Death Day 2U added $5.9m from 48 to reach an early $20.8m, and stands at $42.4m worldwide. It opened in seven markets, led by an $812,000 number one debut in Brazil, and a $407,000 number two bow in Malaysia. South Korea is the lead market at this stage after $284,000 boosted the tally to $2.9m after two weekends. The UK, Germany, and France have each generated approximately $1.7m, while Indonesia has delivered $1.4m. This week brings debuts in Italy, Russia, and Hong Kong.
WARNER BROS PICTURES INTERNATIONAL
UPDATED: The Lego Movie 2: The Second Part generated $10.2m from 73 markets for an early $52.8m, and $136.1m worldwide. The UK delivered $3.1m in a number one hold that saw the running total climb to $18.2m after three weekends. A $1.1m French debut was the highlight among the debutants, while Italy produced $992,000. The family animation stands at $2.5m in Mexico after two weekends, and $2.7m in Germany after three
The Mule added $3m from 35 for $44.7m, and $148.2m worldwide. Clint Eastwood's drug courier drama continues to play well in Italy, where it added $1m in the third session for $6.3m. France has generated $13.6m after five, and Australia $6m after the same period. Aquaman stands at $805.9m internationally and $1.139bn worldwide. The superhero smash brought in a further $1.4m in Japan for $11.5m after three weekends.
GREEN BOOK
UPDATED: Green Book grossed a combined $8.8m from 59 Lionsgate International and Amblin Partners markets to push the running total to $74.4m, and $144m worldwide to including $69.6m via Universal in North America. The road movie earned $4.9m from 48 Lionsgate markets for $41.2m, and crossed one million admissions in France in its fifth week of release to settle on $8.3m. It opened at number one in Denmark on $718,000. Green Book opens in Japan this week.
The film starring Viggo Mortensen and Mahershala Ali took in $3.7m from Amblin Partners territories to reach a $33.2m running total from 11. The UK remains the top Amblin market on $8.1m after four weekends. Amblin Partners will release Green Book in China this week, on March 1.
WALT DISNEY STUDIOS MOTION PICTURES INTERNATIONAL
Ralph Breaks The Internet brought in a further $5.1m from 26 material territories to reach $314.6m, and $514.5m worldwide. Strong holds included France, where $3m boosted the tally to $9.1m after 12 days. Mary Poppins Returns has grossed $56m (£43.9m) in the UK and has entered the all-time top 50 there. Overall, the musical added $1.2m from 16 material territories to reach $174.1m, and $345m worldwide.
Glass stands at $133m internationally following a $1.6m session in 35 material territories, and $240.9m worldwide. All international markets are open with the exception of China, which WDSMPI is not releasing.
PARAMOUNT PICTURES INTERNATIONAL
Instant Family grossed $3m from 22 markets for $43.5m, powered by $2.3m in the second session in the UK where the comedy stands at $8.4m. What Men Want grossed $1.6m from 10 for an early $4.6m.
SONY PICTURES RELEASING INTERNATIONAL
Horror release Escape Room grossed $1.8m from 41 markets for $62.5m and debuts in France and Germany this week. A Dog's Way Home added $1.4m from 32 SPRI markets for $21.9m and heads into Australia and Brazil this week.
Turning to SPRI's local-language releases, action comedy Nicky Larson And Cupid's Perfume (Nicky Larson: Le Parfum De Cupidon) remained strong in France, adding $2m in its third weekend after a 21% drop for $10.2m. The comedy Loudspeaker (Gromkaya Svyaz) earned $1.8m in its second session in Russia where it stands at $6m, and comedy My Best Friend's Wedding (Boda De Mi Mejor Amigo) added $810,000 in its second weekend in Mexico for $4.1m.