EXCLUSIVE: Christmas With André scores £1.2m from 480 cinemas in the UK and Ireland.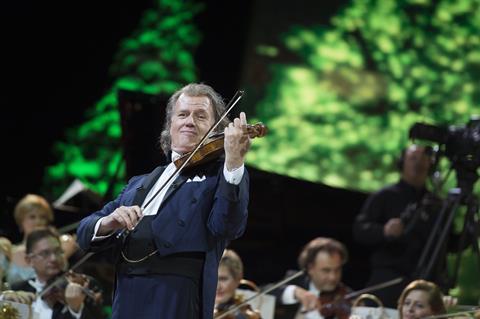 CinemaLive has notched up another record for an André Rieu concert event after André Rieu: Christmas with André took close to £1.2m on Saturday 19 November to become the highest-grossing single day concert event at the UK & Irish box office, breaking the record set by Rieu's 2015 Maastricht concert.
Christmas With André screened at 480 cinema locations in the UK & Ireland and grossed £1,162,000 (source: comScore).
The event featured a recorded Christmas concert, a personal live tour of Rieu's hometown of Maastricht and a live Q&A with the Dutch violinst and conductor.
This Sunday (27 November) will see encore screenings taking place at 290 cinemas across the UK & Ireland plus 57 screenings in Europe and others in Australia.
CinemaLive Director & CEO, Peter Skillman, said: "We are once again incredibly proud of yet another record-breaking result for André Rieu at the UK & Irish box office. Cinema audiences have had the opportunity to experience two different offerings from André this year. Firstly, with the 2016 Maastricht Concert and now Christmas with André this past weekend".