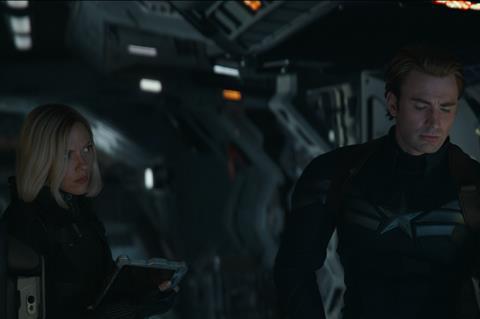 Disney executives reported on Wednesday (May 1) that Avengers: Endgame has reached $1.48bn worldwide and ranks as the eighth highest global, sixth highest international, and highest non-Chinese release in China in history.
Endgame added $138m worldwide on Tuesday and overtook Black Panther ($1.347bn) and Avengers: Age Of Ultron ($1.405bn). It crossed $1bn at the international box office on Tuesday following a $105.3m haul that pushed the tally to $1.054bn as it overtook the final grosses of Harry Potter And The Deathly Hallows: Part 2 on $961m, The Fate Of The Furious on $1.01bn, and Jurassic World on $1.019bn.
As the May Day holiday kicks off in several international markets including China, the latter has generated an estimated $74m (RMB 500m) on Wednesday to reach $463m (RMB 3.1bn) to rank as the highest non-Chinese release ever in China, ahead of the RMB 2.67bn final gross of previous record-holder Furious 8. Wednesday's gross is not included in the overall international and global number.
In North America, Tuesday's $32.9m gross boosted the running total to an estimated $427m as Avengers: Endgame entered the all-time top 20 pantheon after five days of release.
After China comes the UK on $64.7m following a $4m Tuesday gross, South Korea on $54.8m ($4.1m Tuesday gross), Mexico $40.7m ($5m), India $36.3m ($4.3m), Australia $35.2m ($1.8m), Brazil $34.1m ($4m), Germany $31.8m ($3.1m), France $29.9m ($3m), and Italy $22.6m ($1.9m).
Philippines has generated $21.8m ($1.8m), Japan $20.7m ($3.7m), Indonesia $19.9m ($2.4m), Thailand $16.7m ($1.3m), Spain $16m ($1.6m), Hong Kong $15.6m ($1.6m), Taiwan $15.5m ($1.4m), Russia $13m after two days (Tuesday produced $5.3m), and Malaysia $12.5m ($1.4m).