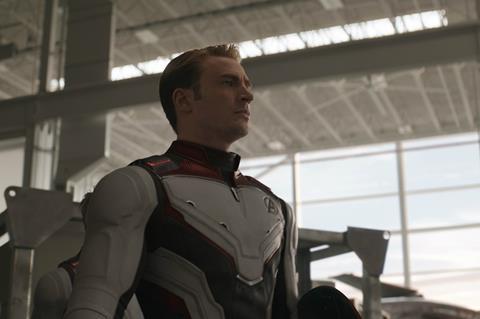 Avengers: Endgame had reached $1.664bn worldwide and was poised to overtake Jurassic World on $1.671bn on Thursday (2) to become the fifth highest global release in history as it bore down on the second weekend.
The tentpole, which has crossed $500m in China, is expected to settle on more than $2bn worldwide by Sunday. The Marvel Studios behemoth added $183m worldwide on Wednesday (May 1) and overtook the final grosses of Furious 7 ($1.516bn) and The Avengers ($1.519bn).
On Wednesday Avengers: Endgame added $157.8m internationally to reach $1.211bn, capitalising on May holidays in a number of markets. It passed Star Wars: The Force Awakens ($1.132bn) and Furious 7 ($1.163Mbn) to become the fourth highest international release after eight days, and ranks as the 17th highest release in North America on $452m after six days.
Latest estimates from Disney do not include a $50m Thursday estimate in China, which puts the film on $509m (RMB 3.43bn). Endgame added $70.4m in China on Wednesday and a public holiday is in effect through May 4.
Avengers: Endgame added $3.5m in the UK on Wednesday for $68.2m, $5.5m in South Korea for $60.3m, $7.9m in Mexico for $48.6m, $4.6m in India for $40.9m, $6.3m in Brazil for $40.4m, $1.4m in Australia for $36.7m, $4m in Germany for $35.8m, $4m in France for $33.9m, and $1.9m in Italy for $24.6m.
It added $3.7m in Japan for $24.4m, $2.3m in Philippines for $24.1m, $3.4m in Indonesia for $23.3m, $6.3m in Russia for $19.3m after three days (Endgame opened in Russia on April 29), $3.2m in Spain for $19.1m, $2.2m in Thailand for $19m, $2.4m in Hong Kong for $18m, $2m in Taiwan for $17.5m, and $2m in Malaysia for $14.4m.
Captain Marvel has amassed $697.9m through Walt Disney Studios Motion Pictures International, and Dumbo stands at $224.2m.
Warner Bros Pictures International brass said The Curse Of La Llorona stands at $49.9m ahead of its UK debut on Friday, while Shazam! has reached $215.9m
Universal Pictures International executives reported that Jordan Peele's Us starring Lupita Nyong'o and Winston Duke has amassed $76.8m internationally and opens in Mexico and Peru this weekend. Body-swap comedy Little with Issa Rae, Regina Hall and Marsai Martin an early $6.8m. Stephen Merchant's family saga Fighting With My Family starring Florence Pugh, Lena Headey and Nick Frost with Dwayne Johnson debuts in Germany, and Jacques Audiard's western The Sisters Brothers starring John C. Reilly and Joaquin Phoenix opens in Italy.
Latest numbers from Paramount Pictures International out Stephen King horror adaptation Pet Semetary on $50.5m and comedy remake What Men Want on $61.3m.