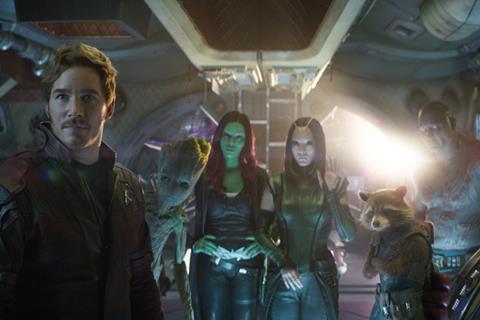 Having set a world speed record to the $1bn worldwide mark after 11 days on Saturday, Avengers: Infinity War brought in a further $275.1m to boost the running total to $1.164bn.
WALT DISNEY STUDIOS MOTION PICTURES INTERNATIONAL
A spectacular box office performance after two weekends promises plenty more to come for the Marvel Studios release. Through Sunday the tentpole had grossed $713.3m internationally (and $450.8m in North America) – with China to come on Friday (May 11).
Avengers: Infinity War has overtaken the final global tallies of Captain America: Civil War ($1.153bn), The Dark Knight Rises ($1.085bn) and The Dark Knight ($1.004bn) to rank as the fifth highest superhero release in history and the 15th highest overall.
It set a $17.6m opening weekend record in Russia, where in a handful of days it has already overtaken the lifetime total of Captain America: Civil War.
South Korea edged ahead of the UK in the latest round of an entertaining contest between the two markets and now ranks top on $69.1m, followed by the UK on $67.2m. More extraordinary results have seen the superhero behemoth excel in Mexico on $48.7m, Brazil on $44.3m, India on $35.7m, and Australia on $34.5m.
France has delivered $31.5m, Germany $28.8m, Japan $23.9m, Indonesia $20.6m, Philippines $19.7m, Italy $18.9m, Spain $17.7m, Taiwan $17m, Hong Kong and Thailand $15.8m apiece, and Malaysia $14.3m.
Avengers: Infinity War now ranks as the highest release of all time in Brazil, Indonesia and the Philippines, and the second highest in India (western) and Mexico. Internationally it ranks at number 24 in the pantheon.
IMAX contributed $20m globally as the running total vaulted to $80.2m including $40.2m from North America. The Russian debut set a $2.2m opening weekend record.
ASIA UPDATE
Taiwanese singer-actress Rene Liu's Us And Them added $27m for $191m. A Or B added $11.1m for $47.m.
WARNER BROS PICTURES INTERNATIONAL
Action tentpole Rampage added $13.7m from 63 territories to reach $293.1m and $377.9m worldwide. The release grossed $8m in its fourth weekend in China and climbed to $150.8m, and opened in France at number two on $2.3m. The UK and South Korea have produced $11.8m and $11.2m, respectively. Rampage opens in Germany this week and Japan on May 18.
Ready Player One added $6.3m from 56 for $433.6m and $566.7m worldwide. Japan delivered a further $2.1m in the third weekend for $17.5m, while China produced $2.6m in the sixth for $220.2m. The sci-fi stands at $22.6m in the UK, $20.3m in France, and $18.6m in South Korea.
Game Night has grossed $45.1m, and local-language South Korean family release Champion debuted in South Korea on $5.5m. The film is a Warner Bros. Pictures presentation of a Corecorner production and a Team Gorilla co-production.
UNIVERSAL PICTURES INTERNATIONAL
Supernatural thriller Truth Or Dare grossed $5.7m from 46 territories to reach $20.1m and stands at $58.4m worldwide. It opened in France at number four on %1.4m, Brazil at number two on $739,000, and Indonesia at number two on $572,000.
Comedy Blockers added $1,7m for $24.9m and $81.1m worldwide. It opened in Spain at number five on $246,000. Local-language release Champions (Campeones) added $1.3m in its fifth weekend in Spain, where it has amassed $14.2m. Loro 1 added $1m in Italy for $3.9m after two.
PARAMOUNT PICTURES INTERNATIONAL
Horror hit A Quiet Place used a $4.1m session in 57 markets to climb to $95.4m. It added $534,000 in its fifth weekend in the UK for $15.1m.
Family release Sherlock Gnomes grossed $1.4m from 20 markets for $23.1m and debuts in the UK and Spain this week.
SONY PICTURES RELEASING INTERNATIONAL:
Peter Rabbit grossed $2.9m from 54 markets for an international tally of $212.1m. Upcoming markets are South Korea on May 17 and Japan on May 18.
Sony Pictures International Productions opened Hindi-language comedy-drama 102 Not Out starring Amitabh Bachchan and Rishi Kapoor on $3.4m from five markets. It debuted at number two in India on $2.9m.
FOX INTERNATIONAL
Executives reported that Isle Of Dogs added $2.1m from 26 markets for $22.5m as the animation arrives in 16 new markets including Germany this week. Love, Simon stands at $15.5m.
STX INTERNATIONAL
Amy Schumer comedy I Feel Pretty debuted in the UK on $1.7m. Voltage handles international sales.