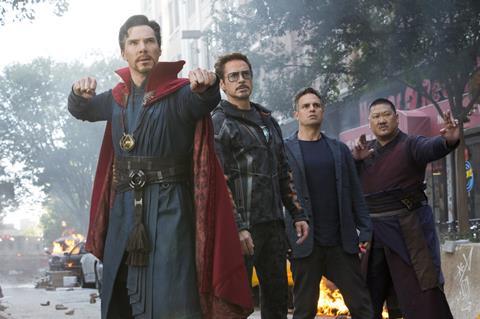 APRIL 30 UPDATE: Marvel Studios' Avengers: Infinity War arrived with a bang, smashing records as it delivered an all-time high $640.5m worldwide debut according to latest estimated from Disney on Monday morning, with China yet to come.
WALT DISNEY STUDIOS MOTION PICTURES INTERNATIONAL
UPDATE: Powering the opening salvo were the second highest international debut on $382.7m (only The Fate Of Furious opened higher on $443m including $185m from China), and a new all-time North American mark of $257.7m.
Avengers: Infinity War arrived in the UK on $42.4m for the third highest industry opening weekend, Mexico on an industry record $25.1m, and Australia on $23m, France on $17.7m for the highest superhero debut, and Germany $14.7m for the same accolade.
It posted the highest opening weekend in industry history in South Korea on $39.2m, India (Western) $18.6m, Brazil $18.8m, Philippines $12.5m, Thailand $10m, Indonesia $9.6m, and Malaysia $8.4m, as well as Central America, Peru, Chile, Ecuador, Venezuela, Bolivia, South Africa, Turkey (non-local), UAE and West Africa.
Elsewhere, Italy has generated $11m for the second highest superhero debut, Taiwan $9.5m, Japan $9m, and Spain $8.3m for the highest superhero debut.
The worldwide haul means the Marvel Cinematic Universe has amassed $15.39bn to date. Black Panther has become the night highest global release in history on $1.333bn.
CHINA UPDATE
Chinese drama Us And Them from Taiwanese singer-actress Rene Liu in her directorial debut generated $88.8m. High finance thriller A Or B starring Xu Zheng opened on $15.2m.
WARNER BROS PICTURES INTERNATIONAL
UPDATE: Rampage added $16.5m from 61 territories to reach $257.1m and $335.2m worldwide. The action adventure added $7.9m in China for $127.2m and became Warner Bros' second highest release in the market.
A further $1m in the UK raised the tally to $11.1m, while Mexico has produced $11.5m, Brazil $5.3m, Australia $6m, and Russia $5.9m. Rampage arrives this week in France.
Amblin Entertainment's Ready Player One grossed $8.5m from 63 for $414.3m and $545.1m worldwide. In the second session Japan generated $2.2m for $9.3m. China produced $2.3m and the sci-fi adventure stands at $213.7m where it ranks as the ninth highest Hollywood release. The UK has delivered $22.3m.
Tomb Raider has amassed $214.8m and Game Night $43.2m.
SONY PICTURES RELEASING INTERNATIONAL
UPDATE: Peter Rabbit crossed $200m as a further $6.1m from 55 markets elevated the running total to $205.4m. Daniel Auteuil's French local-language comedy Amoureux De Ma Femme starring Gérard Depardieu opened on $768,073.
PARAMOUNT PICTURES INTERNATIONAL
The horror smash A Quiet Place coaxed another $6.6m from audiences in 57 markets as the international running total climbed to $87.2m. After four weekends it stands at $14m in the UK and $8m in Australia. Germany has delivered $2.6m after three, and Spain $1.7m after two.
Sherlock Gnomes has reached $20.5m following a $1.6m session in 22. France has generated $2.2m after three, Australia $4.6m after four, and the Netherlands #379,000 after two. The animation opens in Germany this week and in the UK and Spain on May 11.
UNIVERSAL PICTURES INTERNATIONAL
UPDATE: Truth Or Dare added $2.8m from 30 markets to climb to $12.5m and the supernatural thriller opened in Russia on $998,000 and stands at $3.1m in the UK after three sessions, and $2.3m in Mexico after two.
Loro 1, the first instalment of Paolo Sorrentino's two-part take on Italian media mogul and former prime minister Silvio Berlusconi starring Toni Servillo, opened in Italy on $2.1m in second place behind Avengers: Infinity War. The release will be a single film everywhere else and Pathé holds rights.
Comedy Blockers added $1.8m for $22.2m. Champions (Campeones) has reached $11m in Spain after four weekends.
FOX INTERNATIONAL
UPDATE: Isle Of Dogs grossed $1.6m from 17 markets for $18.5m, while The Greatest Showman stands at $256.1m. Spy thriller Red Sparrow stands at $100m and opens in Russia on May 31. Love, Simon has reached $14.1m.