APRIL 4 UPDATE: The Warner Bros / DC Entertainment spring tentpole succumbed to one of the biggest second-weekend drops in superhero history as the film mustered another $51.3m in the arduous climb towards break-even.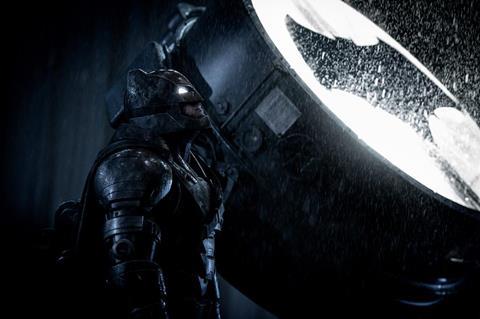 Batman v Superman: Dawn Of Justice fell 69.1% to reach $260.4m in North America and stands at $682.9m worldwide.
The slide is one of the biggest ever for a superhero adaptation, although drops of more than 60% are by no means uncommon for studio tentpoles in the weekend after release.
It is the biggest in North America for a film featuring the Batman or Superman characters and insiders said the drop resulted from poor word of mouth that now makes the well documented scathing reviews look a little more prescient.
Only Fox's X-Men Origins: Wolverine fell by 69% seven years ago, while the same studio saw last year's The Fantastic Four drop 68% in the second weekend.
Warner Bros' prequel to the current release, Man Of Steel, which like Batman v Superman was directed by Zack Snyder, fell 64.6% in 2013. The record holder in this notorious pantheon remains Hulk, Ang Lee's much maligned stab at the superhero genre for Univeral, which tumbled 69.7% in 2003.
Batman v Superman cost an estimated $500m including worldwide marketing and according to insiders will need to gross approximately double that amount to move into profit.
Playing on 388 Imax screens, the superhero release added $4.2m for $25.3m and has amassed approximately $53.4m from its global Imax footprint.
Disney's Zootopia stayed put at number two following a minimal 19.3% drop, adding $19.3m in its fifth weekend for a $275.3m running total.
Faith-based films – one of the most profitable genres in North America given generally modest production and marketing costs and a vast potential audience – continued to prosper in the Easter corridor.
PureFlix release its sequel God's Not Dead 2 at number four on $7.6m from 2.419 theatres. While that is a little off the $9.2m opening weekend of the 2014 original a solid run could see the drama approach the $60.8m heights of its 2014 predecessor if word of mouth is strong.
Miracles From Heaven slipped one place to number five on $7.3m for $46.5m through TriStar after three sessions and is doing well given the stated $13m production cost. The film-makers expect further riches in what will most likely be a strong ancillary run.
Freestyle Releasing opened the comedy Meet The Blacks starring Mike Epps at number on eight on $4.1m from 1,015 sites.
Paramount launched Richard Linklater's Everybody Wants Some!! at number 20 on $312,355 from 19 venues for a $16,440 average. The film premiered at SXSW last month and has been hailed as the spiritual successor to the director's 1993 masterpiece, Dazed And Confused.
SPC scored a big debut at number 31 for Don Cheadle's Miles Davis biopic Miles Ahead on $114,530 from four for a $28,633 average.
Overall box office for the top 12 generated $122.8m for a 49.9% drop against last weekend's mighty Easter holiday session. Given that this year saw the earliest date for Easter in nearly a decade, comparisons are somewhat off-kilter and so this weekend dropped 43.6% against the comparable session in 2015, when Easter took place.
This week's wide releases are: Universal's Melissa McCarthy comedy The Boss; and the biggest test yet in what has been an encouraging start for STX Entertainment in the form of the wide release of Toronto action acquisition Hardcore Henry.
Confirmed top 10 North America January February April 1-3, 2016
Film (Dist) / Conf wkd gross / Conf total to date
1 (1) Batman vs Superman: Dawn Of Justice (Warner Bros) Warner Bros Pictures International $51.3m $260.4m
2 (2) Zootopia (Buena Vista) Walt Disney Studios Motion Pictures International $19.3m $275.3m
3 (3) My Big Fat Greek Wedding 2 (Universal) Universal Pictures International $11.2m $36.6m
4 (-) God's Not Dead 2 (PureFlix) PureFlix International $7.6m –
5 (4) Miracles From Heaven (TriStar) Sony Pictures Releasing International $7.3m $46.5m
6 (5) The Divergent Series: Allegiant (Lionsgate-Summit) Lionsgate International $5.8m $56.4m
7 (6) 10 Cloverfield Lane (Paramount) Paramount Pictures International $4.6m $63.4m
8 (-) Meet The Blacks (Freestyle Releasing) $4.1m –
9 (11) Eye In The Sky (Bleecker Street) eOne $3.9m $6.1m
10 (7) Deadpool (Fox) Fox International $3.5m $355.1m