Disney set for big numbers with Beast as XXX: Return Of Xander Cage hits $300m.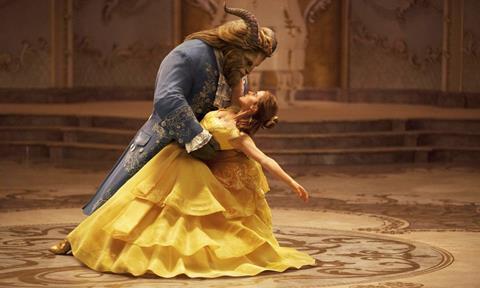 Executives at Walt Disney Studios Motion Pictures International are preparing to unleash live-action remake Beauty And The Beast.
Emma Watson and Dan Stevens star in the family film, which arrives day-and-date with North America in more than 20 territories, including the UK, China, Germany, Italy and Brazil.
The movie is on course for big numbers in multiple markets, including the US and the UK where presales are soaring.
Moana is set to cross $600m at the global box office after a strong opening in Japan last weekend. The animation is the seventh Disney release of 2016 and the fourth consecutive Walt Disney Animations Studios release to reach this milestone after Zootopia, Big Hero 6, and Frozen.
Marvel Studios' Doctor Strange stands at $444.9m.
Warner Bros Pictures International tentpole Kong: Skull Island has amassed $108.9m internationally since its debut in 10 international markets last weekend.
The CGI-fuelled action film from Legendary and Warner Bros stars Tom Hiddleston, Brie Larson and Samuel L. Jackson and is the second instalment in their 'MonsterVerse' series that kicked off with the 2014 Godzilla reboot.
The LEGO Batman Movie enters the weekend on $117.3m internationally with no new debuts, while Ice Cube-starrer Fist Fight stands at $8.1m.
Fox International executives report that Hugh Jackman's Wolverine spin-off Logan will claw past $300m any day now and stands at $297.2m heading into its third weekend.
Fox's horror offering A Cure For Wellness has grossed $12.5m and opens in six territories including Australia. Hidden Figures on $44.3m opens five, among them Russia, while Assassin's Creed has grossed $184.8m.
DreamWorks Animations' Trolls has no new debuts this weekend and stands at $190.8m, while comedy Why Him? stands at $57.2m and opens in Brazil.
Universal Pictures International's horror film Get Out starring British actor Daniel Kaluuya ventures into nine territories this weekend, including the UK.
The film surged past $100m in its second weekend in North America last week, making it the latest in a string of hits for Blumhouse Productions.
Erotic drama Fifty Shades Darker surpassed the $250m last weekend and heads into its sixth session on $257.3m. M. Night Shamylan's thriller Split has reached $113.2m and opens in five territories including Russia.
Illumination Entertainment's animated musical Sing has grossed $311.4m and opens in Japan on Friday, while family film A Dog's Purpose has grossed $19.4m.
Paramount Pictures International's XXX: Return Of Xander Cage stands at $300.4m. The Vin Diesel-led action film has no new debuts.
Horror film Rings has grossed $52.9m. Brad Pitt and Marion Cotillard starrer Allied stands at $79.4m.
Lionsgate International's romantic musical La La Land stands at $266.5m, while the Keanu Reeves action film John Wick: Chapter 2 has generated $65.4m.
Also from Lionsgate, fantasy drama The Shack starring Sam Worthington and Octavia Spencer heads into the weekend on an early $432,113, while Patriots Day starring Mark Wahlberg has taken $12.5m.