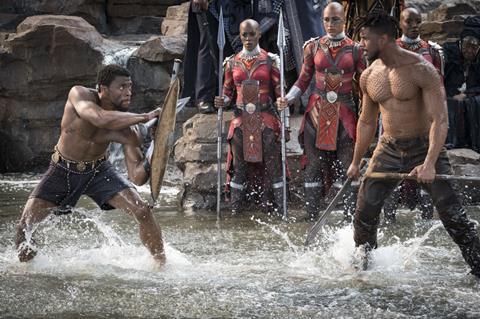 Marvel Studios' Black Panther roared into life over the weekend, grossing an estimated $361m worldwide through Disney as it combined with two Chinese titans for a six-day extended global weekend that generated more than $1bn.
Detective Chinatown 2 arrived on $155m, while Monster Hunt 2 debuted to the tune of $141.3m and itself was involved in a couple of records.
WALT DISNEY STUDIOS MOTION PICTURES INTERNATIONAL
Black Panther, the latest release from the Marvel Studios hit factory, generated $169m from international markets (with China, Russia and Japan yet to open) and $218m from North America.
In the early leader South Korea, the superhero tentpole has raced to $25.3m and ranks as the fifth highest debut by a Hollywood film and has already outstripped the entire runs of Guardians Of The Galaxy and Ant-Man.
In the UK Black Panther grossed $24.8m in its first six days for the highest February opening weekend of all time including previews, and the second biggest debut for a Marvel Studios film behind Avengers: Age Of Ultron. The debut has overtaken the entire run of Justice League, Captain America: The First Avenger, Thor, Ant-Man, and Iron Man.
Across Latin America Black Panther opened top in all markets, earning $9.6m in Mexico and $9.4m in Brazil. It delivered the biggest opening weekend of the year-to-date across the continent; the highest February launch of all time in Mexico, Brazil, Colombia, Bolivia, Ecuador, Panama and Paraguay; the third highest Marvel Cinematic Universe debut in Brazil, Colombia and Paraguay; and the fourth highest in Mexico.
In Asia-Pacific Black Panther opened number one and scored the highest opening weekend of 2018 so far in all markets, led by Australia on $9.2m, Indonesia $6.5m, and Taiwan on $5.6m. All except Australia and Taiwan produced all-time February records. A $4.9m debut in Malaysia was good enough for the third highest Marvel Cinematic Universe launch.
Elsewhere the film arrived in France on $7.7m, Germany on $6.2m, Philippines on $4.8m, Thailand on $4.4m, India on $3.8m, Hong Kong on $3.6m, and Italy on $3.4m. Black Panther opens in Russia on February 22, Japan on March 1, and China on March 9.
Pixar's Coco added $6.8m for $523.2m internationally and stands at $730.4m worldwide. China and Mexico are the top markets on $183.5m and $57.8m, respectively. The film overtook Shrek Forever After on its $514m international box office to rank as the 13th biggest animation of all time.
CHINA
Two spectacular debuts created a weekend to remember as Detective Chinatown 2 arrived on $155.7m and Monster Hunt 2 debuted on $141.3m. The latter, which screened as a Berlinale Special gala on Sunday, established China's biggest opening day record last week on $85m and combined with $53m from Detective Chinatown 2 that day and box office from other films in release in China that day to deliver the biggest single day in a single market on $205m. Lionsgate distributes Monster Hunt 2 in North America.
UNIVERSAL PICTURES INTERNATIONAL
Fifty Shades Freed brought in a further $47.7m to propel the relatively early running total to $190.8m, and the worldwide haul to $268.9m.
The top holdovers were Germany on $6.9m for $22.2m , the UK on $4.4m for $19.7m, France on $4.2m for $14.6m, Italy on $3.4m for $14.1m, Brazil on $3.1m for $12.5m, and Spain on $2.8m for $10.5m.
Darkest Hour added $2.8m for $78m, and Phantom Thread $2.2m for $10m. Lady Bird delivered a $1.9m launch including $1.2m in Australia.
SONY PICTURES RELEASING INTERNATIONAL
Russian sports drama Ice from Fedor Bondarchuk and Dmitry Rudovsky's Moscow-based Arts Pictures Studio, about a girl who grows up in poverty and becomes a figure skating champion, set a $1.6m (Rbl 93m) Wednesday opening day record on its home turf as it glided to $8.7m from the first five days.
Jumanji: Welcome To The Jungle crossed $900m worldwide and stands at $904.6m. The international tally has reached $527m led by China on $76.1m, and the UK on $50.4m.
Monster Hunt 2, released by Sony in three markets including Malaysia, arrived on $1.8m overall. Pad Man scored $2.1m in five Sony markets, among them India.
FOX INTERNATIONAL
The Shape Of Water grossed $12.3m for $38.7m and debuted in the UK on $3.3m at number three, Italy on $2.2m at number four, Spain on $2.1m at number three, and Germany on $1m at number six.
Maze Runner: The Death Cure added $11m to vault past $200m and settle on $205.2m, while The Greatest Showman added $9.6m for $185.6m, and Three Billboards Outside Ebbing, Missouri grossed $4.5m for $63.8m. Ferdinand added $2.7m for $200.1m.
THE POST
Steven Spielberg's The Post grossed $3.9m for $57.6m
WARNER BROS PICTURES INTERNATIONAL
Clint Eastwood's 15:17 To Paris added $2.8m for an early $10.7m.
LIONSGATE INTERNATIONAL
Wonder brought in $2.3m to stand at $159.8m and $291.6m worldwide.