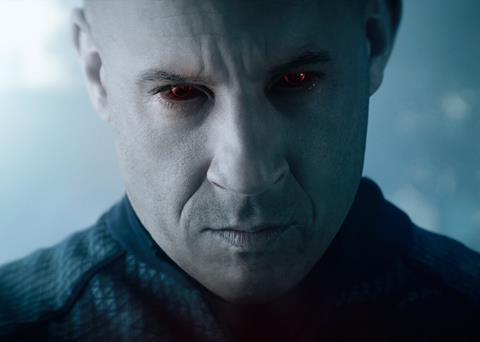 With theatres on lockdown in countries and restrictions on public gatherings snowballing across the globe in response to coronavirus, Sony's new Vin Diesel release Bloodshot dominated the space on a $13m international launch.
Every release is being affected heavily by public health concerns and the numbers tell their own story as new releases struggle and more established films see a drastic dropping off in their potential box office.
Onward produced a $6.8m second international weekend, which is unheard of for a Pixar release even through the film has just squeaked past the $100m-plus global milestone. Grosses for Paramount's Sonic The Hedgehog, an early year success story, plummeted 76%.
Theatres closures in France, Italy, Spain, and China among other territories, combined with social distancing measures to reduce theatre capacity to 50% as with Showcase Cinemas sites in the UK, have taken a huge toll of box office.
February admissions in South Korea, where the rate of new infections is said to be declining, dropped 67% against the year-ago period and it emerged last week that the industry experienced its lowest February box office since 2005.
SONY PICTURES RELEASING INTERNATIONAL
Columbia Pictures / Bona Film Group / Cross Creek Pictures' sci-fi action thriller Bloodshot starring Vin Diesel as a dead soldier who gets reanimated with superpowers grossed $13m on more than 11,800 screens in 50 total markets for an early international tally of $15.1m.
The film ranked number one in 27 markets, including most of Asia. Indonesia led the region on $1.8m and Malaysia delivered $610,000. Bloodshot opened top in Russia on $2.4m and Mexico produced $1.2m in second place.
WALT DISNEY STUDIOS MOTION PICTURES INTERNATIONAL
Onward added $6.8m in its second weekend for a $41.4m international running total from 47 territories (although it was unclear which of those are now effectively shut down temporarily) as the Pixar film crossed $100m in its second weekend to stand at $101.7m. The lead markets are UK on $6.8m, Mexico on $5m, Russia on $4.8m, France on $4.3m, and Germany on $2.2m.
The Call Of The Wild coaxed $1.1m out of international audiences as the tally inched up to $45.2m, and $107.3m worldwide. The lead market is France on $8.1m, followed by Mexico on $4.1m, UK on $3.6m, Russia on $3.2m, and Spain on $2.5m.
UNIVERSAL PICTURES INTERNATIONAL
The Invisible Man earned $6.2m for a $58.3m running total and stands at $122.7m worldwide. The top holdover was the UK on $997,000 for $8.4m after three sessions, followed by Australia on $716,000 for $4.8m after three. The sci-fi remake with Elisabeth Moss has produced $4.9m in Mexico, $4.8m in France, $3.2m in Germany and $3.1m in South Korea all after three, and $2.8m in Russia after two.
The Hunt, a self-styled satire in which liberal elite hunt red state Americans in a sick game, whose release was postponed last August in the wake of two mass shootings in the US, opened to $700,000 internationally and $6m worldwide including the day-and-date North American release. The action thriller debuted in the UK on an understandably lacklustre $673,000 in third place.
Trolls Words Tour opened in Singapore and Malaysia for $200,000 combined, The DreamWorks Animation family tentpole is scheduled to open in the US on April 10 – the spot vacated by MGM/Eon's No Time To Die that has moved to November and will open internationally via Universal.
Emma has reached $15.1m internationally and $25.1m worldwide. The UK has delivered $9.6m over five weekends. Dolittle stands at $146.3m and $23.3m internationally and worldwide, respectively, with the UK on $20.6m from six sessions.
PARAMOUNT PICTURES INTERNATIONAL
Sonic The Hedgehog grossed $2.9m from 58 markets to stand at $160.7m following a 76% drop that is unsurprising given the closure of or reduced capacity in the world's cinemas due to the coronavirus pandemic. China and Japan release dates had not been set at time of writing.
MIRAMAX INTERNATIONAL
Guy Ritchie's gangster caper The Gentlemen grossed $1.8m and pushed the international running total to $78.7m. It brought in $226,000 in Germany for $3.2m across German-speaking Europe after three sessions, and grossed $8-5,000 in CIS and Ukraine for $22.4m after five.