Marvel Studios' superhero sequel held on to pole position through Disney to reach $159m after two sessions and see off the challenge from Fox's Rio 2.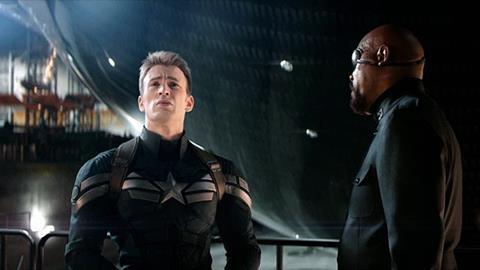 Captain America: The Winter Soldier grossed $3.6m from 347 Imax screens to elevate the running total to $14.7m.
The action film was too strong for Rio 2, which arrived in second place on $39m, marginally below the 2011 original's $39.3m debut in the same April slot.
Meanwhile there was a solid number three $12m launch for Intrepid Pictures' Oculus through Relativity Media, while the Kevin Costner American football drama Draft Day opened in fourth place on a so-so $9.8m that illustrated perhaps its star's waning box office appeal.
Winter Soldier dropped 56% from last weekend's record April launch. Overall the top 12 slipped 16.7% against last weekend but climbed 18% against the same session in 2013, when 42 opened top on $27.5m.
God's Not Dead maintained its status as arguably the breakout hit of the year-to-date despite slipping three slots to number seven. The faith-based film has grossed $40.7m after four sessions.
In limited release, David Gordon Green's Nicolas Cage starrer Joe arrived on $106,000 from 48 sites through Roadside Attractions, whole SPC opened Jim Jarmusch's Only Lovers Left Alive on $97,000 from four for an excellent $24,250 average.
TWC released The Railway Man starring Colin Firth, Nicole Kidman and Jeremy Irvine on $64,500 from four for a strong $16,125 average, while eOne Films US opened Nick Frost and Rashida Jones starrer Cuban Fury on $55,000 from 79 venues.
This week's wide releases are Transcendence starring Johnny Depp through Warner Bros; A Haunted House 2 through Open Road; Disneynature's Bears through Buena Vista; and Heaven Is For Real through TriStar.
Estimated Top 10 North America Apr 11-13 2014
Film (Dist) / Est wkd gross / Est total to date

1 (1) Captain America: The Winter Solider (Marvel Studios-Buena Vista) WDSMPI $41.4m $159m
2 (-) Rio 2 (Fox) Fox International $39m –
3 (-) Oculus (Relativity) Sierra/Affinity $12m –
4 (-) Draft Day (Lionsgate) Lionsgate International $9.8m –
5 (3) Divergent (Summit-Lionsgate) Lionsgate International $7.5m $124.9m
6 (2) Noah (Paramount) Paramount Pictures International $7.45m $84.9m
7 (4) God's Not Dead (Freestyle Releasing) $5.5m $40.7m
8 (6) The Grand Budapest Hotel (Fox Searchlight) Fox International $4.1m $39.5m
9 (5) Muppets Most Wanted (Buena Vista) WDSMPI $2.2m $45.7m
10 (7) Mr. Peabody & Sherman (DreamWorks Animation-Fox) Fox International $1.8m $105.2m