MAY 6 UPDATE: In a weekend that could push the global tally of Captain America: Civil War past $600m, possibly $700m if it debuts strongly in China, the Marvel Studios' tentpole is expected to demolish the competition.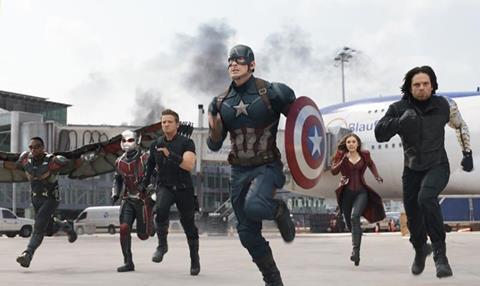 Standing at $316.2m worldwide and $291.2m internationally on Friday following $25m in North American previews on Thursday night, the superhero saga should make plenty of noise in North America and hold well in its second session in most markets.
The new international arrivals are China, Russia, Argentina and Italy, where Civil War opened on $1.2m on Wednesday.
Thus far the lead market is South Korea on $41.7m, followed by the UK on $33m, Mexico on $27.5m, Brazil on $18.3m, Japan on $13.9m, Australia on $13.8m and France on $13.3m.
Germany has delivered $11.2m, Taiwan $10.5m, Hong Kong and the Philippines $10m apiece, Thailand $9m, Malaysia $7.6m, and Spain $5.7m.
By Thursday The Jungle Book had grossed $463.9m and Zootopia stood at $618.1m.