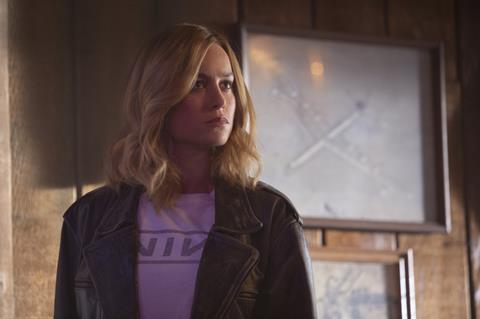 MARCH 11 UPDATE: Captain Marvel may not have thrilled critics as much as other entries in Marvel Studios' 21-film canon, but the Brie Larson vehicle lit up the global arena with the sixth highest debut in history on a confirmed $456.7m.
A $303.3m international launch, $153.4m debut in North America, and $88.6m in China drove the result as Walt Disney Studios Motion Pictures International (WDSMPI) executives reported the second highest worldwide opening weekend for a superhero film behind Avengers: Infinity War, as well as the highest March release of all time. The Marvel Cinematic Universe's (MCU) combined global box office results have reached $17.98bn.
From the other studios, both Fox International's Alita: Battle Angel and DreamWorks Animation's How To Train Your Dragon: The Hidden World (through Universal Pictures International) crossed $300m.
WALT DISNEY STUDIOS MOTION PICTURES INTERNATIONAL
UPDATED: Opening everywhere except Japan on March 15, Captain Marvel scored the fifth highest international opening weekend and, as was the case with the global result, produced the second highest debut for a superhero film behind Avengers: Infinity War, and the biggest March release.
Overall, compared to two other significant Marvel Studios releases in the same bucket of markets and using current exchange rates, WDSMPI executives estimate the tentpole to be considerably ahead of the game. Black Panther generated $229m, and Doctor Strange $156m. The tentpole produced record first stand-alone character MCU opening weekends in China, the UK, Australia, South Korea, Brazil, Indonesia, Russia, France, Germany, Italy, Spain, Taiwan, Malaysia, Thailand, Philippines, Hong Kong, India, Vietnam and Singapore.
China, South Korea, Australia, Indonesia, Brazil, Mexico, Taiwan, Thailand, Austria, Belgium, Iceland, Netherlands (non-local), Slovenia, Turkey (MPAA) all produced record March debuts.
Captain Marvel also set the second highest industry opening weekend in Ukraine, and the second highest MCU opening weekend in Belgium, Bosnia/Herzegovina, Croatia, Netherlands, Romania, Serbia, Slovakia, Slovenia and Turkey. It is the number one Western release everywhere, and scored the number three all-time highest industry debut in Paraguay, number four in Peru, number six in Panama, Chile and Ecuador, and number seven in Colombia.
China delivered the top international result ($88.6m) as it so often does these days, in the third highest MCU gross in history behind Avengers: Infinity War and Captain America: Civil War. South Korea produced $24m for the sixth highest opening weekend. A $16.5m UK haul was good enough for the third highest March opening weekend. Black Panther opened on a Tuesday in the UK, yet the three-day weekend comparison is ahead by some 25%.
Captain Marvel opened in Brazil on $13.3m for the second highest industry opening weekend of all-time, and a $12.8m debut in Mexico delivered the fifth highest opening weekend. The tentpole grossed $10.6m in Australia, and $10.8m in Indonesia for the second highest western debut and the second highest MCU opening day. In a string of other high-flying results, Russia generated $10.7m for the second highest March opening weekend; France $9.1m; Germany $7.9m for the third highest March opening weekend ever; and $5.5m haul in Italy.
Asia region highlights include $6.9m in India for the ninth highest western industry debut; $6.5m in Thailand for the fifth highest opening weekend; $6.2m in Taiwan; $6.1m in Philippines for the fourth highest industry opening weekend; $5.6m in Malaysia for the ninth highest industry opening weekend; and $5.2m in Hong Kong for the eighth highest opening weekend. All delivered record March bows for a Western film, including Vietnam, where the film scored the second highest industry opening weekend. Singapore delivered the second highest western March debut.
Anna Boden and Ryan Fleck directed Captain Marvel, which also stars Samuel L. Jackson, Jude Law, Ben Mendelsohn, Lashana Lynch, Annette Bening, and Clark Gregg.
IMAX contributed $36m on 1,377 IMAX screens worldwide in the fifth biggest IMAX debut and became the first non-sequel to crack the top five IMAX films of all time. The Marvel Cinematic Universe has now crossed $1bn in global IMAX box office. This was also the best IMAX March opening worldwide and the second best IMAX Marvel global debut behind Avengers: Infinity War.
Internationally, the film grossed $22m from 964 screens for a new Marvel Studios international IMAX opening weekend record, and second highest IMAX international opening weekend. In China, the tentpole grossed $10.4m from 603 IMAX screens for the biggest IMAX March debut and the fifth highest industry opening. Captain Marvel delivered the all-time biggest IMAX debuts in 12 territories, including Germany, Ukraine, India, and Puerto Rico.
LIONSGATE / EONE / AMBLIN PARTNERS
UPDATED: Oscar winner Green Book brought in $28.1m through Lionsgate and Amblin Partners to reach $162.5m. The road movie starring Viggo Mortensen and Oscar winner Mahershala Ali brought in an estimated $8.3m from 54 Lionsgate markets for $69.1m. Japan has produced $6.8m after two sessions, France $11.7m after seven, Italy $9.6m after six, Russia $6.9m after seven, and Israel $2.2m after seven. Through Amblin Partners the film added an estimated $19.9m for $92.9m, powered by $15.4m in its second weekend in China after a 10% drop for $44.6m to overtake the lifetime total of La La Land. Germany has produced $10.3m, while the UK has delivered $11m after six weekends through eOne, and Spain $8.2m via eOne.
UNIVERSAL PICTURES INTERNATIONAL
UPDATED: DreamWorks Animation's How To Train Your Dragon: The Hidden World grossed a further $22.6m to raise the tally to $317.2m. China delivered $8.2m for $47.9m after two weekends, and Russia $3.9m for $22.9m after three. France has generated $22.3m after five, and Germany $18.4m after five, the UK $23.3m after six, and Spain $6.9m after three. Happy Death Day 2U stands at $34.1m, and Mary Queen Of Scots $26.7m. Todos Lo Saben stands at $4.1m, and Greta $700,000.
FOX INTERNATIONAL
UPDATED: Alita: Battle Angel added $11.4m for $304.1m, with China bringing a further $5.6m for $125.9m after three weekends. Bohemian Rhapsody grossed $2.7m for $660.5m with Japan now on $110.5m after 18 sessions. The Favourite added $1.5m for $58.2m and has amassed $20.9m in the UK after ten weekends.
SONY PICTURES RELEASING INTERNATIONAL
UPDATED: Horror Escape Room brought in $4.3m for $76.8m, with China the lead market on $34.2m. Oscar winner Spider-Man: Into The Spider-Verse opened in Japan on $2.3m, and grossed $2.4m overall for a $176m running total. A Dog's Way Home stands at $28.9m.
WARNER BROS PICTURES INTERNATIONAL
UPDATED: Clint Eastwood's drug courier drama The Mule grossed $4.4m for $53.1m and opened in Japan at number five on $1.8m, Spain at number two on $1.3m, and Holland at number five on $353,000. France remains the lead market on $14.6m, followed by Italy on $7.2m, Australia on $6.5m, and the UK and Mexico each on $2.6m.
The Lego Movie 2: The Second Part added $4m for $67.5m and grossed $1.1m in the UK for $21.8m after five sessions, and has reached $2.9m in France after three. The final key markets to open are Australia on March 21, and China on March 22.
PARAMOUNT PICTURES INTERNATIONAL
Comedy Instant Family stands at $50m, while comedy remake What Men Want has amassed $7.5m.