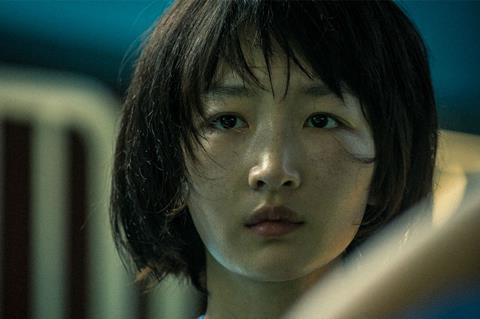 OCTOBER 28 UPDATE: China's Better Days – the romance pulled from the Berlinale line-up earlier this year over censorship issues – ruled global and international box office on an $85.3m launch through We Distribution, while Maleficent: Mistress Of Evil neared the $300m mark.
Joker is about to cross $850m, and Terminator: Dark Fate opened in its first handful of international markets.
CHINA UPDATE
Better Days arrived in China on $85.3m through We. Derek Tsang directed and Goodfellas Pictures and Fat Kids Production produced. The film had been selected to receive its world premiere in Berlin's Generation 14Plus section, only to be pulled at the last minute over what is understood to have been censorship issues. The story centres on a bullied school girl and her relationship with a tough street kid, with whom she is implicated in the murder of a teenage girl.
WALT DISNEY STUDIOS MOTION PICTURES INTERNATIONAL
UPDATED: Maleficent: Mistress Of Evil delivered another strong session to add $82.8m worldwide for $294.8m, earning $65.6m from 56 international markets to reach a $229.4m running total. The fantasy adventure sequel dropped approximately 43% overall internationally, and has already passed the lifetime total of the 2014 original in China, where $8.7m means it has reached $41.9m, Russia on $21.3m, India, Argentina, Indonesia on $8.3m, and Thailand on $6m.
Mexico has produced $15.2m, France $10.1m, Brazil $10m, the UK $9.8m, Italy $9m, South Korea $8.3m, Japan $7.1m, Spain $6.4m, Philippines $6.2m, and Germany $6.1m apiece. By region, Europe has generated $90m, Asia Pacific $98m, and Latin America $40m.
Terminator: Dark Fate opened on $12.6m from its handful of initial markets. It earned $3.7m at number two in the UK as school holidays kick in this week, followed by $3m in France where All Saints holidays continued to November 3, and $1.1m in Malaysia, where Monday is a public holiday. Thailand on $1.5m and Singapore both delivered number one results. The sci-fi starring Mackenzie Davis, Linda Hamilton, Arnold Schwarzenegger and Edward Furlong opens in the majority of the world this week including North America.
WARNER BROS PICTURES INTERNATIONAL
UPDATED: Joker maintained its muscular run after becoming the highest grossing R-rated global release in history last week. The supervillain origins story dropped 38% overall, adding $49.2m from 79 markets to bring the international running total to $574.1m. The worldwide tally stands at $851.9m.
Internationally the film now ranks as the third highest grossing DC film, and it is the highest grossing release from the stable in 34 markets including Italy, Mexico, Spain, Russia, India, Argentina and Holland. It is the biggest Warner Bros release in 14 markets including Russia, Argentina and Mexico, and the fourth biggest Warner Bros release in Asia, and the second biggest Warner Bros and DC film in Latin America.
In the third weekend, France led the way as Joker held on to number one and grossed $5.8m for $28.3m. It also stayed top in Germany, adding $4.8m for $27.1m. After four, the UK generated $4.5m at number one for $57.8m, Japan $3.1m for $32.8m, Brazil $2.9m in second place for $30.2m, and Spain $2.4m at number one for $22.5m. Staying with the fourth weekend, Joker added $2.3m in second place in Italy for $27m, $2.1m in South Korea for $35.9m, $2m in Australia for $22.1m, $1.9m in Mexico for $39.8m, and $1.5m in Russia for $27.7m.
PARAMOUNT PICTURES INTERNATIONAL
Sci-fi thriller Gemini Man starring Will Smith and Will Smith grossed $12.7m from 60 markets. The result includes $3.3m in China through Fosun and ensured Ang Lee's latest film crossed $100m to finish on a nevertheless disappointing $104.9m after several weeks in action. Gemini Man stands at $144.3m at the global box office.
The film opened top in Taiwan on $1.9m, second in Japan on $1.8m, and fifth in Poland on $170,000. China's $3.3m haul boosted the running total to $29.9m after two weekends. France has generated $7.1m after four sessions, Germany $6.2m after four, Mexico $6.1m after three, the UK $5.1m after three, Russia $4.7m after three, and Brazil $3m after three.
UNIVERSAL PICTURES INTERNATIONAL
UPDATED: The Addams Family launched on $10m in 18 territories led by a $2.8m number two debut in Mexico, $2.7m in the UK at number four, $1.4m in Spain at number three, and $1m in Germany at number five.
Abominable from DreamWorks Animation and Pearl Studios grossed $9.2m from 60 territories in play as the running total climbed to $73.2m, and worldwide reached $144.9m. The family film opened in France at number three on $3.7m powered by the best October opening day for an animation. The UK delivered the top holdover result on $973,000 for a $6.7m running total after three weekends. Russia has generated $10.4m after four, and Spain $3.8m and Netherlands $1.9m – both after three sessions.
Downton Abbey reached $80.3m following a $3m international weekend that brought a $1.4m number three debut in Italy. The worldwide running total has climbed to $172.6m. Danny Boyle's Yesterday has grossed $76.4m internationally and $149.7m worldwide.
SONY PICTURES RELEASING INTERNATIONAL
UPDATED: Zombieland: Double Tap brought in an estimated $9m from 40 markets to push the early running total to $16.8m. Russia was the key driver here on a $2.1m number two debut, while Indonesia delivered $997,491, which has already surpassed the lifetime total of the 2009 original. The Angry Birds Movie 2 crossed a key milestone as $1.8m from 36 pushed the tally to $100.9m.
STX INTERNATIONAL
Hustlers added $3.1m for $135.9m and the drama starring Constance Wu and Jenifer Lopez opened in 12 territories, scoring a $755,000 number five debut in Mexico. It has reached $9.2m in the UK and $4.9m in Australia.
Horror-thriller Countdown opened in 16 territories this weekend led by the UK on $480,000 at number eight, and the Middle East on $455,000. Overall the horror film earned $1.7m