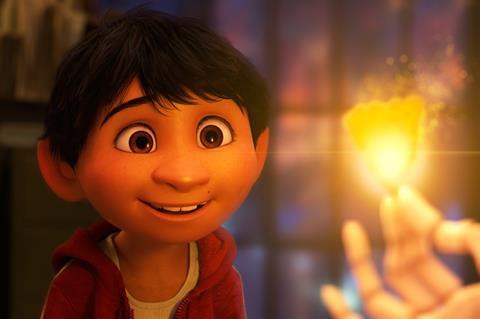 Pixar's Coco is expected to extend its dominion over the international market at a time of year when it is hard to see anything other than a Disney release assert control.
The animation grossed $69m through Walt Disney Studios Motion Pictures International last weekend and stands at $193.9m heading into Paraguay and Venezuela.
By the end of the session it will have soared past $200m internationally and $325m worldwide and is heading towards $100m in China after an extraordinary second-week surge left it on $71.5m by last Sunday (December 3).
In a remarkable 2017 that has seen Disney releases generate more than $5bn worldwide, Thor: Ragnarok wields a mighty $528.6m running total as it nears the end of its run.
Disney's Pixar and Marvel Studios releases have continued to deliver and cue up the anticipated year-end finale by Star Wars: The Last Jedi, which hails from Lucasfilm, the third in a trinity of world-beating corporate acquisitions by visionary CEO Bob Iger.
The sci-fi tentpole opens virtually everywhere next week day-and-date with North America in what will be a record-breaking debut in many parts of the world.
Warner Bros Pictures International's superhero tag-team Justice League will cross $400m this weekend. The action film stands at $384.2m and is performing well enough, especially in China where it topped the charts for two weekends before Coco dethroned it en route to becoming Pixar's biggest hit in a territory that has not traditionally rewarded the US animation company
Nonetheless DC Entertainment's Justice League stood at $93.5m at the start of the week and will have crossed $100m this week. Full numbers are expected at the weekend. Warner Bros' action release Geostorm has whipped up a modest $174.5m while horror smash It stands at $367.2m.
Fox International's murder mystery Murder On The Orient Express has wasted little time pulling up to $157.9m and arrives this weekend in Japan, Taiwan, Belgium and Nepal. Drama The Mountain Between Us stands at $27.9m and opens in Germany and Austria.
STXinternational's adult comedy A Bad Moms Christmas has a big weekend coming up. The sequel reached $40m last weekend and opens in Italy, Spain, Russia and Latin America.
The 2016 original managed $70.7m from international markets and by way of comparison it debuted in Italy, Spain and Russia on $1.5m, $1.6m, and $1.2m, respectively.
Universal Pictures International's horror hit Happy Death Day on $53.9m opens in Russia this weekend and Girls Trip – featuring New York Critics Circle best supporting actress winner Tiffany Haddish – stands at $23.2m.
Nordic Noir adaptation The Snowman starring Michael Fassbender stands at $35.4m. Better Watch Out, a horror release that barely grossed $20,000 in the US, debuts in the UK on Friday (December 8).
For Paramount Pictures International, Tadeo Jones 2 stands at $22.1m, while Daddy's Home 2 has reached $38.8m.