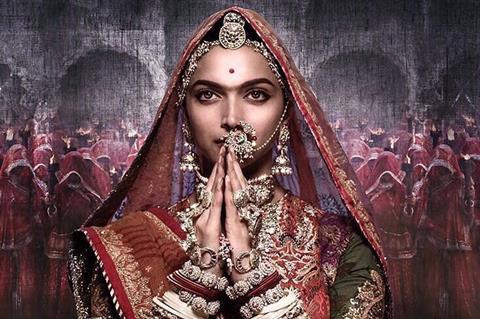 JANUARY 29 UPDATE: Padmaavat, the Bollywood film that has stirred controversy in India for its depiction of a romantic dream sequence involving a Hindu queen and an invading Muslim king, has debuted in North America in tenth place.
The film opened through Viva Pictures Distribution on an estimated $4.4m in 324 theatres and has sparked violent protests in India, and calls from a member of India's pro-Hindu ruling Bharatiya Janata Party for the beheading of actress Deepika Padukone.
Meanwhile in a considerably less dramatic development, Fox's Maze Runner: The Death Cure starring Dylan O'Brien opened top on a confirmed $24.2m on 3,787 sites.
The debut came in some 29% behind the $30.3m 2015 debut posted by Maze Runner: The Scorch Trials, and roughly 38% behind the $32.5m 2014 release of The Maze Runner, when unadjusted for inflation. In real terms, the percentage lags increase to 35.7% and 43.4%, respectively.
Christian Bale western Hostiles vaulted 20 places to number three following wide expansion through Entertainment Studios in the sixth session from 119 venues to 2,816. The film added $10.1m for a $11.9m running total.
Jumanji: Welcome To The Jungle ranks second in its sixth session and added $16.1m for $337.8m. Fox Searchlight's The Shape Of Water capitalised on its 13 Oscar nominations and climbed eight slots to eight in the ninth session, expanding from 853 sites to 1,854 and generating a further $5.9m for a promising $37.9m.
Searchlight stablemate Three Billboards Outside Ebbing, Missouri, the recipient of seven Academy Awards nods last week, climbed five to number 12 in the 12th session and added $3.8m for $37.3m.
Box office for the top 12 generated $110.5m, down 0.4% on last weekend and down 5.9% on the comparable session in 2017.
This week's wide release is horror title Winchester starring Helen Mirren and Jason Clarke through Lionsgate.
Confirmed top 10 North America January 26-28, 2018
Film (Dist) / Conf wkd gross / Conf total to date
1 (-) Maze Runner: The Death Cure (Fox) Fox International $24.2m –
2 (1) Jumanji: Welcome To The Jungle (Sony) Sony Pictures Releasing International $16.1m $337.8m
3 (23) Hostiles (Entertainment) Bloom $10.1m $11.9m
4 (5) The Greatest Showman (Fox) Fox International $9.6m $126.5m
5 (4) The Post (Fox-Amblin) Fox International $9.1m $58.8m
6 (12) 12 Strong (Warner Bros) Lionsgate International $8.7m $29.8m
7 (3) Den Of Thieves (STX Entertainment) STX International $8.6m $28.8m
8 (16) The Shape Of Water (Fox Searchlight) Fox International $5.9m $37.9m
9 (6) Paddington 2 (Warner Bros) Studiocanal $5.7m $32.1m
10 (-) Padmaavat (Viva Pictures Distribution) $4.4m $4.9m