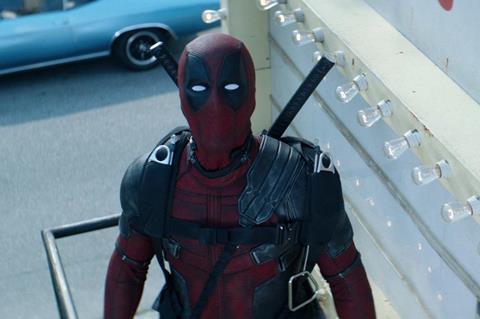 JUNE 4 UPDATE: Fox's Deadpool 2 overtook Disney/Lucasfilm's struggling Solo: A Star Wars Story to reclaim international top spot thanks to a confirmed $41.1m session that boosted the running total after three weekends to $343.7m. Meanwhile Marvel Studios' Avengers: Infinity War has surged to $1.965bn worldwide and will cross $2bn within the week.
FOX INTERNATIONAL
UPDATED: R-rated Deadpool 2 has amassed $598.2m worldwide and will cross $600m on Monday. The 2016 original finished on $420m at the international box office and $783.1m worldwide.
Firing up the international session was Japan, where the first film did well and whetted local audiences' appetite for more of Ryan Reynolds' wise-cracking antics. The film opened at number one on $5.3m, some 26% ahead of the original's debut.
Elsewhere in third weekends, Deadpool 2 added $3.5m for $36.8m in the UK, $3.2m for $15.5m after staying top for the third consecutive session in Brazil, $2.8m for $18.3m in Germany, and $2.7m for $22.4m in Australia. In Indonesia, Deadpool 2 has reigned supreme for three weeks and ranks as Fox's highest release on $8.3m.
Jennifer Lawrence spy thriller Red Sparrow opened in Russia on $1.3m for second place.
WALT DISNEY STUDIOS MOTION PICTURES INTERNATIONAL
UPDATED: Disney executives had to settle for the second and third highest grossing international releases of the session. In its second weekend Solo: A Star Wars Story added $30.3m for $115.4m and stands at $264.4m worldwide.
The film has not taken off in China in the way executives would have liked and the territory has returned $14.9m after two weekends. After the same period, the UK remains the top market on $18.5m, followed by Germany on $9.5m, Australia on $8.7m, and France on $7.5m.
Solo remains number one for the second weekend in the UK, Germany, Spain, Sweden, Italy, New Zealand, Finland, Switzerland, Austria, Iceland, and Croatia.
Avengers: Infinity War will cross $2bn worldwide within a week. It added $25.3m over the weekend for $1.323bn and stands at $1.966bn worldwide.
The lead territory is China on approximately $356.2m where the Marvel Studios smash ranks as the third highest Western release. Next is the UK on $94m, then South Korea on $92.5m, Brazil on $64.9m, Mexico on $59.4m, Australia on $45.5m, France on $44.8m, and India on $43.5m.
CHINA UPDATE
Animation Doraemon The Movie: Nubita's Treasure Island grossed $23.7m to raised the running total in its first week to $73.9m, while comedy-fantasy How Long Will I Love You starring Tong Liya And Lei Jiaying crossed $100m as $15.8m elevated the tally to $109.5m. Animation Happy Little Submarine 2000 Leagues Under The Sea opened on $8.9m.
PARAMOUNT PICTURES INTERNATIONAL
Family release Sherlock Gnomes grossed $3.3m to reach $40.2m and opened in Brazil on $1.1m. Horror-thriller A Quiet Place added $2.4m for $136.5m and stands at $31.9m after three sessions in China. Paramount's older-skewing lighthearted acquisition Book Club opened in fifth place in the UK on $1,1m and arrives this week in France.
UNIVERSAL PICTURES INTERNATIONAL
UPDATED: Blumhouse supernatural horror Truth Or Dare added $2.4m for $45m and has reached $85.7m worldwide. R-rated comedy Blockers stands at $31.6m and $91.2m globally, while crime drama Breaking In stands at an early $2.6m and $44m worldwide. Lady Bird has reached $27.9m (and $76.9m worldwide) and opened in Japan on $156,000.
WARNER BROS PICTURES INTERNATIONAL
UPDATED: Rampage starring Dwayne Johnson added $1.8m for $322.6m and has reached $157.7m in China. Life Of The Party stands at $8.7m and leads the way in Australia on $3.7m, while Game Night has grossed $48.2m. Ready Player One stands at $444.3m and grossed $222.1m in China.
SONY PICTURES RELEASING INTERNATIONAL
UPDATED: Global hit Peter Rabbit added $1.9m for $230.6m. 50 First Kisses, the Japanese remake of 2004 comedy 50 First Dates, debuted in Japan on $1.7m, while Russian sci-fi thriller A Rough Draft expanded in Russia, grossing $1.1m for $2.7m.
Comedy-adventure The Extraordinary Journey Of The Fakir, a based on the novel by Romain Puértolas launched in France on $536,000. Dhanush and Bérénice Bejo star.
STX INTERNATIONAL
UPDATED: Shailene Woodley survival drama Adrift directed by Baltasar Kormákur opened day-and-date with North America, generating $381,000 from nine territories. Greece produced $119,000, Scandinavia $100,000, and Singapore $77,000.