Debut ranks as sixth biggest of all films in China for year-to-date.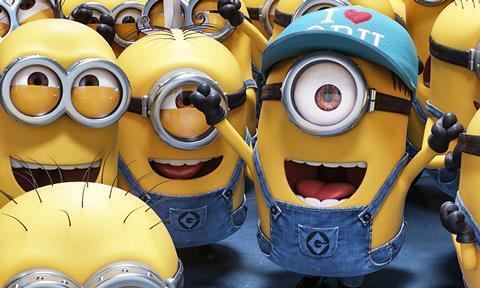 Illumination's Despicable Me 3 set a new record for the opening day of a feature animation in China on Friday, helping the film surge past $300m worldwide.
The family release arrived on $20.1m (RMB 136.9m), overtaking by 17.5% according to Universal sources the previous mark set by Illumination's Minions, which debuted on a Sunday in September 2015.
Despicable Me 3 also recorded the sixth biggest opening day of the year in China, beating Pirates Of The Caribbean: Dead Men Tell No Tales and The Mummy.
The animation stands at more than $306.8m worldwide when the China number is added to the $286.8m worldwide haul through Thursday night, of which $191.6m now comes from international and the $115.2m balance from North America.
The performance of Despicable Me 3 means Illumination films have generated more than $5bn worldwide.
Minions delivered $1.167bn, Despicable Me 2 $975.8m, The Secret Life Of Pets $876.5m, Sing $633.2m, Despicable Me $546m, Dr. Seuss' The Lorax $350.8m, and Hop $188.7m.
Despicable Me 3 has already established opening records for an animated feature in Brazil, Argentina, the Middle East, Netherlands, Egypt, Estonia, Latvia, Lithuania, Ukraine and Venezuela.
There are 15 more territories to release over the next two months. This weekend's new territories include Germany.