JULY 21 UPDATE: Christopher Nolan's Second World War drama opens in South Korea on $1.6m.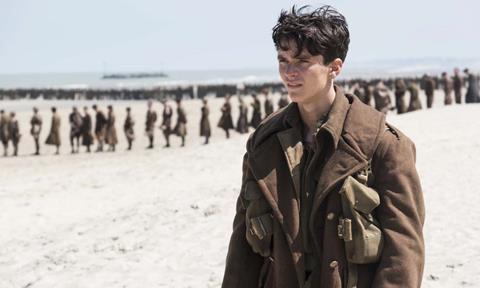 Dunkirk added an estimated $6.3m through a further 24 markets on Thursday as the running total swelled to $8.6m with the UK among 15 market debuts on Friday.
All in all the film lands in 46 markets through Warner Bros Pictures International over the weekend, day-and-date with North America.
South Korea delivered the stand-out result on Thursday, generating $1.6m from 1,252 screens for 59% market share of the top five. It was one of seven Asian markets that collectively generated $2.6m.
Australia delivered $938,000 from 535 including Wednesday night previews to rank top on 54% share of the top five releases. Russia produced $641,000 at number one from 2,119 for 42% share, while in another number one debut Holland delivered $305,000 from 132 for 43% share.
Dunkirk added $756,000 from 668 in its second day in France to boost the tally to $1.8m.
JULY 20 REPORT: Dunkirk grossed an estimated $2.2m including previews from its first seven number one launches in Europe on Wednesday through Warner Bros Pictures International.
Christopher Nolan's Second World War drama will challenge heavyweights War For The Planet of The Apes and Spider-Man: Homecoming as it touches down in 46 markets over the next few days.
The British director's latest film takes place over the course of one week in summer 1940 as British and Allied troops evacuated the eponymous French town when they were surrounded by German forces.
The film debuted in France on $1.1m from 668 screens, while Scandinavia delivered $656,000 as Sweden dominated the region with 53% market share.
Dunkirk debuts in a further 24 territories on Thursday including Russia, South Korea and Australia, followed on Friday by the UK and Spain, as well as North America.
Fionn Whitehead, Barry Keoghan, Aneurin Barnard, and Harry Styles of pop band One Direction lead a cast of new faces alongside Tom Hardy, Cillian Murphy, Mark Rylance, and Kenneth Branagh.
War For The Planet Of The Apes stands at $52.7m through Fox International and debuts this weekend in Mongolia. Captain Underpants: The First Epic Movie on $9.2m arrives in South Africa and Chile. Alien: Covenant has amassed $158.9m.
Spider-Man: Homecoming has raced to $284.5m through Sony Pictures Releasing International, while Edgar Wright's career-high film Baby Driver stands at $25.9m outside North America and $103m worldwide.
Pirates Of The Caribbean 5 stands at $590m through Walt Disney Studios Motion Pictures International with all markets opened. Cars 3 has grossed an early $93.1m and opens in Portugal.
Transformers: The Last Knight has grossed more than $392.4m through Paramount Pictures International and arrives in Mexico and Brazil. Baywatch stands at grossed more than $107m.
Illumination's Despicable Me 3 stands at $463.3m through Universal Pictures International, while The Mummy has amassed $311.8m, and The Beguiled has grossed an early $2.7m