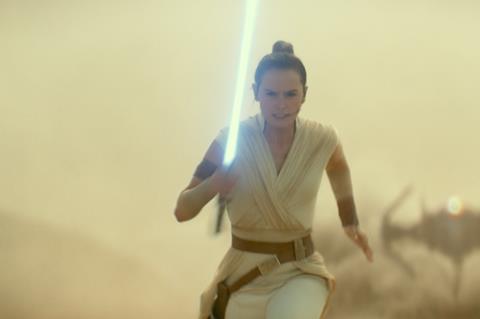 JANUARY 3 UPDATE: Lucasfilm's Star Wars: The Rise Of Skywalker has climbed to $840m at the global box office after adding $24.3m on Thursday (January 2).
The sci-fi grossed $15.1m internationally to reach $423m, and $9.2m in North America for $417m. The film has earned $61.1m in the UK, $50.2m in Germany, $40.5m in Japan, $40.3m in France, $24.9m in Australia, and $18.8m in China.
Spain has produced $16.8m, Mexico $13.7m, Italy $13.2m, Brazil $10.6m, Russia $9.5m, and Sweden $8.7m.
JANUARY 2 REPORT: Lucasfilm's Star Wars: The Rise Of Skywalker remains on course to cross the $1bn barrier at the global box office following a mighty New Year's Day performance that boosted the global running total to $815.4m.
The sci-fi saga brought in $30.4m globally on Wednesday, adding $13.5m internationally for a $407.9m running total and $16.9m in North America for $407.5m. It crossed $800m in its 15th day of worldwide release, and $400m on its 13th day of release in North America.
Heading into its third weekend, The Rise Of Skywalker should have little trouble cruising past $900m worldwide as it bears down on the $1bn target to become the seventh film launched by Disney in 2019 to cross the barrier and the first film to do so in 2020.
At time of writing the UK remained the lead market by a comfortable margin on $58.9m, followed by Germany on $48.4m, France on $38.6m, Japan on $37.7m, and Australia on $24.1m.
The Rise Of Skywalker has earned $18.7m in China, $16.2m in Spain, $13.4m in Mexico, $12.9m in Italy, $10.3m in Brazil, $9.1m in Russia, and $8.3 in Sweden. Coming up next week is South Korea on January 8.
Fox's acclaimed drama Ford v Ferrari starring Golden Globe lead actor nominee Christian Bale and Matt Damon crossed $200m worldwide in the last few days and stands at $94.7m internationally and $201.9m worldwide. Frozen II on $825.3m and $1.2554bn worldwide opens in Brazil and Argentina this weekend.
Spies In Disguise from Blue Sky Studios, the animation house that Disney acquired last year as part of its acquisition of the 21st Century Fox entertainment assets, is in the early stages at $25.4m internationally. The animation debuts this week in China, Australia, New Zealand and Chile. Will Smith and Tom Holland lead the voice cast and the global tally stands at $54.7m and counting.