EXCLUSIVE: Star Wars: The Force Awakens could soar as high as $2.25bn worldwide to finish behind Avatar in the all-time pantheon, according to a former high-ranking studio executive.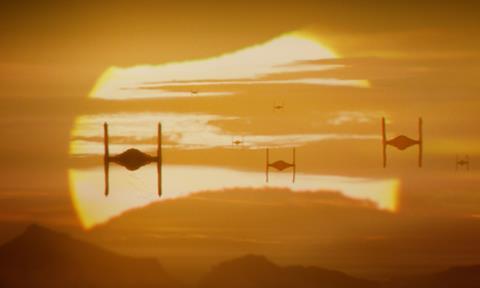 While final projections remain the subject of ongoing debate Randy Greenberg, the former head of marketing and distribution at what is now Universal Pictures International, has revealed exclusively to Screendaily his projections factoring in conservative numbers for China, where the film is set to open on January 9.
Now on a record-breaking $764.4m North American tally, The Force Awakens is on course to finish on $900m-$910m according to Greenberg – with the proviso that Disney keeps the film in theatres through the first week of April or thereabouts.
The international running total has climbed to $812.2m as of Thursday after The Force Awakens vaulted three places and overtook Skyfall on $804.2m, Pirates Of The Caribbean: On Stranger Tides on $804.6m and Iron Man 3 on $806.4m to rank as the 11th biggest international release in history.
Greenberg projects the film will finish in the $1bn-$1.1bn range without Chinese box office and again, so long as it stays in theatres through the first week of April or thereabouts.
The former studio executive, who now runs consultancy The Greenberg Group and serves as executive producer on Eli Roth's upcoming action horror Meg, estimated the opening weekend in China could generate around $50m and gross $125m-$175m by the end of its run.
Insiders say the film could open anywhere from $25m-$100m, however without much prior brand awareness in the territory for the Star Wars franchise it remains tough to call how a sci-fi property from the West will play. Numbers could vary wildly from experts' predictions.
There is general consensus that Disney has worked hard to market The Force Awakens in China. The studio, which acquired Lucasfilm for $4bn back in 2012, is more interested in playing the long game rather than pinning its hopes on a spectacular debut this weekend.
A big result will be viewed as a bonus but the real expectations lie further down the line when studio executives will look for strong – and possibly more predictable – audience responses to Rogue One On December 16, Episode VIII on May 26 2017, the Han Solo spin-off and beyond.
An estimated $150m from China would boost the final international tally to $1.25bn to make The Force Awakens the third biggest release ever behind Avatar on $2.027bn and Titanic on $1.528bn.
Combined with Greenberg's North American projections that would give rise to a range of final worldwide results anywhere from $2.05bn on the conservative side up to $2.25bn on the higher end.
Either result would install The Force Awakens as second in the global pantheon behind Avatar's $2.787bn haul.