FEBRUARY 27 UPDATE: Universal's horror film debuted at number one in the latest low-budget hit for the studio's partnership with Blumhouse Productions.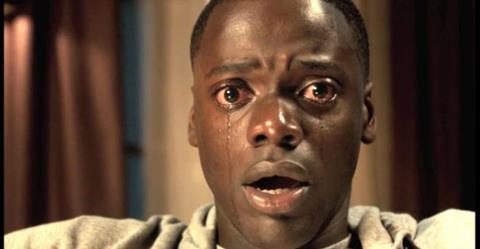 Jordan Peel directed the film which arrived on a confirmed $33.4m following its surprise Midnight Madness screening at Sundance last month.
Daniel Kaluuya stars in Get Out, which sends up racial prejudice in a wealthy white enclave and reportedly cost $4.5m to produce. Marketing costs were not disclosed, however the genre release is well on its way to profitability.
Last weekend's champion The LEGO Batman Movie slipped 41.2% to second place via Warner Bros on $19.2m for $133.2m after three sessions.
Lionsgate's Keanu Reeves action thriller John Wick: Chapter Two ranks third on $74.8m after three and has soared past its 2014 predecessor, which finished on $43m.
Universal-Legendary's The Great Wall starring Matt Damon ranks fourth after two weekends and has grossed $34.8m and $129.4m worldwide.
Fifty Shades Darker tumbled 61.6% in its third weekend, adding $7.8m for $103.7m through Universal.
La La Land, which won six Oscars on February 26, ranks eighth in its 13th weekend on $140.9m through Lionsgate, while contender Hidden Figures remains the highest grossing of the best picture nominees on $152.7m through Fox after 10. It ranks seventh.
Lionsgate-Summit's animation Rock Dog featuring voice work by Luke Wilson, Eddie Izzard and J.K. Simmons opened at number 11 on a disappointing $3.7m from 2,077 sites, while action thriller Collide starring Nicholas Hoult and Felicity Jones debuted in 13th place through Open Road on a paltry $1.5m from 2,045.
Oscar-nominated animation My Life As A Zucchini debuted at number 68 via GKIDS on a commendable $29,057 in two venues
Overall the top 12 combined for $111.1m, 17.9% down on last weekend and 13.2% ahead of the comparable session in 2016.
This week's wide releases are: Fox's X-Men spin-off Logan with Hugh Jackman; Lionsgate-Summit's faith-based drama The Shack based on the publishing phenomenon; and Open Road's drama Before I Fall.
Confirmed top 10 North America February 24-26, 2017
Film (Dist) / Conf wkd gross / Conf total to date
1 (-) Get Out (Universal) Universal Pictures International $33.4m –
2 (1) The Lego Batman Movie (Warner Bros) Warner Bros Pictures International $19.2m $133.2m
3 (4) John Wick: Chapter Two (Lionsgate- Summit) Lionsgate International $9.4m $74.8m
4 (3) The Great Wall (Universal) Universal Pictures International $9.1m $34.8m
5 (2) Fifty Shades Darker (Universal) Universal Pictures International $7.8m $103.7m
6 (5) Fist Fight (Warner Bros) Warner Bros Pictures International $6.6m $23.4m
7 (6) Hidden Figures (Fox) Fox International $5.8m $152.7m
8 (9) La La Land (Lionsgate) Lionsgste International $4.7m $140.9m
9 (7) Split (Universal) Universal Pictures International $4.1m $130.8m
10 (11) Lion (TWC) TWC International $3.8m $42.8m