MAY 8 UPDATE: Tentpole pushes Marvel Cinematic Universe films past $11bn; scores $49.3m China debut.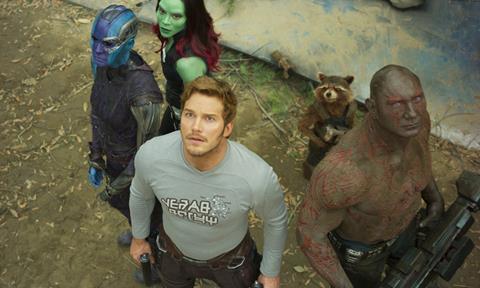 WALT DISNEY STUDIOS MOTION PICTURES INTERNATIONAL
UPDATE: Marvel Studios' Guardians Of The Galaxy Vol. 2 added $140m from 55 territories as the early running total climbed to $285m.
Combined with $146.5m from North America, the global tally has reached an early $431.5m.
China delivered a $49.3m debut that was 75% ahead of the 2014 original and captured 61% market share as it produced the fourth biggest opening in the Marvel Cinematic Universe.
China leads the way thanks to its strong opening, followed by the UK on $35.5m, Germany on $18.6m, Australia on $17.3m, France $16.2m, Mexico $15m, and Brazil $14.3m.
South Korea has generated $13.1m, Russia $12.1m, Italy $6.6m, Spain $6.6m, Indonesia $6.3m, and the Philippines $5.1m.
James Gunn reprised his role as director and the film stars the returning cast of Chris Pratt, Zoe Saldana, Dave Bautista, Vin Diesel, Bradley Cooper, Karen Gillan, and Michael Rooker.
Beauty And The Beast stands at $1.186bn worldwide, making it the 11th highest grossing movie of all-time, passing Captain America: Civil War and Minions.
Japan dropped just 16% in its third weekend as the film reached $60.1m after 17 days of release. The UK is the top market on $88.9m, followed by China on $85.8m, Japan $60.1m, Brazil $41.4m and South Korea $37.5m.
Australia generated $35.6m, Germany $34m, Mexico $30m, France $23.1m, Spain $23m and Italy $22.6m.
ASIA UPDATE
SS Rajamouli's adventure epic Baahubali : The Conclusion delivered an extraordinary $43.9m in India to reach $131.1m in its native territory, rising to $147.3m including North America. Prabhas stars.
UNIVERSAL PICTURES INTERNATIONAL
UPDATE: The Fate Of The Furious crossed $950m at the international box office on Sunday. The film grossed $30m in 66 territories over the weekend, raising the international total to $955m. Combined with North America's $207.2m, it stands at $1.162bn worldwide.
The tentpole directed by F. Gary Gray is Universal's fourth highest grossing film worldwide behind Jurassic World ($1.67bn), Furious 7 ($1.52bn) and Minions ($1.16bn). It has already out-performed the international lifetime totals of the first six Fast And Furious Films.
Japan brought in $4.1m for $22.5m, outpacing all Fast and Furious films. In China, the film added $4.7m for $385.1m (2.651B RMB) and ranks fourth.
The top territories are Brazil on $37.4m, the UK on $35.5m, Mexico on $35.4m, Germany on $29.9m, Russia $28.4m, France $26.3m and South Korea $26m.
Australia has grossed $20.6m, the Middle East $20.6m, Taiwan $20.4m, India $19.4m, Indonesia $18.9m, Argentina $18.8m, Italy $15.4m, Spain $13.1m, Malaysia $11.8m, and Colombia $11.4m.
The Fate Of The Furious is now the highest grossing film of all time in Peru, and has already set this record in Egypt, Indonesia, Paraguay and Venezuela.
Universal and Blumhouse's Get Out from writer-director Jordan Peele crossed $200m in worldwide box office on Sunday. The film brought in $8.7m from 47 territories for $30.9m. Combined with $173.9m from North America, the film stands at $204.8m worldwide.
France is the top opener on $2.5m and ranked number two behind Guardians Of The Galaxy Vol. 2 and has the best screen average in the market. Australia debuted at number two on $2.1m, while Germany opened at number two on $1.6m.
There are 15 more territories to open, including Russia, Argentina, Bolivia, Ecuador and Paraguay this week.
Illumination and Universal's Sing grossed $731,000 in seven territories for $360.9m internationally and $631.2m worldwide.
Japan ranked fourth in week eight on $619,000 for a 51-day total of $44.3m. The film has no further releases.
FOX INTERNATIONAL
UPDATE: DreamWorks Animations' The Boss Baby earned a further $18.7m in 67 markets. South Korea, where the film is distributed by CJ Entertainment, debuted on $8.2m. Meanwhile, the UK earned $824,000 for $32m and secured third place, Holland generated $756,000 for $5.3m, down only 21%, and Italy brought in $764,000 for $6.5m, down only 28%.
Other strong holdovers include Argentina, where the animation decreased only 34% on $654,000 for $5.2m. The Boss Baby has earned $280m internationally.
WARNER BROS PICTURES INTERNATIONAL
UPDATE: Going In Style grossed $3.3m in 46 markets this weekend, bringing the running total to $30m.
The heist comedy starring Morgan Freeman, Michael Caine and Alan Arkin debuted in France on $907,000 in fifth place, doubling the results of The Second Best Marigold Hotel and beating Last Vegas, The Big Wedding, and The Bucket List.
Italy debuted on $312,000, coming in 17% ahead of The Big Wedding and beating Parental Guidance.
Australia held strong after dropping just 30% for $436,000, while Germany dropped 35% for $313,000.
The UK is the top market on $3.6m, followed closely by Germany on $3.4m and Australia on $2.8m.
Mexico has earned $2.2m, Holland $1.6m, Russia $1.5m, Spain $1.3m, UAE $1m, Switzerland $865,000, and Brazil $657,000.
SONY PICTURES RELEASING INTERNATIONAL
UPDATE: Smurfs: The Lost Village added $6.3m from 62 markets, bringing the animated film that features the voice talents of Demi Lovato and Rainn Wilson to $132.1m.