Marvel Studios' Guardians Of The Galaxy added an estimated $10.2m in its sixth weekend through Buena Vista to surge to $294.6m in the lowest box office weekend in two years.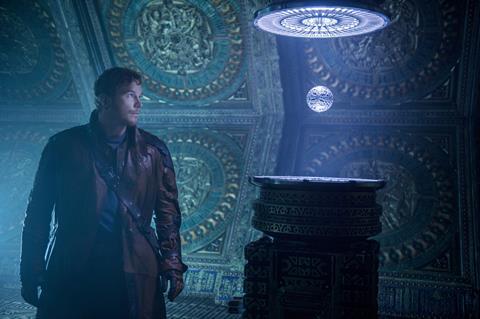 The $51.9m overall box office for the top 12 dived 41% against last weekend and dropped 22% against the same session in 2013.
Not since the same session in 2012 generated $51.85m has box office been so low and if Monday's confirmed numbers go lower the industry could be looking at the lowest weekend in six years, when the same session in 2008 produced $50.3m.
Guardians' number one hold means it has ranked as the top release for three weekends in a row and four out of its six-weekend career so far – a record number of
Virtually the entire top 10 held firm. Paramount and Nickelodeon Movies' Teenage Mutant Ninja Turtles in second place has grossed $175m after five weekends, while EuropaCorp-Universal's Lucy returned to the top 10 and has amassed $121m after seven.
Faith-based film The Identical starring Ray Liotta and Erin Cottrell and Lesley Judd opened at number 11 on $1.9m from 1,956 theatres. Paramount re-released Forrest Gump in 337 Imax sites on $405,000.
Next week's wide releases are Dolphin Tale 2 through Warner Bros and Screen Gems' thriller No Good Deed starring Idris Elba and Taraji P Henson.
Estimated Top 10 North America Sept 5-7 2014
Film (Dist) / Est wkd gross / Est total to date
1 (1) Guardians Of The Galaxy (Buena Vista/Marvel) WDSMPI $10.2m $294.6m
2 (2) Teenage Mutant Ninja Turtles (Paramount) PPI $6.5m $174.6m
3 (3) If I Stay (Warner Bros-MGM) WBPI $5.8m $39.7m
4 (5) Let's Be Cops (Fox) Fox International $5.4m $66.6m
5 (6) The November Man (Relativity Media) The Solution Entertainment Group $4.2m $17.9m
6 (4) As Above/So Below (Universal-Legendary) UPI $3.72m $15.6m
7 (7) When The Game Stands Tall (TriStar) SPWA $3.7m $23.5m
8 (8) The Giver (TWC) TWC International $3.6m $37.8m
9 (9) The Hundred-Foot Journey (Buena Vista-Participant Media) WDSMPI $3.2m $45.7m
10 (11) Lucy (Universal) UPI-EuropaCorp $1.9m $121.2m