JANUARY 9 UPDATE: Fox's NASA drama surged 16 places in its third session to topple Rogue One after three weekends at the summit.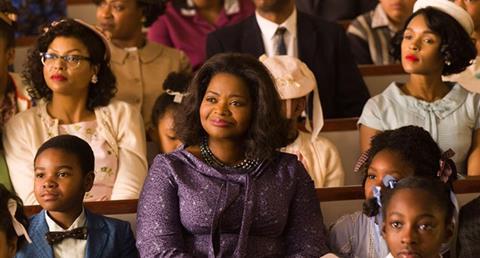 Hidden Figures expanded from 25 theatres to 2,471 and grossed a confirmed $22.8m for an early $25.8m running total. Octavia Spencer, Taraji P Henson and Janelle Monaé star.
Meanwhile Lucasfilm's sci-fi Rogue One: A Star Wars Story reached $477.4m in its fourth session thanks to a confirmed $22.1m weekend haul.
It will overtake Finding Dory's $486.3m final tally any day now to become the highest grossing film released in North America in 2016 and has crossed $900m worldwide.
Screen Gems' action-horror Underworld: Blood Wars starring Kate Beckinsale and Theo James arrived in fourth place on $13.7m from 3,070 venues.
This was by far the lowest debut in the 13-year sci-fi franchise and the 22% Rotten Tomatoes rating does not bode well for the weeks ahead.
Sunday night's Golden Globe champion La La Land climbed two slots to number five in its fifth session as Lionsgate expanded the footprint by 765 to 1,515 and delivered $10.1m for $51.8m.
Manchester By The Sea starring Globes best dramatic actor winner Casey Affleck added $2.5m in its eighth weekend through Roadside Attractions to reach $33.9m and ranks 11th.
Globes best drama winner Moonlight has grossed $13.2m through A24 after 12 sessions.
Jackie Chan action comedy Railroad Tigers arrived via Well Go USA at number 28 on $116.2k from 42 venues.
Box office for the top 12 generated $125.1m, down 28.1% on last weekend and down 15% on the comparable session in 2016, when Star Wars: The Force Awakens held on to pole position for the fourth consecutive session.
This week's wide releases are: STX Entertainment's horror The Bye Bye Man starring Carrie-Anne Moss; Open Road's thriller Sleepless starring Jamie Foxx and Michelle Monaghan; and Paramount's action-comedyMonsters Trucks.
Confirmed top 10 North America January 6-8, 2017
Film (Dist) / Conf wkd gross / Conf total to date
1 (17) Hidden Figures (Fox) Fox International $22.8m $25.8m
2 (1) Rogue One: A Star Wars Story (Buena Vista) Walt Disney Studios Motion Pictures International $22.1 $477.4m
3 (2) Sing (Universal) Universal Pictures International $20.7m $214.5m
4 (-) Underworld: Blood Wars (Sony/Screen Gems) Sony Pictures Releasing International $13.7m –
5 (7) La La Land (Lionsgate) $10.1m $51.8m
6 (3) Passengers (TriStar) Sony Pictures Releasing International $8.8m $80.9m
7 (5) Why Him? (Fox) Fox International $6.9m $48.9m
8 (4) Moana (Buena Vista) Walt Disney Studios Motion Pictures International $6.4m $225.4m
9 (6) Fences (Paramount) Paramount Pictures International $4.8m $40.8m
10 (8) Assassin's Creed (Fox) Fox International $3.8m $49.5m