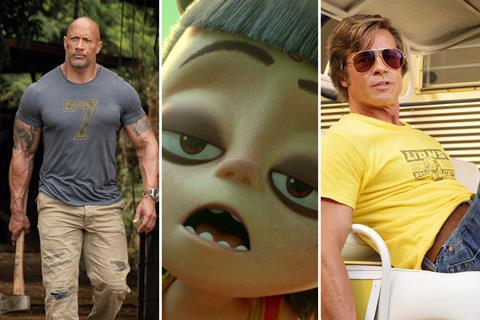 Universal's Hobbs & Shaw is expected to coast past $400m at the worldwide box office this weekend, although the action saga faces a battle royal for the international crown against current champion Nezha from China, and Quentin Tarantino's Once Upon A Time… In Hollywood via Sony.
All three films appeal to different demographics, and all three are expected to prosper in the coming days in a rare session when Disney does not have a release that threatens to dominate the competition. There could even be a challenge from Sony's The Angry Birds Movie 2.
Hobbs & Shaw has amassed $254.2m internationally after two weekends in release and will get a boost from its debut in South Korea, where it should perform well after Furious 7 opened on $6.9m in April 2015 and The Fate Of The Furious debuted on $8m in April 2017.
Then comes China on Aug. 23 in what studio executives hope will be a heavy-hitting launch that should propel Hobbs & Shaw comfortably past the $500m global mark, given that the two previous instalments generated roughly $180m apiece when they opened there.
On a more modest scale for Universal, albeit one that has delivered impressive results, Danny Boyle's musical fantasy romance Yesterday starring Himesh Patel and Lily Collins has grossed a handy $55.6m internationally. It will be intriguing to see how much this weekend's China debut can move the dial on a $126.6m worldwide running total.
Chinese audiences will still be enthralled by Nezha, the adventure that ranks as the highest-grossing animation of all time in the territory and crossed the half-billion global mark last weekend. After grossing $64.5m last weekend, it should have enough left in the tank to trouble Hobbs & Shaw, which earned $60.8m from its international markets in the same session.
And then there is Tarantino, whose latest film Once Upon A Time… In Hollywood scored the filmmaker's best debut in Russia last weekend on $7.7m, and will be looking to make a lot more noise in a handful of major markets through Sony Pictures Releasing International (SPRI).
Standing at an early $10.2m from Russia, Tarantino's ode to Hollywood past ventured into the UK, France and Belgium on Wednesday (14), followed by Australia, Brazil, Germany, Spain, and Netherlands on Thursday. SPRI brass will report grosses on Sunday, when they also reveal how The Angry Birds Movie 2 fared in its first markets of Russia and China, day-and-date with North America. By way of comparison, 2016's The Angry Birds Movie opened in each territory on $29.2m, and $5.8m, respectively.
These are encouraging times for Sony, whose Spider-Man: Far From Home has grossed $729.3m from its international run and crossed $1bn at the global box office last month.
Walt Disney Studios Motion Pictures International executives know they have no individual film that can challenge for the international or global crown this weekend, but they will not mind too much after Pixar's Toy Story 4 became Disney's fifth release of the year-to-date to cross $1bn at the global box office.
The family release stands at $579.9m internationally and opens in Germany this weekend, which should deliver a solid number after it was among the top 10 markets for 2010 release Toy Story 3. That film arrived in Germany on $4.1m en route to a $17.1m final gross.
Meanwhile The Lion King has grossed $897m internationally, and Aladdin $684.7m. Both crossed the $1bn milestone last month in what continues to be an extraordinary year for the studio, which still has Frozen and Maleficent sequels and Star Wars: The Rise Of Skywalker to come.
R-rated comedy The Good Boys opens day-and-date with North America in 15 markets including the UK. The film from Universal in association with Good Universe hails from Point Grey creatives Seth Rogen, Evan Goldberg and James Weaver (Superbad, Sausage Party), and stars Jacob Tremblay (Room), Brady Noon, and Keith L. Williams as 12-year-olds who get invited to their first kissing party.
Warner Bros Pictures International brass reported that Annabelle Comes Home has reached $148.1m, while crime drama The Kitchen has earned $1.2m. It disappointed in its North American release last week, which presents major obstacles for the international run. Melissa McCarthy, Tiffany Haddish and Elisabeth Moss star.
Blinded By The Light, the Sundance acquisition about a youngster who undergoes an awakening in Thatcher era Britain in the 1980s when he discovers the music of Bruce Springsteen, has grossed $1.2m
Last weekend's new family adventure Dora And The Lost City Of Gold has reached an early $4.5m through Paramount Pictures International, while the horror thriller Crawl has earned $21.8m, and Elton John biopic Rocketman stands at $91.4m.