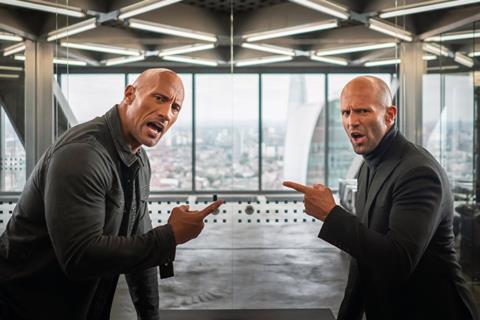 AUGUST 26 UPDATE: Universal's Hobbs & Shaw continued its muscular trajectory and received a timely boost from China, where a confirmed $100.1m debut ensured global box domination and propelled the worldwide running total to $588.1m.
Disney's The Lion King hit $1bn internationally on Sunday, and has crossed the $1.5bn worldwide barrier. Meanwhile, Quentin Tarantino's Once Upon A Time… In Hollywood has breezed past $200m worldwide.
UNIVERSAL PICTURES INTERNATIONAL
UPDATED: Hobbs & Shaw earned $127.5m worldwide, and showered itself in accolades in China. It delivered the biggest August debut on RMB 721m, and the second highest 2019 launch by a Hollywood film behind Avengers: Endgame on RMB 2.2bn (and ahead of Spider-Man: Far From Home on RMB 670m).
The Fast franchise action spin-off produced the second highest Friday-Sunday debut in the Fast franchise in China behind Fast & Furious 8, which holds the record for the biggest Friday-Sunday opening weekend of all-time on RMB 1.3bn, and the third highest Friday-Sunday launch this year behind Wandering Earth on RMB 1.2bn and Avengers: Endgame on RMB 1.18bn, beating animation sensation Nezha's RMB 652m.
Overall, Dwayne Johnson, Jason Statham, Idris Elba and Vanessa Kirby grossed $119.4m internationally to reach $440.4m from 68 markets. South Korea led holdover business on $4.4m for $22m after two weekends, followed by France on $1.9m for $16m after three. After four sessions, Japan and the UK stand at $25.5m and $21.4m, respectively, while Germany has produced $14.7m.
Illumination Entertainment's The Secret Life Of Pets 2 added $4.9m for $255.9m from 67 territories and $413.3m worldwide. However the family film trails its 2016 predecessor by some way after that feature finished on $368.4m internationally and $875.5m worldwide.
R-rated comedy Good Boys starring Jacob Tremblay earned $3.6m to reach $7m from its first wave of 22 markets. The UK leads the line and generated a further $398,000 in the second session to reach $2.2m. Germany delivered the best debut of the weekend on $975,000 for third place. Good Boys stands at $49m worldwide. Danny Boyle's fantasy romance Yesterday stands at $58.4m internationally, and $130.8m worldwide.
WALT DISNEY STUDIOS MOTION PICTURES INTERNATIONAL
UPDATED: The Lion King has crossed $1.5bn following a $38.2m session raised the tally to $1.509bn and counting. Internationally, a $32.3m haul from 55 material territories boosted the running total to $1bn as the four-quadrant family smash became the fourth Disney and ninth industry film to cross the milestone at the international box office.
The Lion King ranks ninth in the all-time global box office pantheon, and will overtake The Avengers on $1.519bn and Furious 7 on $1.516bn within days to rank seventh. The film opened well in Italy on $15.9m over five days to deliver the second highest Disney launch behind Avengers: Endgame, and the highest August opening. Opening day was the third highest in terms of admissions.
The Lion King is now the highest grossing Disney release in Spain on $37.8m ahead of Star Wars: The Force Awakens, and ranks as the 12th highest in the UK on $84.8m, and the eighth highest grossing release across Europe. It is the fourth highest in Asia by admissions, behind Disney releases Avengers: Endgame, Toy Story 4, and Avengers: Infinity War. China is the lead territory on $120.4m.
Toy Story 4 has reached $1.031bn at the global box office and overtook Zootopia on $1.024bn and Finding Dory on $1.029bn to rank sixth on the animation worldwide box office roster. It opens in Scandinavia shortly, and is expected to overtake Despicable Me 3 on $1.035bn before long. Japan is the lead market on $86.7m, followed by the UK on $78.3m, Mexico on $71.9m, Brazil on $32.5m, and China on $29.1m. Internationally, it added $4.7m for $604.6m.
SONY PICTURES RELEASING INTERNATIONAL
Quentin Tarantino's Once Upon A Time… In Hollywood has breezed past $200m worldwide to reach $239.8m. It added $28m internationally for $116m and ranks number one in 28 markets. Top markets for the weekend were France on $3.1m for $12.3m, the UK on $2.5m for $14.8m, Germany on $2.4m for $10.1m, and Spain on $1.3m for $7.3m.
Once Upon A Time… In Hollywood opened top in Mexico on $2.4m for Tarantino's career-best debut there. Russia and Australia have generated $15.7m and $8.5m, respectively, and the film debuts in Japan this week, followed by Italy on Sept. 18, and South Korea on Sept. 26.
Sony Pictures Animation's The Angry Birds Movie 2 earned $10.2m this weekend from 43 markets as the tally climbed to $47.6m, fired up by debuts in India ($870,000), Spain ($560,000) and Peru ($380,000). Spider-Man: Far From Home has grossed $736m internationally, and $1.116bn worldwide.
CHINA UPDATE
Aside from the box office heroics of Hobbs & Shaw, local titles kept Chinese box office ticking along. Enlight Media's animation juggernaut Nezha grossed $22.9m to reach $648.5m. Bona Film Group's action title The Bravest earned $6.1m for $226.2m.
MILLENNIUM MEDIA
The new number one North American film, Angel Has Fallen starring Gerard Butler, grossed $8.4m from international licensees during the weekend. Information about individual territories was unavailable at time of writing.
EONE
CBS Films/ eOne's Scary Stories To Tell In The Dark earned $4.3m for an early $21.5m running total for the horror film directed by André Øvredal and produced by Guillermo del Toro. It opened in the UK on $706,015 and arrived in France on $665,880 in sixth place. Mexico has delivered $5.3m after two weekends.
PARAMOUNT PICTURES INTERNATIONAL
Alligator thriller Crawl brought in a further $4.1m from 35 markets and reached $31.4m at international box office. Russia was the best of the nine debuts on $1.1m for third place, followed by the UK on $579,000 in sixth, Spain on $468,000 in sixth, and Germany on $295,000 in seventh. Vietnam has generated $1.5m after two weekends, and Mexico $3.6m after three.
Family adventure Dora And The Lost City Of Gold grossed $3.2m from 28 markets and stands at an early $17.4m, of which $3.3m comes from two weekends in the UK, and $2,2m from two in France. Dora ventures into Spain this week. Rocketman stands at $93.5m internationally and debuted in Japan on $1.7m in sixth place.
WARNER BROS PICTURES INTERNATIONAL
UPDATED: Annabelle Comes Home has crossed $150m and stands at $150.1m internationally, with the worldwide tally at $222.8m. Mexico is the top market on $16.5m, while the UK has generated $8.2m. Mob drama The Kitchen, which faces an uphill battle internationally after struggling to $10.4m after two weekends in North America, has reached $2m from 26 markets. Melissa McCarthy, Tiffany Haddish, and Elisabeth Moss star.