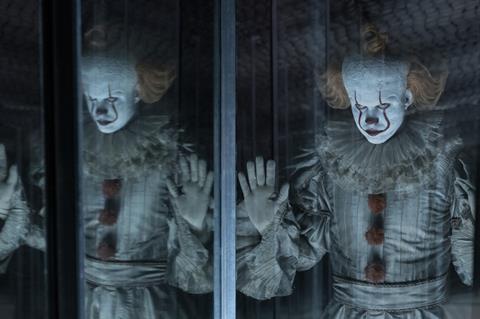 SEPTEMBER 16 UPDATE: It: Chapter Two held on to its number one worldwide and international box office crowns on a confirmed $46.6m for $169.1m and an estimated $87.3m for $323m, respectively, as the franchise crossed $1bn globally in the second weekend of the sequel's release.
Meanwhile Focus Features' Downton Abbey film version of the TV series stormed into the UK on $6.3m, and Sony's Once Upon A Time… In Hollywood has become Quentin Tarantino's second highest global release. STXinternational's Hustlers arrived on $4.5m.
WARNER BROS PICTURES INTERNATIONAL
UPDATED: The It franchise has amassed $1.023bn worldwide from two films. It: Chapter Two ranked number one in all new markets and 43 holdovers. It opened in France on $4.6m for 49% share of the top five films, and arrived in Hong Kong on $966,000 in the biggest debut by a horror film to claim 51% share.
The tentpole added $3.9m for $12.6m and 66% share in the second session in Germany, and $3.9m for $16.5m for second place in the UK, where it is the film's top market after two weekends.
In other second weekend holds, Mexico generated $3.2m for $16m and 48% share, Russia $3.2m for $14m and 59% share, Brazil $2.3m for $8.1m and 51% share, Australia $2.2m for $7.4m, Italy $1.6m for $9m and 36% share, Spain $1.6m for $6.8m and 44% share, Spain $1.6m for $6.8m and 43% share, and Indonesia $986,000 for $4.6m. Japan will be the final market on November 1.
John Crowley's The Goldfinch, adapted from the novel by Donna Tartt and starring Nicole Kidman and Ansel Elgort, premiered in Toronto International Film Festival (TIFF) after some poor reviews. The family drama managed $825,000 from the first launches in 13 territories, led by Russia on $551,000 in a number three debut. It opens in France this week.
UNIVERSAL PICTURES INTERNATIONAL
UPDATED: An excellent $6.5m debut in the UK secured top spot for Downton Abbey as the period drama inspired by the TV show about an aristocratic family in early 20th century Britain grossed $12.2m overall from 17 territories.
There were strong debuts also in Australia on $2.2m for number one, and the Netherlands on $717,000 for number two. This week brings Spain and Germany, among others, followed by France on September 25, Italy on October 24, Russia and Brazil on November 21, Mexico on November 22, and Japan on January 10, 2020.
Hobbs & Shaw added $8.2m for $573.1m, and took in $10.9m globally to reach $741.4m. The action tentpole brought in $5m in its fourth session in China, where it stands at $195.9m. Germany has generated $16.9m after seven weekends, France $19.2m after six, and the UK $24.1m after seven. Comedy Good Boys stands at an early $18.3m internationally, and $91.6m worldwide.
STXINTERNATIONAL
UPDATED: Hustlers, STXfilms' crime caper starring Jennifer Lopez as the head of a group of strippers who get their own back on Wall Street clients, ventured into 15 territories and earned $4.5m. Constance Wu also stars in the film, which premiered at TIFF and opened in second place in North America on an excellent $33.2m to delivered a career-best for Lopez in a live-action debut.
The UK led the way on $1.7m for third in STX's best debut there. Russia generated $1.2m in second place, and the Netherlands $377,000 in fifth. Lorene Scafaria wrote and directed Hustlers, and key upcoming releases are Australia on October 10, France on October 16, Italy on November 7, Mexico and Spain on November 22, Brazil on December 5, and Germany on December 6.
SONY PICTURES RELEASING INTERNATIONAL
UPDATED: Columbia Pictures' Once Upon A Time…in Hollywood has reached $329.4m worldwide and overtaken Inglourious Basterds on $323.4m to become the second highest film in Quentin Tarantino's career.
The film earned $8.4m from 60 markets to reach $192.5m and it is a matter of time before it crosses the $200m mark with launches set for Italy this week, and South Korea on September 26.
Sony Pictures Animation's The Angry Birds Movie 2 took in $4.1m from 54 and perches on $72.3m. It opens in Germany this week, Brazil on October 3, and France on October 16.
Sony Pictures International Productions' local-language romance Gut Gegen Nordwind (Good Against North Wind), debuted in Germany on $972,695 including previews. The film is an adaptation of Austrian writer Daniel Glattauer's international bestseller Love Virtually and centres on two people who inadvertently start a romantic relationship through email. The weekend generated $1.2m from 611 screens in the Germany, Austria, and Switzerland region.
WALT DISNEY STUDIOS MOTION PICTURES INTERNATIONAL
UPDATED: The Lion King ranks as the seventh highest film of all-time globally and internationally. It added an estimated $11.1m for $1.617bn globally, and a confirmed $7.5m for $1.0837bn internationally.
In Europe, the Middle East and Africa it surpassed Avengers: Endgame to become the fourth highest title of all time. Disney and Fox combined now have the top five films of all-time in the region: Avatar, Titanic, Star Wars: The Force Awakens, The Lion King, and Avengers: Endgame. China is the lead market on $120.4m, followed by the UK on $90.8m, France on $78.6m, Brazil on $68.8m, and Japan on $58.3m.
Toy Story 4 is the fifth highest animation globally after an estimated $3.4m boosted the running total to $1.058bn. Internationally, it added a confirmed $3m for $625.7m. Japan has produced $92.2m, the UK $81.3m, Mexico $71.9m, Brazil $32.6m, and France $29.4m.
PARAMOUNT PICTURES INTERNATIONAL
Crawl added $6.9m from 18 markets led by up by a $6.7m debut in China that propelled the running total to $44.5m. Next up are Brazil on September 26, Japan on October 11, and South Korea on November 28.
Dora And The Lost City Of Gold produced $4.4m from 34 markets for $33.7m. Mexico delivered the best of seven new markets on $2m in second place, while Colombia generated $295,000 in second place, Chile $118,900 in second, and South Africa $111,000 in fourth. Spain was the top holdover on $321,000 for $2m after three weekends. Dora enters Australia this week.