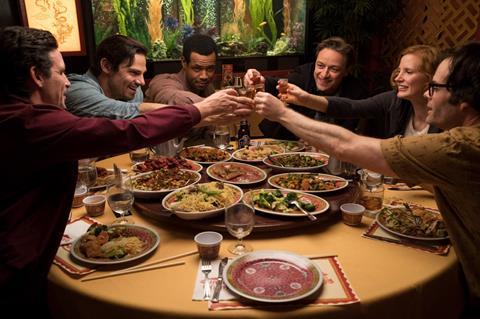 Warner Bros Pictures International's It: Chapter Two has raced to $120.9m internationally and $230m worldwide and should not be unduly bothered by STXinternational's first wave of releases for Hustlers.
Millennium Media's Angel Has Fallen has crossed $100m worldwide in a much-needed tonic for independent box office, and Sony's Once Upon A Time… In Hollywood is nearing the $200m mark, although it is unlikely to cross the milestone this weekend.
Horror sequel It: Chapter Two ruled global box office last weekend and looks good to stay top of the Hollywood pile. It opens in France on September 11 and its prospects are promising after the 2017 original launched there on $6.5m en route to $20.2m. Horror sensation It finished on $372.9m internationally and $700.4m globally.
Gurinder Chadha's Blinded By The Light will struggle after its paltry $11.4m North American gross from nearly one month in theatres. The 1980s UK-set coming-of-age drama enters Mexico this weekend. The Goldfinch, a family drama starring Ansel Elgort and Nicole Kidman adapted from the Donna Tartt novel premiered to tepid reviews in Toronto and heads into the weekend on an early $1.9m. It opens in Russia alongside North America.
Millennium Media's Angel Has Fallen stands at $46.5m internationally and counting with several territories still to report. Gerard Butler and Morgan Freeman have stormed to $7.6m in the UK, $3.8m in Australia, $3.2m in Mexico, $2.4m in Italy, and $1.8m in Netherlands. The global tally is $101.4m.
Universal Pictures International's Hobbs & Shaw spin-off stands at $562.9m internationally and has been the studio's big summer hit. The impressive result contributes to a $728.2m global haul and keeps the Fast world ticking along until Fast & Furious 9 opens in May 2020.
Another unqualified Universal success story this summer has been Yesterday. Danny Boyle's musical fantasy stands at $64.4m internationally and $137.7m globally. The Secret Life Of Pets 2 trails its 2016 predecessor by a country mile and sits on $426m worldwide, less than half of the original's $875.5m final haul. International box office has reached $268.4m, compared to the earlier film's $507.1m. R-rated comedy release Good Boys has climbed to $16.4m.
While Once Upon A Time… In Hollywood has racked up an impressive $183.2m and arrives this weekend in Italy, where Quentin Tarantino's films usually prosper and rank among the highest-performing territories. The Angry Birds Movie 2 has flown to $68.1m and opens in Australia and Italy this weekend. The 2016 original finished on $244m at the international box office. Australia was one of the better markets on a $6.9m final haul, and Italy finished lower down the order on $3.6m.
From Walt Disney Studios Motion Pictures International, Pixar's Toy Story 4 stands at $622.5m and $1.0545bn worldwide, while The Lion King has amassed $1.076bn internationally and $1.697bn globally.
Paramount Pictures International's Crawl has grossed $37.5m, Dora And The Lost City Of Gold $29.3m, and Rocketman starring awards contender Taron Egerton $97.2m.