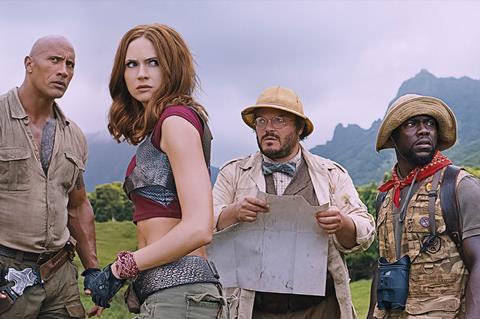 JANUARY 22 UPDATE: Jumanji: Welcome To The Jungle stayed atop the pile thanks to an estimated $33.6m weekend haul from 92 territories that propelled the running total to $451.8m and $768.8m worldwide.
SONY PICTURES RELEASING INTERNATIONAL
UPDATED: China delivered a further $7.7m in its second weekend as the running total climbed to $65.8m, while Australia produced $2.2m for $31.9m after four. The adventure held on to number one in its second weekend in Brazil on $2.3m for $17.9m.
The UK generated in $2.6m for $43.8m after five, and France returned $1.9m in the fifth session as Jumanji stayed top to reach $24.5m. Russia has produced $24.4m, Germany $18.8m, Mexico $18.1m, and Malaysia $13.7m, and South Korea $12.8m.
Insidious: The Last Key added $18.3m from 52 markets for $68m and the horror opened at number two in Russia on $4.4m including previews. Following last weekend's record debut for a horror film in Indonesia, the film added $1.8m for $8.4m, while a further $1.4m in the UK boosted the haul there to $5m after two.
Help, I Shrunk My Parents, a local-language film from Sony Pictures International Productions, debuted in Germany on $1.4m including previews. The overall weekend from four markets delivered $1.7m.
WALT DISNEY STUDIOS MOTION PICTURES INTERNATIONAL
UPDATED: Star Wars: The Last Jedi overtook Frozen on $1.2765bn at the weekend to become the ninth highest global release of all-time on an estimated $1.2963bn through Sunday (January 21).
The sci-fi added approximately $9.9m internationally for $692.2m and ranks as the fifth highest grosser of all time in the UK on $109.4m. That territory is the leader, followed by Germany on $79.8m, France on $63.5m, Japan on $60.8m, Australia on $43.5m, China on a lacklustre $40.7m, and Spain on $25.2m.
Pixar's Coco grossed approximately $18.3m for $456m internationally and stands at $655.9m worldwide. It debuted at number one in the UK on $7.2m including previews ($4.6m without). China remains the lead market on $183.5m, followed by Mexico on $57.8m.
FOX INTERNATIONAL
UPDATED: Ferdinand grossed $18.6m from 71 markets to reach $156.8m and opened in China on $9.2m. The Maze Runner: The Death Cure arrived in its first four markets for a combined $15m, opening in South Korea on an excellent $9.9m for number one and the best result of the YA adventure series so far. Australia produced $2.6m, Taiwan $2.2m, and New Zealand $379,000. All were number one results.
The Greatest Showman added $11.1m from 72 for $118.1m, while Three Billboards Outside Ebbing Missouri grossed $8.2m from 26 markets for $21.9m and debuted in France in third place on $1.5m.
Saturday night's PGA best feature winner The Shape Of Water grossed $3.9m for $8.8m and added $2m in director Guillermo del Toro's native Mexico to raise the tally there to $6.8m after two sessions. Murder On The Orient Express stands at $244.6m, while Kingsman The Golden Circle has reached $307.6m.
UNIVERSAL PICTURES INTERNATIONAL
UPDATED: Working Title's Darkest Hour added $12.6m for $37.1m and $77.9m worldwide. The Winston Churchill drama starring SAG Awards winner and Oscar frontrunner Gary Oldman opened in 25 markets including Italy on $1.5m, Germany on $664,00, and Russia on $330,000.
The UK was the top holdover as $4.5m ensured it held on to number one and climbed to $14m after two sessions. In other second weekends, Australia has delivered $2.2m, Brazil $1.5m, and Spain an estimated $1.1m. France has produced $3.5m after three.
Pitch Perfect 3 added $3.9m from 46 for $74.2m and stands at $174.7m worldwide. Local acquisition Benedetta Follia added $2.6m in Italy for $7.6m after two weekends, while Spanish hit Perfectos Descondidos boosted the running total by $1m to $21.2m after eight sessions in Spain. The Post debuted in Singapore on $112,000.
LIONSGATE INTERNATIONAL
UPDATED: Julia Roberts and Jacob Tremblay drama Wonder added $12.6m from 60 markets for $118.6m internationally and $248.5m worldwide. The film debuted in China on $8.5m. Brazil remains the top market on $25.9m after seven weeks in release. 12 Strong took $2.5m and opens in the UK this week.
STUDIOCANAL
Liam Neeson thriller The Commuter grossed $12m at the weekend through Studiocanal licencees to reach $24.8m internationally, and $50.4m worldwide.
It debuted in the UK on $2.2m, and in Australia on $890,000. Studiocanal distributes directly in the UK, Germany, Australia and New Zealand, and France (where it has not opened yet).
Germany stands at $3.9m after two weekends, where The Commuter has overtaken the lifetime totals of Source Code, The Accountant, and Atomic Blonde. Gussi released the thriller in Mexico on $1.8m, and in Argentina on $243,000.
PARAMOUNT PICTURES INTERNATIONAL
Downsizing grossed $4.7m from 40 markets including 15 new openings. It debuted in Germany on $933,000 and arrived in Mexico on $717,000 as the international running total climbed to $13.3m.
WARNER BROS PICTURES INTETRNATIONAL
UPDATED: Geostorm opened top in the final market of Japan on $2.7m as the international tally reached $179.2m. China is the top market on $65.3m
STX INTERNATIONAL
UPDATED: All The Money In The World opened in Indonesia, Philippines and Uruguay and grossed $1.2m overall for $15m from 23 territories including the UK, where Sony distributes.
Ridley Scott's John Paul Getty kidnapping drama stands at $3m in Italy after three weekends, and has reached the same number in Australia and New Zealand, and $1m in Benelux.
SIERRA/AFFINITY
Molly's Game brought in $1.8m for $16.9m and stands at $5.2m after three sessions in the UK through eOne. France has generated $3.6m after three via SND, and the Netherlands $1.3m after four through eOne.