MARCH 13 UPDATE: Logan crosses $150m, Get Out surges past $100m in second sessions; Personal Shopper opens well in limited release.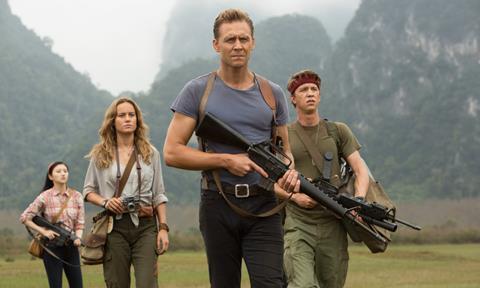 Legendary and Warner Bros' second 'MonsterVerse' tentpole after Godzilla from 2014 debuted at number one on a confirmed $61m from 3,846 theatres.
While the film arrived higher than studio executives expected, Kong: Skull Island will need to stay strong in the coming weeks. It reportedly cost $185m to produce not factoring in marketing costs and launched on $85.1m from 65 territories for a $146.1m global debut.
Tom Hiddleston, Brie Larson, Samuel L Jackson, John C Reilly and Tom Goodman star in the 1971-set tale of scientists who discover the massive ape on an uncharted Pacific island. Legendary and Warner Bros are lining up the next title in their MonsterVerse stable: Godzilla Vs. Kong.
Fox's Logan added $38.1m for $152.9m in its second weekend, while La La Land in ninth place added $1.2m through Lionsgate for $148.4m after 14 weekends.
Universal's horror Get Out starring breakout British actor Daniel Kaluuya in third place used $20.7m for $111.7m after two sessions. At roughly $4.5m, the film marks another low-budget smash for Jason Blum's Blumhouse Productions.
Bollywood release Badrinath Ki Dulhania opened at number 18 through FIP on $862,008 from 152 theatres. Paladin opened drama The Ottoman Lieutenant at number 30 on $149,830 from 216 sites.
Olivier Assayas's Cannes 2016 selection Personal Shopper starring Kristen Stewart debuted at number 35 through IFC on $79,175 from four for a robust $19,794 average. Assayas tied for the Cannes best director prize last summer with Cristian Mungiu for Graduation.
The top 12 combined for $151.9m and dropped 12.2% on last weekend yet gained 19.8% on the comparable session in 2016.
This week's wide release is Buena Vista's Beauty And The Beast starring Emma Watson; and The Belko Experiment through BH Tilt.
Estimated top 10 North America March 10-12, 2017
Film (Dist) / Est wkd gross / Est total to date
1 (-) Kong: Skull Island (Warner Bros) Warner Bros Pictures International $61m –
2 (1) Logan (Fox) Fox International $38.1m $152.9m –
3 (2) Get Out (Universal) Universal Pictures International $20.7m $111.7m
4 (3) The Shack (Lionsgate-Summit) Lionsgate International $10m $32.2m
5 (4) The Lego Batman Movie (Warner Bros) Warner Bros Pictures International $7.6m $158.8m
6 (6) Before I Fall (Open Road) Open Road International $3m $8.9m
7 (7) Hidden Figures (Fox) Fox International $2.8m $162.9m
8 (5) John Wick: Chapter Two (Lionsgate- Summit) Lionsgate International $2.7m $87.4m
9 (10) La La Land (Lionsgate) Lionsgste International $1.8m $148.4m
10 (9) Fifty Shades Darker (Universal) Universal Pictures International $1.7m $112.9m