DreamWorks Animation's Kung Fu Panda 3 leaped to the top of the pile on an confirmed $75.7m from six, powered by China's $58.3m through Oriental DreamWorks.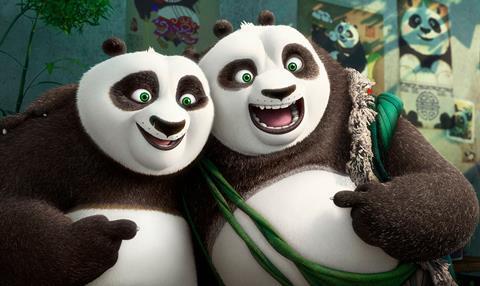 FOX INTERNATIONAL
FEBRUARY 1 UPDATE: The top Fox market was Russia on $5m as the film opened day-and-date with the $41.3m number one North American launch. The family film grossed $4.2m from 289 Imax screens in China and South Korea.
The Revenant added $25.8m from 63 for a muscular $142.7m and stayed atop the UK charts on $3.3m for $23.5m.
Alvin And The Chipmunks: The Road Chip grossed $13.8m from 53 for $70.5m and opened in China over six days on $4.8m.
Joy added $2.6m from 51 for $39.8m an arrived in Italy on $1.2m. The Peanuts Movie stands at $113.1m.
SONY PICTURES RELEASING INTERNATIONAL
FEBRUARY 1 UPDATE: Disaster movie The 5th Wave rolled into six markets this weekend and earned a confirmed $13.8m from 66 to reach $45.9m.
It opened at number one in France on $2.4m including previews, arrived in Mexico on $1.7m and scored the biggest debut for a new YA property in Colombia and Chile on $520,000 and $420,000, respectively.
In the second weekend Brazil produced $1.1m for $3.4m, Russia $710,000 for $3m, and Spain $675,000 for $2.3m. Australia generated $600,000 for $4.4m and Germany $500,000 for $2.8m, both after three.
Goosebumps grossed $2.1m including Village Roadshow markets from 13 total to stand at $54.8m. The family film opened in Spain at number two in $1.1m
WALT DISNEY STUDIOS MOTION PICTURES INTERNATIONAL
Disney/Luasfilm's Star Wars: The Force Awakens grossed $12.6m in its seventh weekend as the international running total surged to $1.088bn and the global mark to $1.983bn.
The film ranks as the number one Western release in Japan for the seventh consecutive session and stands at $83.3m.
The UK has produced $176.4m, China $121.1m, Germany $106.1m, France $86.3m, Australia $64.9m, Spain 35m, Italy $28.3m, Brazil $27.6m, Mexico $27.5m, Russia $25.9m and South Korea $24.1m.
The Finest Hours has taken an early $1.6m.
THE WEINSTEIN COMPANY
Quentin Tarantino's The Hateful Eight grossed $9m from 48 territories to reach $63.8m as Germany delivered a $3.9m number one debut including previews.
The Western stands at $4m in Australia after two, $1m in France after four and $4.3m in Spain after three and $10m in the UK.
WARNER BROS PICTURES INTERNATIONAL
FEBRUARY 1 UPDATE: Creed grossed $7.8m this weekend from 41 markets to rise to $51.9m. The drama opened top in Spain on $1.6m and debuted in Mexico on $1m. France has grossed $9.9m after three sessions and the UK $7.7m.
Point Break added $950,000m from 12 Warner Bros markets for $17.6m and combines with Lionsgate International markets for $87.9m. The thriller arrived in Brazil on $603,000 and opens in the UK this week.
Through Lionsgate licensees the film has taken $39.4m in China and opens this week in France and Belgium.
Black Mass opened in Japan on $958,000 and the international running total is $34.1m.
PARAMOUNT PICTURES INTERNATIONAL
FEBRUARY 1 UPDATE: The Big Short grossed a confirmed $6.6m from 53 markets for $41.7m and added an estimated $1.4m in its second session in the UK to surge to $4.3m. After two sessions South Korea has amassed $2.3m, Spain $2.1m and Venezuela $1.5m. Australia has generated $3.7m after three.
Will Ferrell comedy Daddy's Home grossed a confirmed $6.7m from 46 for $68m and was rewarded with an estimated $2.1m number one launch in family-friendly Mexico that produced Paramount's biggest comedy debut and a new high-water mark for Ferrell.
Brazil delivered $767,000 for number four; still good enough for a number one Paramount comedy and Will Ferrell launch. The UK has generated $24.1m after six session, Germany $1.3m after two and Australia $15m after six.
13 Hours: The Secret Soldiers Of Benghazi rolled out in its first eight markets on $1.5m.
UNIVERSAL PICTURES INTERNATIONAL
FEBRUARY 1 UPDATE: Ride Along 2 grossed $5.3m from 27 for $18m and opened in Sweden at number five on $221,000. The UK has delivered $5.9m after two sessions and Germany $2.6m. The comedy is on course to overtake the final $19.5m tally of Ride Along this week.
Sisters crossed $100m worldwide to reach $101.2m as an estimated $823,000 from 23 territories pushed the running total to $15.m. Australia has generated $7.5m after four weekends.
L'abbiamo Fatta Grosso, an Italian comedy that Universal is distributing in Italy, opened top on $3.7m. Babysitting 2 stands at $22.7m.
The Danish Girl added $3m from 29 for $24.3m while Room, which Universal handles in 20 territories, used a $140,000 session from seven Latin American territories to drive the haul to $410,000. Steve Jobs has amassed $13.9m.
EONE INTERNATIONAL
Spotlight grossed $4.1m for an early $5.8m and opened in the UK at number five on $1.4m, in France on $800,000, in Spain at number six on $650,000, and in Australia at number seven on $610,000.
LIONSGATE INTERNATIONAL
The Last Witch Hunter grossed $1.3m for a $113m running total. China is the lead market on $25.7m. The Hunger Games: Mockingjay - Part 2 stands at $371.2m.
FILMNATION
Room added $1m from 15 territories for $4.9m. The drama has reached $3.6m in the UK and debuted in Australia on $172,400. It is distributed in seven Latin American countries via Universal and added $140,000 for $410,000. Argentina debuted on $260,000.
STUDIOCANAL
Youth added $108,850 for $370,415.