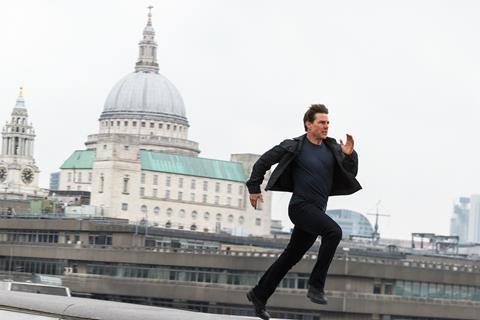 AUGUST 6 UPDATE: Scoring a string of opening weekend records, Mission: Impossible Fallout surged past $200m at the international box office to ensure Tom Cruise stayed top of the pile to beat the $64.5m haul by Hello Mr. Billionaire in the Chinese comedy's second weekend.
PARAMOUNT PICTURES INTERNATIONAL
UPDATE: Now on $205m, the action spy thriller is tracking roughly 53% ahead of Mission: Impossible Rogue Nation for the same group of markets at the same stage. The global tally stands at $329.5m, less than half of the lifetime total of franchise leader Mission: Impossible – Ghost Protocol, which opened in 2011 and finished on $an inflation-unadjusted $694.7m.
In a string of number one debuts, the film opened in France and Japan each on $8m, in Australia on $5m for a franchise record, Germany on $3.8m, the Netherlands on $1.8m for franchise and Tom Cruise records, Norway on $1.6m and Denmark on $1m for franchise, Cruise and Paramount records, and Sweden on $956,000 for franchise and Cruise records.
South Korea led the second weekend holdovers on $8.6m for $41.5m, while the UK generated $3.5m for $18.7m, Indonesia $2.6m for $9.4m, Taiwan $2.5m for $9.9m, and Brazil $2.3m for $7.5m.
Elsewhere, Fallout added $2m for $12.9m in the second weekend in India, $1.7m for $6.8m in Russia, $1.6m for $5.3m in Hong Kong, and $1.3m for $5.3m in the UAE. The Middle East as a whole has produced $11.2m.
IMAX delivered $3.8m from 301 screens for a $10.6m international running total.
ASIA UPDATE
On the back of a record-breaking July that generated $912m, Hello Mr. Billionaire followed up last weekend's $127.3m debut with a $64.5m weekend haul that elevated the tally to $289.9m.
Fantasy martial arts saga Detective Dee: The Four Heavenly Kings added $12.5m for $76.1m. South Korean fantasy action release Along With The Gods: The Last 49 Days opened on $37.3m.
WALT DISNEY STUDIOS MOTION PICTURES INTERNATIONAL
UPDATE: Pixar's Incredibles 2 added $20.3m from 42 territories for $465.2m, consolidating on last weekend's $1bn-plus tally to reach $1.048bn worldwide and rank as the fourth highest animated release in history and the 27th highest release overall.
The animation debuted in Japan over five days on $8m (approximately $3.5m for the Saturday-Sunday portion), and arrived top in Spain on an estimated $4.5m, where Saturday's gross registered the second highest ever for an animation. The family release has become the highest grossing Disney Animation/Pixar release of all-time in New Zealand as well as the highest grossing Pixar release of all-time in Taiwan.
China is the lead market on $53.6m, followed by the UK on $52.2m, Mexico on $37.2m, Brazil on $35.4m, and Australia on $33.1m.
Marvel Studios' Ant-Man And The Wasp added $11.7m from 47 for $231.3m and $426.8m globally. The film posted a $6.5m number two UK debut, and stands at $42.4m in South Korea, $14.8m in Mexico, $13.9m in Australia, $12.8m in Russia, and $12.6m in Brazil.
Christopher Robin ventured into its first international markets day-and-date with North America and grossed $5.1m. Mexico took the lead on $1.5m over four days, while Russia generated $1.4m, Hong Kong $500,000, Philippines and Taiwan $300,000 each, and Singapore and Colombia each on an estimated $200,000.
UNIVERSAL PICTURES INTERNATIONAL
UPDATE: Mamma Mia! Here We Go Again added $19.3m from 53 territories for $139.2m and $230.6m worldwide. The musical sequel debuted in seven markets including Brazil on $1.2m at number three, Taiwan on $374 at number two, and China on $324 at number 11.
The running total is tracking approximately 28% ahead of 2008 release Mamma Mia! by the same stage. In the third weekend, the UK generated the top holdover, staying at number one on $5.3m for $51.4m. Australia delivered $1.8m at number two on $12.3m, and Germany $1.7m at number two for $11.4m. The film stands at $7.2m in Abba's native turf Sweden and is some 58% ahead of the original.
After two weekends, Mamma Mia! Here We Go Again has amassed $3.3m in France. After three sessions it has grossed $6.9m in Spain, and $4.4m in the Netherlands.
Jurassic World: Fallen Kingdom has reached $855.1m after a $6.3m weekend, and is set to overtake Transformers: Age Of Extinction on $858.6m this week to rank as the 13th highest international release. The worldwide tally stands at $1.261bn.
Fallen Kingdom crossed $50m in Japan on Saturday to reach $51.7m, and in Mexico it has outstripped the lifetime total of Jurassic World.
Skyscraper added $5.6m from 66 for $123.7m excluding China, and $188.1m globally. Including China, where the action thriller has grossed $93.8m through Legendary East, the total international gross stands at $217.5m internationally, and $281.9m worldwide. Executives reported on a couple of Latin America territories, where Peru and Columbia have delivered $2.6m and $3m, respectively. The First Purge stands at $53.2m and $120.9m worldwide.
SONY PICTURES RELEASING INTERNATIONAL
UPDATE: Hotel Transylvania 3: Summer Vacation added $18.7m from 57 markets for $201.6m and $338.1m worldwide. France produced $2.8m for $8.5m, the UK $1.9m for $10.1m, and Germany $1.6m for $10.9m.
Latin America continues to deliver new territory lifetime records for the franchise with Mexico the latest to join the club in its fourth week reaching $24.1m. In other running totals, Brazil has generated $16.9m, Russia $16.6m, Australia $13.3m, Spain $11.7m, and Argentina $10.6m.
The Equalizer 2 raised the international running total by $816 from 11 markets to an early $7.7m as it prepares to launch this week in Spain.
FOX INTERNATIONAL
UPDATE: YA dystopian thriller adaptation The Darkest Minds took in $4.1m in its first session, with Mexico emerging as the top market on $1m in a number five debut. Thailand delivered a $447,000 number two result. The film debuts in 14 markets this week including the UK, France and Spain. Mas Sabe El Diablo Por Viejo added $425,000 in Mexico for $2.3m after two weekends.
WARNER BROS PICTURES INTERNATIONAL
UPDATE: Ocean's 8 grossed $1.9m from 47 for $136.1m, and $274.1m worldwide. It held firm at number one in the second session in Italy on $715,000 for a $2.3m running total. Teen Titans Go! To The Movies added $1.1m from 13 for an early $2.4m. The comedy Tag has amassed $20.8m thus far.