SEPT 14 UPDATED: Mission: Impossible - Rogue Nation set the Chinese box office alight with a confirmed $85.8m from 5,500 venues that propelled the international running total past $400m.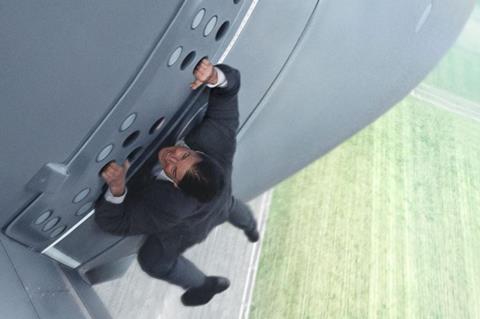 PARAMOUNT PICTURES INTERNATIONAL
UPDATE: Rogue Nation scored the biggest debut in China for the Mission Impossible franchise and a Tom Cruise film and finished 134% ahead of the Ghost Protocol launch.
Overall the action thriller grossed $91.4m from total 63 territories over the weekend and stands at $424.9m.
Terminator: Genisys added $1.6m from four markets to reach $350.2m. Capture The Flag grossed $1.2m in its third weekend in Spain to boost the tally to $7.3m.
UNIVERSAL PICTURES INTERNATIONAL
UPDATE: Universal Pictures and Illumination Entertainment's Minions has become the second biggest animation of all time worldwide on $1.080bn after overtaking the $1.064bn tally of Toy Story 3.
The film added $26m from 57 territories to reach $748.6m internationally following a $18.8m opening day in China on Sunday that scored the biggest opening day for an animation. It ranks as the second biggest international release of all time behind Frozen on $880m.
Straight Outta Compton grossed $4.3m from 15 for an early $24.9m and opened in South Korea on $184,000. The UK has generated $10.8m after three weekends.
M Night Shyamalan's comedy-horror The Visit opened in 14 territories in Europe day-and-date with North America and generated $3.9m. The film arrived in Spain on $1.8m for the biggest debut of the year-to-date for a horror or thriller at number three in the UK on $1.6m including previews.
Ted 2 stands at $126.6m, Jurassic World $1.007bn and Trainwreck $27.4m.
FOX INTERNATIONAL
UPDATE: Maze Runner: The Scorch Trials brought in $26.7m from its first 21 markets, led by the UK on $4.2m, Mexico on $3.7m, Taiwan on $3.5m and Australia on $2.7m.
Hitman: Agent 47 added $4.8m from 73 markets for $52.3m, while a further $2.8m from 46 saw Fantastic Four climb to $105.6m.
El Clan, from freshly minted Venice Silver Lion best director winner Pablo Trapero, stayed top in its native Argentina for the fifth consecutive weekend as $1m boosted the taly to $15.2m.
Chilean hit The 33 has grossed $9.8m overall and $4.9m in Chile after six weekends.
STUDIOCANAL
Tom Hardy starrer Legend scored a record number one UK debut, earning $7.9m (£5.2m). This was the biggest UK September launch, the biggest debut for a British 18-rated film and the third biggest 18-rated debut behind Fifty Shades Of Grey (£13.5m) and Hannibal (£6.4m).
WARNER BROS PICTURES INTERNATIONAL
UPDATE: Vacation grossed $3.5m from 55 markets to reach $40m and opened in Brazil at number two on $696,000.
The Man From U.N.C.L.E. took $2.9m from 64 to reach $51.9m and stands at $9.6m in the UK and $8.6m in Russia.
WALT DISNEY STUDIOS MOTION PICTURES INTERNATIONAL
Pixar's Inside Out grossed $5.3m from 34 territories to reach $395.9m, while Marvel Studios' Ant-Man added $5.1m from 17 to scale $218.6m.
SONY PICTURES RELEASING INTERNATIONAL
UPDATE: Pixels opened in Japan on $1.8m and Australia on $1.6m to reach $127.5m with China to come on Tuesday. The action comedy grossed $5.2m from 73 markets. The worldwide tally crossed $200m to settle on $201.7m.
Ricki & The Flash added 24 new markets this weekend, including Italy and Mexico and grossed $2.7m to reach $9.2m.
FILMNATION ENTERTAINMENT
FBI thriller Solace starring Anthony Hopkins and Colin Farrell opened in France on $2m in 246 sites via SND.