NOVEMBER 22 UPDATE: The Hunger Games: Mockingjay – Part 1 scores number one debuts everywhere as UK delivers $8.2m after two days, Germany $6m and Mexico $5.3m.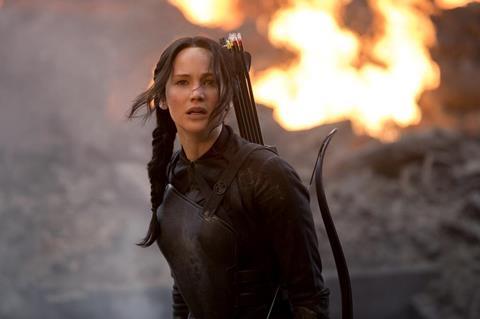 The $67.5m estmated three-day gross combines with the $55m North American tally for $122.5m worldwide after three days.
Early numbers would suggest the YA adaptation is on fire as it rolls out on 17,000 screens across 85 markets this weekend in the biggest day-and-date launch of 2014 and the widest ever for Lionsgate's formidable international distribution platform.
The Hunger Games: Mockingjay – Part 1 opened in nine markets on Wednesday (November 19), 59 on Thursday and a further 17 on Friday.
The UK opened on Thursday on $3.6m and climbed to $8.2m to lead Catching Fire by 6% by the same stage of that's film's launch one year ago.
Germany's $2.9m opening day was the biggest of the year-to-date, while Russia delivered the biggest 2D debut of 2014 on $2.7m and stands at $5.3m after two to run 24% ahead of its predecessor.
Latin American markets have grossed 65% of Catching Fire's opening weekend after two days, with Mexico on $5.3m and Brazil on $5.1m.
Mockingjay - Part 1 stands at $4.6m after two days in Australia where it scored the biggest debut of the year-to-date.
France has generated $4.5m after three days, while Spain's $1.8m recorded the top Friday debut so far this year.
Italy has produced $1.9m after two days and South Korea $1.3m after two for a 26% gain on Catching Fire by the same stage.
Catching Fire set off on its global journey almost exactly one year ago, scoring $146m from 63 territories including the UK, Germany, Brazil, Australia and South Korea.
Katniss Everdeen is on course to usurp Warner Bros Pictures International's reigning champion Interstellar, which has been no slouch on $262.5m overall after two weekends and $56m in China and arrives in Japan.
Sony Pictures Releasing International's The Equalizer debuts in India and has amassed $83.9m. Idris Elba crime thriller No Good Deed opens in the UK, Germany and South Africa. Fury stands at $46.2m through Sony markets.
Walt Disney Studios Motion Pictures International's Big Hero 6 stands at an early $41.8m and continues to roll out in the coming months, while The Hundred-Foot Journey has reached $17.4m.
Fox International's Gone Girl has amassed $169.6m and The Maze Runner $232.9m and The Book Of Life $38.7m.