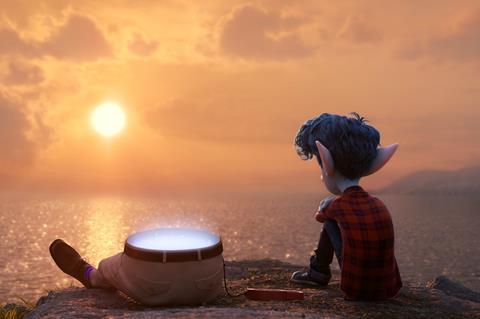 MARCH 9 UPDATE: Onward ruled global weekend box office on an estimated $68m debut, a relatively tame bow for a Pixar launch as the ongoing spread of coronavirus took its toll amid theatre closures and restrictions across parts of the world.
Revenues are taking a hit with most of China's 70,000 theatres still closed, and territories like South Korea, Japan, France and Italy experiencing significant box office drops. In the case of the latter, theatres had been ordered to 30% of capacity due to government-imposed restrictions that have now expanded to include the quarantining of roughly one-quarter of the population. As of Monday all cinemas in Italy were closed.
At time of writing the extent of the virus's impact on international box office remained unclear, however a $28.5m international debut for a Pixar tentpole in an opening sweep that included the UK, France, Russia, Germany, Mexico and Brazil tells its own story. Onward did not open this weekend in Italy, Australia, South Korea, Japan and China, as well as Turkey, Hong Kong, New Zealand and Taiwan.
WALT DISNEY STUDIOS MOTION PICTURES INTERNATIONAL
UPDATED: Disney/Pixar's Onward debuted in 47 territories for $28.5m, day-and-date with a muted $40m North American debut for a $68m global debut that would appear to have taken a hit from coronavirus fears. Disney executives acknowledged the likely impact of the virus particularly in the Asian-Pacific region and claimed most other regions had not seen a "material impact at this point".
Onward grossed $18.7m in Europe, opening top in the UK on $4.5m, France on $3.5m, and Spain on $1.7m, while Russia produced $2.5m in second place. The family release also placed second in Germany on $1.7m. Latin America generated $7.2m led by number one debuts in Mexico and Brazil on $2.9m and $1.1m, respectively, as well as in Argentina, Central America, Chile, Colombia, Peru, Uruguay, Ecuador, Bolivia and Venezuela.
A decimated Asia-Pacific region generated $2.1m and the highlights were table-topping debuts in Indonesia, Philippines, and Singapore and India. There are no debuts this week, although South Korea, Italy and Japan have been dated for April 15, 16, and 17, respectively. China remains undated.
Comparisons with last year's release of Toy Story 4 are not entirely reliable as that was an established, world-beating franchise, while Onward is a new IP. However for the record, Toy Story 4 opened last year in the UK on $16.9m, France on $6.2m, Spain on $3.7m, Germany on $2.2m, Mexico on $23.8m, and Brazil on $9.3m.
The Call Of The Wild is poised to cross $100m globally after an $11.8m session boosted the tally to $99.6m. The Jack London adventure adaptation starring Harrison Ford added $5.2m internationally to reach $42.5m, and opened top in Hong Kong on $300,000. France is the lead market on $7.8m, then Mexico on $3.8m, and the UK on $3.4m. The South Korean debut is set for June 4.
UNIVERSAL PICTURES INTERNATIONAL
The Invisible Man's international running total swelled by $17.3m to $45.6m, while the global tally climbed by $32.4m to reach $98.3m with the $100m target in sight within a day or two.
The genre remake starring Elisabeth Moss opened in 18 markets led by Russia on $1.4m for fourth place, Malaysia on $700,000 for first place, and Netherlands on $500,000 for third. The UK delivered the top hold on $2.1m for $6.6m, and in other second-weekend business, Australia generated $1.5m for $3.6m, and France $1.5m for $4.1m.
Dolittle with Robert Downey Jr. added $2.2m from 57 territories for $144.8m, and climbed to $221.6m globally. Executives acknowledged heavier drops but attributed those to the end of school holidays. The UK has produced $20.4m after five weekends, Russia $8.5m after three, and Germany $8.2m after six.
Period drama Emma starring Anya Taylor-Joy earned $1.5m from 27 territories to push the early international tally to $14m, while global box office stands at $20.9m. The film opened in 10 markets including Germany on $400,000. The UK has delivered $9.1m after four sessions, and Australia $$2.4m after four.
PARAMOUNT PICTURES INTERNATIONAL
Sonic The Hedgehog zipped passed the $150m international box office mark following a $12m haul from 62 markets to settle on $154.8m. Leading the way in the fourth weekends holdovers was the UK on $1.2m for $23.9m, followed by France on $1m for $14.7m, Mexico on $992,000 for $17.4m, Australia on $902,000 for $7.2m, and Germany on $837,000 for $8.7m. The family video game adaptation has delivered $5.4m in Spain after four, and $10.1m in Russia after three. Japan and China remain undated.
MIRAMAX INTERNATIONAL
The Gentlemen opened in seven international territories as the weekend overall generated $4.9m for a $74.4m international running total for Guy Ritchie's gangster caper. CIS stands at $20.5m after four weekends and according to Miramax now ranks as the highest-grossing foreign independent non-sequel release in local currency terms. German-speaking Europe has produced $2.7m after two weekends, and Spain $1.7m after two.
SONY PICTURES RELEASING INTERNATIONAL
UPDATED: Bad Boys For Life earned $2.9m this weekend from 55 markets for $213.5m international and $415m global running totals. Little Women stands at $97.1m internationally after a $991,110 session from 52, and has reached $205m worldwide. Blumhouse's Fantasy Island grossed $2.4m from 43 for $19.5m and opened in Russia on $1.2m.
WARNER BROS PICTURES INTERNATIONAL
UPDATED: Birds Of Prey generated $2m from 76 markets to push the international running total to $113.9m and the worldwide total to $196.4m. The female-led, R-rated Suicide Squad spin-off will open in Japan on March 20. The film has amassed $11.3m in the UK and $11.1m in Mexico.
Japanese hospital hostage thriller Kamen Byoto opened in its native territory on $1.4m and is a "Masked Ward" Film Partners production led by Warner Bros Pictures Japan. Ben Affleck coaching drama The Way Back debuted in 14 markets and delivered $692,000 led by Australia on $195,000. This combined with the North American debut for an early $8.9m global haul.
Die Kanguru-Chroniken launched ahead of Onward at number one in Germany on $3.6m. It is an X Filme Creative Pool / X Verleih film distributed by Warner Bros.