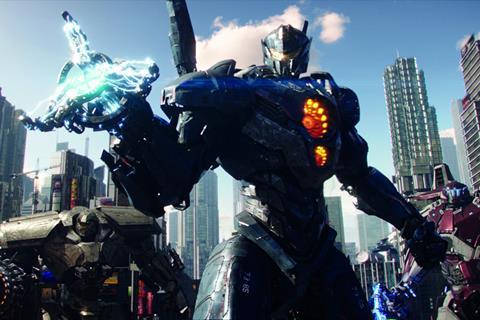 MARCH 26 UPDATE: Pacific Rim Uprising starring John Boyega dominated global box office on an estimated $150.5m, fired up by a $64.9m estimated three-day launch in China, while Tomb Raider fell away somewhat on $44.5m globally, and Black Panther crossed $600m internationally.
LEGENDARY EAST
UPDATED: A lot was riding on the Chinese performance for Pacific Rim Uprising given Wanda's ownership of the film's producer Legendary Entertainment, and the action tentpole delivered a solid $64.9m estimated debut via Legendary East in the first three days.
That compares well to the $45.3m debut of the 2013 original Pacific Rim, which equates to $48.3m in today's terms. Overall, China propelled the early international weekend to $122.4m. The original finished on $111.9m in China ($119.3m when adjusted for inflation).
UNIVERSAL PICTURES INTERNATIONAL
UPDATED: Universal territories accounted for $57.5m, 30 of which returned number one debuts. South Korea and Russia led the way on $6.8m apiece in a pair of number one debuts that compared to $8.3m in South Korea ($8.9m when adjusted for inflation), and $8.9m in Russia ($9.5m in today's terms) back in July 2013. Mexico rewarded the franchise on $4.9m in a table-topping debut compared to $5.5m ($5.9m) in 2013.
Elsewhere, Pacific Rim Uprising opened in Malaysia on $3.8m, an excellent number one result that improved on the 2013 original debut of $2.1m ($2.2m). Indonesia also returned number one on $3.6m. No comparable results for the original's Indonesian debut were available at time of writing.
Taiwan generated $3.1m for number one, and France $2.6m for number three in a drop on the original's $3.7m ($3.9m) opening weekend. A number two $2.3m haul in the UK dropped against the 2013 film's $3.3m ($3.5m) debut, while Australia and Germany delivered $2.1m (compared to $2.7m / $2.9m), and $1.9m (on par with the original) – both in second place.
Pacific Rim Uprising opened top in Thailand on $1.7m, Singapore on $1.5m, top in Brazil on $1.5m, top in Italy on $1.4m, top in India on $1.4m, and third in Spain on $1.1m.
Boss Baby scored the biggest debut for a DreamWorks Animation release in Japan on $7.6m. The number two debut via Toho-Towa behind Coco is the film's final release.
Mary Magdalene added $1.9m for an early $5.3m, led by a handful of Catholic markets starting with Mexico on $250,000, Portugal on approximately $69,000, and central America on approximately $51,000. The drama added $421,000 in Italy for $1.4m after two, and stands at $731,000 in Brazil after two sessions.
Fifty Shades Freed added $1.1m for $267.9m. The Post climbed by $1m the same amount to $32.5m, while I Lose Weight added $1.1m in Russia for $10.7m after three weekends. Lady Bird stands at $21m, Phantom Thread $23.5m, and Darkest Hour $88.5m.
WARNER BROS PICTURES INTERNATIONAL
UPDATED: Alicia Vikander in the role of thrill-seeking heiress Lara Croft in WB/MGM's Tomb Raider relinquished the international crown as it brought in $33.7m from 66 markets for $169.7m and $211.1m worldwide.
China led the way with $11.6m for $69.4m after two weekends, followed by the $2.3m debut in Japan. In the second weekend, France delivered $2m for $6.6m, the UK $1.7m for $7.6m, Russia $1.4m for $6.6m, Germany $1.3m for $4.1m, and Australia $1.1m for $3.9m.
Brazil generated $1m for $3.7m, Italy $863,000 for $3.3m, Spain $774,000 for $2.7m, and Mexico $644,000 for $4m.
Game Night grossed $2.1m for $34.2m and the UK is the crime caper's top market on $5.9m, followed by Australia on $5.3m, Germany on $2.9m, Russia on $2.5m, Holland on $2.2m, and UAE on $1.4m.
SONY PICTURES RELEASING INTERNATIONAL
UPDATED: Following last excellent UK debut, Peter Rabbit held on to number one there as $6.5m raised the bar to $19.1m. Overall the family feature added $27.1m from 39 markets for an impressive $75.7m.
WALT DISNEY STUDIOS MOTION PICTURES INTERNATIONAL
UPDATED: Black Panther crossed $600m internationally as an estimated $14.3m boosted the tally to $607.9m to rank as the fifth highest Marvel Cinematic Universe (MCU) release, ahead of all non-MCU titles except The Dark Knight Rises on $636.8m.
The worldwide haul has reached approximately $1.24bn to rank as the 12th highest release in history and the highest sole superhero title.
Ava DuVernay's fantasy adaptation A Wrinkle In Time grossed a further $2.4m for $14.2m. Russia and Spain lead the way on $6.2m and $2.2m. Pixar's Coco added $4.7m for $560.1m. China and Mexico have generated $183.5m and $57.9m.
FOX INTERNATIONAL
UPDATED: Three Billboards Outside Ebbing, Missouri is poised to cross $100m internationally on Monday after $2m boosted the tally to $99.3m. The Shape Of Water reached $122.3m following a $5.5m weekend that saw the running total in China climb to $15.6m after two sessions.
The Greatest Showman on $236.3m has become Fox's fifth biggest release in the UK on $54.8m after 13 weekends. Jennifer Lawrence spy thriller Red Sparrow added $6.3m for $76.3m, and horror thriller Unsane starring The Crown's Claire Foy launched on $792,563 in its first five markets, including a $662,932 UK debut.
PARAMOUNT PICTURES INTERNATIONAL
Animation Sherlock Gnomes from MGM and Paramount Pictures brought in $2.1m frm its first forays in 14 markets, led by the UAE on $159,000 in sixth place, Portugal on $140,000 in third, and Colombia on $125,000 in sixth. The 2nd weekend in Russia delivered $486,000 for $2m.
STX INTERNATIONAL
Amazon Studios' Gringo opened in seven territories and brought in $528,000 overall for an early $2.1m. STXinternational handles the dark comedy internationally, and distributes directly in the UK, while STXfilms services the US release. VVS distributes in Canada. Thriller Den Of Thieves opened in Venezuela and Paraguay and generated $600,000 overall for $29.9m.