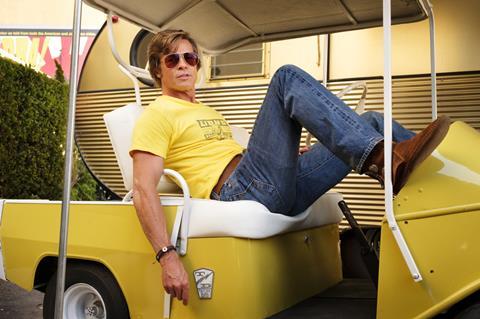 JULY 29 UPDATE: Once Upon A Time… In Hollywood delivered a career-best North American opening weekend for Quentin Tarantino on a confirmed $41.1m, although The Lion King stayed top in its second weekend on $76.6m as it surged to $351.9m.
Tarantino's paean to late 1960s Hollywood opened via Sony in 3,659 sites and is the first in his nine-film career that the American auteur did not make with disgraced former Hollywood mogul Harvey Weinstein. It opened higher than Inglourious Basterds on $38.1m in 2009, although the latter remains Tarantino's best debut in real terms on $45.2m.
Leonardo DiCaprio stars in Once Upon A Time… In Hollywood as an angst-ridden TV star, and Brad Pitt as his unflappable stuntman and de facto personal assistant who coaches his friend through existential crisis. Margot Robbie – in a largely separate storyline – plays Sharon Tate, the rising film star and pregnant wife of Roman Polanski who was slain by Charles Manson's followers. The bromance grossed $800,000 from 50 35mm prints, and $400,000 from five 70mm prints.
Disney's The Lion King dropped 60%, and its $224.1m global weekend played a huge hand in another memorable weekend for the studio, which overtook its 2016 mark to establish a record $7.67bn in global ticket sales with five months of the year to go.
Jon Favreau's adaptation stands at $968.6m worldwide and will cross $1bn by next weekend if not before. Last week, Disney's Aladdin reached the milestone, and currently ranks seventh on $346.2m after 10 weekends. Pixar's Toy Story 4 sits in fourth place and will soon cross $400m. It has amassed $396.2m after six.
Speaking of the $1bn club, Sony's Spider-Man: Far From Home became the first entry in the Spider-Man franchise to pull off the feat last week, and currently ranks third following a 41.3% drop in its fourth session, adding $12.5m for $344.7m. It now ranks as the third-highest franchise instalment in North America (unadjusted for inflation) after overtaking Spider-Man 3's $336.5m in 2007, and the $334.2m set by Spider-Man: Homecoming, Tom Holland's first outing in the role, in 2017. The top two are Spider-Man 2 on $373.6m and Spider-Man on $403.7m, unadjusted for inflation.
A24's horror Midsommar from director Ari Aster starring Florence Pugh, Jack Reynor and Will Poulter has grossed $24.3m after four weekends and ranks 13th. Documentary Pavarotti has grossed $4.2m after eight through CBS FIlms and ranks 23rd.