Rogue One: A Star Wars Story opens day-and-date in most major markets this week when insiders say it could gross between $130m and $150m internationally by Sunday.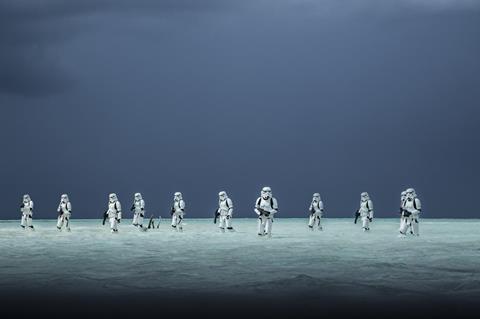 Sources said the range was a rough estimate and stressed that exchange rates and local competitors made the number hard to predict.
It is understood executives are looking at a North American launch including December 15 previews in the $120m-$150m range, putting the worldwide haul in the $250m-$300m range. Disney executives declined to offer a number for this article.
Rogue One: A Star Wars Story opens in its first international markets on Wednesday December 14, when it touches down in France, Sweden, Denmark, Netherlands, Indonesia, Norway, Switzerland, Belgium, Finland and Turkey.
Thursday brings debuts in the UK, Germany, Australia, New Zealand, Brazil, Russia, Mexico, Italy, Hong Kong, Poland, Malaysia, Argentina, Philippines, Singapore and Taiwan.
The stand-alone sci-fi starring Felicity Jones, Forest Whitaker, Donnie Yen, Mads Mikkelsen and Diego Luna opens on Friday in Japan, Spain and Venezuela. South Korea follows on December 28 and China on January 6.
The North American debut is set for December 16 in more than 4,100 theatres including 400 Imax screens and more than 500 premium large format screens and more than 3,500 3D sites.
In recent weeks executives have emphasised they do not expect Rogue One to open on a par with Star Wars: The Force Awakens, echoing comments by Disney chief Bob Iger earlier in the year. At that time reports of reshoots were beginning to surface, however early word from the world premiere and first press screenings is extremely positive.

Star Wars: The Force Awakens launched last year in North America on $247.9m, which ranks comfortably as the largest December debut on record.
Similarly studio brass have been downplaying expectations of the international opening. Star Wars: The Force Awakens scored the highest December international launch last year on $281m. The next best is Avatar on $164.5m, followed by Hobbit instalments on $138m and $135.5m, respectively.
Star Wars: The Force Awakens went on to gross $1.13bn internationally. It ranks as the third biggest global release of all time on $2.068bn and the biggest North American hit on $936.7m.