JUNE 1 UPDATE: Dwayne 'The Rock' Johnson jolted the North American box office as the Warner Bros disaster film delivered a thunderous start for the tentpole's prospects and the star's biggest solo opening weekend outside the Fast & Furious franchise.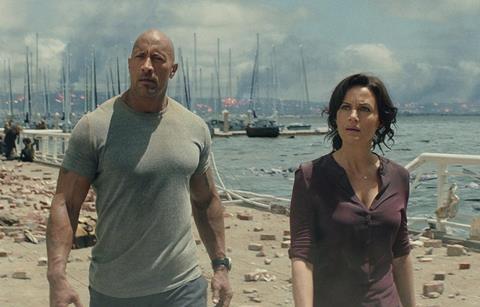 The confirmed $54.6m launch means San Andreas will make hay while the sun shines and has just under two weeks to generate the bulk of its revenue before the July 12 release of Universal's Jurassic World is likely to bite a chunk out of its audience.
Columbia Pictures released Cameron Crowe's latest film Aloha in sixth place on $9.7m, a highly disappointing result considering the potential counter-programming package of a rom-com starring Bradley Cooper, Emma Stone and Rachel McAdams.
Overall box office for the top 12 slid 11.1% against last weekend's disappointing Memorial Day Weekend, reflecting a thinner overall performance across the top five. The weekend tailed by approximately 18% the comparable session in 2014 when Maleficent opened top on $69.4m.
Last weekend's champion Tomorrowland slipped 56.7% and two places to number three on $14.3m for $63.9m and has a long way to go towards recoupment give the price-tag, believed to be around $190m.
International continues to roll out and as usual will play a big role in helping the studio – in this case Disney – claw back its investment.
The story of Avengers: Age Of Ultron has been the complete opposite for Marvel Studios/Disney and the tentpole held firm at number five in its fifth week and stands at $427.1m.
Pitch Perfect 2 continued Universal's annus mirabilis and ranks second with a $147.5m running total after three weekends, while Warner Bros' Mad Max: Fury Road at number four has amassed $116.5m after the same amount of time.
Fox Searchlight expanded Far From The Madding Crowd by 37 theatres to 902 in its fifth session as the Carey Mullligan and Matthias Schoenaerts drama slipped one place to number eight on $1.5m for $8.4m.
Sci-fi drama Ex Machina has grossed $23.6m via A24 after eight weekends. Lakeshore's Age Of Adaline has grossed a solid $41.5m through Lionsgate after six sessions.
This week sees wide releases for the Melissa McCarthy spoof Spy via Fox; Warner Bros' big-screen treatment of the HBO hit Entourage starring the regular cast led by Adrien Grenier, Kevin Dillon and Jeremy Piven; and horror Insidious 3 starring Dermot Mulroney through Focus Features.
Confirmed top 10 North America May 29-31 2015
Film (Dist) / Conf wkd gross / Conf total to date

1 (-) San Andreas (Warner Bros) Warner Bros Pictures International $54.6m –
2 (2) Pitch Perfect 2 (Universal) Universal Pictures International $14.8m $147.5m
3 (1) Tomorrowland (Buena Vista) Walt Disney Studios Motion Pictures International $14.3m $63.7m
4 (3) Mad Max Fury Road (Warner Bros) Warner Bros Pictures International $14.2m $116.5m
5 (5) Avengers: Age Of Ultron (Buena Vista-Marvel Studios) Walt Disney Studios Motion Pictures International $11.4m $427.6m
6 (-) Aloha (Columbia Pictures) Fox International $9.7m –
7 (4) Poltergeist (Fox) Fox International $8.1m $38.5m
8 (7) Far From The Madding Crowd (Fox Searchlight) Pathé $1.5m $8.4m
9 (6) Hot Pursuit (Warner Bros) Warner Bros Pictures International $1.4m $32.4m
10 (10) Home (Fox-DreamWorks Animation) Fox International $1.3m $170.5m