JUNE 8 UPDATE: San Andreas stayed atop the international charts thanks to a confirmed $97.7m haul from approximately 24,015 screens in 68 markets.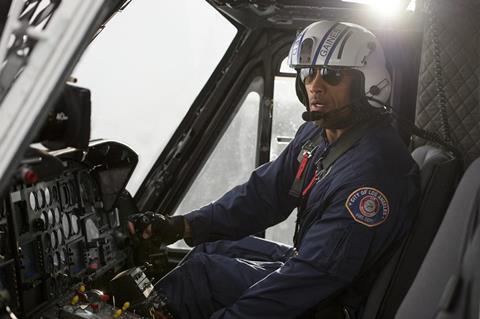 WARNER BROS PICTURES INTERNATIONAL
UPDATED: The disaster film's second session propelled the running total to $188.5m and there were fireworks in China again as the territory delivered $51m from 9,295 screens over the first six days.
San Andreas opened in South Korea and audience levels did not appear to be drastically diminshed by the MERS virus as they generated $7.3m from 851 screens including previews to see the film open top.
Hong Kong produced $2.3m from 85 sites including previews.
The film ranks number one in all its Latin American markets and in the second weekend Mexico generated $6.7m from 2,655 for $21.3m, while Brazil produced $3m from 782 for $7.5m.
The film ranks second in the UK on $2.7m from 579 for $12.9m and third in Russia on $2m from 2,011 for $9.2m. It has amassed $3.8m in Germany, where it ranks second.
San Andreas held on to number one in France and Argentina on $1.5m from 496 for $5.3m and $1.9m from 255 for $4.3m, respectively, while Australia returned a number two result on $1.6m from 367 for $4.8m.
Colombia, Chile and Peru all delivered number one results on $1.4m for $3.8m, $1.2m for $3.2m and $1m for $3.2m, respectively.
Entourage opened in six markets this weekend, grossing $3.1m from 454 screens led by Australia on $2.6m for number one.
Mad Max: Fury Road added $11.1m from 70 markets for $184.1m internationally and $314.8m worldwide.
FOX INTERNATIONAL
UPDATED: Spy opened top in North America and produced $25.4m from 7,937 screens in 65 markets to push the early running total to $56.4m.
The Melissa McCarthy action comedy arrived at number one in the UK on $3.9m from 530 and top in Russia on $3.2m from 1,616.
The star and her director Paul Feig scored record debuts in Mexico on $1.7m from 944, while $1.3m from 599 was good enough for number one in Germany.
South Korean audiences produced $2.2m from 474 for $14.6m after three sessions.
Poltergeist added $2.9m from 42 for $24.3m and DreamWorks Animation's Home crossed $200m as $2.2m from 45 boosted the tally to $202.9m.
Cameron Crowe's Aloha opened in its first markets of Australia on $1.4m from 243 New Zealand on $114,000 from 70.
SONY PICTURES RELEASING INTERNATIONAL
Insidious: Chapter 3 opened in 42 Sony markets to the tune of $14.3m, scoring approximately 31% ahead of the second film in the same markets.
Russia led the way on $2.7 from 892 for number two and scored the second biggest horror debut ever in Malaysia on $1.6m from 220 for top spot.
The Philippines delivered the biggest horror launch of all time on $1.5 from 219 screens and there was a strong wave of Latin American debuts, among them Peru on $445,000 from 132, $340,000 in Colombia and $310,000 in Ecuador.
WALT DISNEY STUDIOS MOTION PICTURES INTERNATIONAL
Avengers: The Age Of Ultron has overtaken Harry Potter And The Deathly Hallows: Part 2 to become the fifth highest earner worldwide on $1.348bn.
The four films above Ultron in the pantheon are Avatar on $2.8bn, Titanic on $2.2bn, The Avengers on $1.519bn and Fast & Furious 7 on $1.51bn.
In its seventh session the Marvel Studios release added $7m from 91 territories to reach $910.2m.
China remains the runaway lead market on $233.6m, followed by South Korea on $82.2m, the UK on $72.8m, Mexico on $50.4m, Brazil $47.7m, Russia $33.4m and France $33.3m.
Tomorrowland added $13.8m from 77 territories for $93.5m and debuted top in Japan on $2.1m.
The adventure has grossed $17.8m in China, $7.4m in both the UK and Russia, $5.1m in Mexico, $4.9m in France, $3m in Italy, $2.7m in Germany and $2.4m in Spain.
UNIVERSAL PICTURES INTERNATIONAL
UPDATED: Pitch Perfect 2 reached $250m at the worldwide box office on Sunday.
The sequel brought in $4.4m from 47 territories as the international running total climbed to $89m and combined with $161m from North America for an even $250m global haul.
A further $1.2m in the UK boosted the tally to $25.2m after four sessions, while Australia and Germany have generated $20.9m after five and $10m after four, respectively.
There are 12 territories to go including Chile on June 25.
Fast & Furious 7 has soared to $1.159bn internationally and $1.51bn worldwide to rank as the fourth biggest film of all time at the global box office.
Jurassic World opens in 66 territories this week day-and-date with North America, starting in China, France and Belgium among others on June 10.
LIONSGATE INTERNATIONAL
The Hunger Games: Mockingjay — Part 1 opened in its final market of Japan at the weekend, grossing $504,000 from 165 screens.
Part 2 is set to arrive on November 20. The YA adaptation stands at $417.1m internationally and $754.2m worldwide. The UK finished as the lead market on $48.7m, followed by Germany and China on $40.8m and $36.5m.