The Jackie Chan action comedy ruled the waves at the weekend, plundering $62.3m in China as it ventured into six other markets via Bloom Media.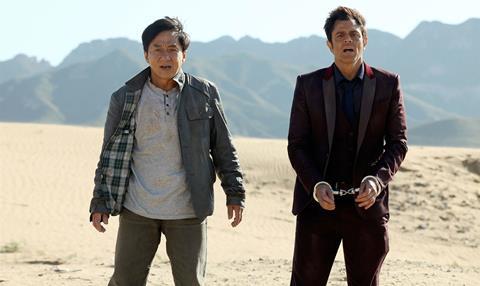 BLOOM MEDIA
UPDATED: Bloom handles international sales on Skiptrace, which delivered a career-best opening for Chan.
Shanghai New Culture Media Group, Talent International and Dasym Media co-financed the film and Saban Films will release in the US.
It also opened in Malaysia at number two on $745,488, Singapore at number two on $497,488, Indonesia at number three on $316,152, and Vietnam on $195,134.
Two Eastern European debuts delivered $29,474 in Romania for fourth place and $10,320 in Bulgaria for fifth place. Johnny Knoxville and Fan Bingbing also star and Renny Harlin directed.
WARNER BROS PICTURES INTERNATIONAL
UPDATED: In contrast to its indifferent performance in North America, Warner Bros/Village Roadshow's The Legend Of Tarzan is enjoying a solid run internationally, where it added a confirmed $45.4m from 61 markets to reach $146.3m.
The film debuted strongly in China on $27.3m from the first six days on 9,600 screens to rank second behind Skiptrace, Brazil at number one on $3.4m, and Spain at number one on $1.8m.
New Line horror film Lights Out plundered $8.5m from 32, opening in Russia on $1.7m and Australia on $846,000.
Romance Me Before You added $4.1m from 49 markets for $126.9m and stands at $16.6m in Brazil, $14.5m in Germany and $13.6m in the UK.
The Conjuring 2 used a $3.6m haul from 54 to surge to $208.7m. Mexico remains the lead market on $20.3m followed by the UK on $15.2m.
FOX INTERNATIONAL
UPDATED: Ice Age: Collision Course added $29.1m from 63 markets to reach $177.7m and soothe executives' pain over the dismal North American debut. That said, top brass revealed the franchise has crossed $3bn worldwide to rank as the biggest animation series of all time.
France led the way on a $4m second weekend hold for $12.6m, while Russia added $2.8m for $11.1m. Mexico has generated $21.4m, Germany $16.4m, Brazil $16.3m and Argentina $12.2m.
Independence Day: Resurgence added $11.6m from 67 and stands at $259.7m. The sci-fi opened in France on $4.5m and has amassed $20.1m in Japan.
Absolutely Fabulous: The Movie has taken $20.3m, of which $19.8m comes from the UK. Mike And Dave Need Wedding Dates stands at $9m and has grossed $4.5m in Australia.
PARAMOUNT PICTURES INTERNATIONAL
UPDATED: Star Trek Beyond, the number one film in North America this weekend, grossed $30m from its first 37 markets, ranking number one in 16.
The UK led the way on $6.1m in second place, while Germany delivered a $4.5m number one debut.
The sci-fi adventure grossed $3.2m from 184 Imax screens.
Teenage Mutant Ninja Turtles: Out Of The Shadows added $1.4m from 20 markets for $154.1m, with China on $59.1m.
WALT DISNEY STUDIOS MOTION PICTURES INTERNATIONAL
In the sixth weekend Pixar's Finding Dory added $19.5m from 45 territories to reach $321.5m. The global tally stands at $781.7m.
China has generated $38.4m, Australia $35m, Brazil $28.7m, Japan $19.9m, Mexico $19.1m, France $18.6m, Spain $17.2m, Argentina $16m, South Korea $14.3m and Russia $9.1m. Opens in the UK this week.
LIONSGATE INTERNATIONAL
Lionsgate-Summit's Now You See Me 2 grossed $11.3m from 80 Lionsgate International markets as the mystery surged to $221.5m.
The film opened in Mexico in second place on $3.6m and also arrived at number two in Spain, where it grossed $1.2m.
South Korea has produced $19.7m after two sessions to rank as the second biggest market for the film behind China on $97.1m.
UNIVERSAL PICTURES INTERNATIONAL
UPDATED: The Purge: Election Year added $3.7m from 29 territories for an early total of $128m. The horror film opened in France on $1.7m. Spain has delivered $2m and Argentina $1.8m.
Illumination Entertainment and Universal Pictures' The Secret Life Of Pets grossed $10.1m from 14 territories for an early total of $63.3m.
The animation scored a record-breaking $3.8m number one launch in Argentina that marked the biggest opening of all time for an animated film and the second biggest opening weekend for any film behind Fast & Furious 7.
Chile delivered $1.7m from 60 sites for the second biggest opening weekend for an animated film after Minions and the fifth biggest opening weekend of all time. Colombia delivered a number one $1.5m debut.
Legendary and Universal Pictures' Warcraft stands at $164.9m through Universal markets.
Central Intelligence added $4.8m from 50 for $74m.
MISTER SMITH ENTERTAINMENT
The BFG took $11.2m for $18.1m from Mister Smith markets and opened top in the UK via eOne on $6.6m.
SONY PICTURES RELEASING INTERNATIONAL
UPDATED: Ghostbusters produced $10.7m for an early $36.2m and added $1.7m in the UK for $9.5m after two sessions.
The Shallows grossed $1.8m from 17 markets to reach $11.9m.