Spurred on by Academy Awards glory, New Regency, River Road and Plan B's acclaimed drama by Steve McQueen has surged past $100m through Lionsgate International licensees.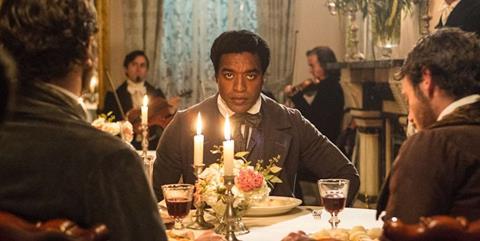 Lionsgate International top brass reported on Sunday morning (9) that the Academy Award best picture winner expanded wide in select markets to gross $9.3m and boost the running total to $104.6m.
Italy led the way on $1.2m through Bim for $4.9m, while Mexico generated $1.1m through for Cine Video for $3.5m. An additional $609,260 in the UK through eOne propelled the score to $31.7m through eOne. The film opened in Japan through Gaga at number six on $508,806 from 43 and will expand to an additional 33 screens on March 14.
12 Years A Slave added $792,883 in South Korea through Pancinema Corp for $2.1m, $514,553 in the Netherlands through Belga for $2.1m, $533,924 in France through Mars for $13.7m, $543,362 in Australia through Icon for $5.3m and $460,190 in Germany through Tobis for $5.7m.
The film, starring Chiwetel Ejiofor, best supporting actress Oscar winner Lupita Nyong'o and Michael Fassbender, earned $422,000 in Scandinavia for $5.8m, $407,733 in Spain through Planeta Group for $7.4m and $170,794 in Belgium through Belga for $2.1m.
John Ridley also won an Academy Award on the night for best adapted screenplay.
Fox Searchlight released 12 Years A Slave in the US where it currently ranks ninth and has amassed $54.1m and counting.