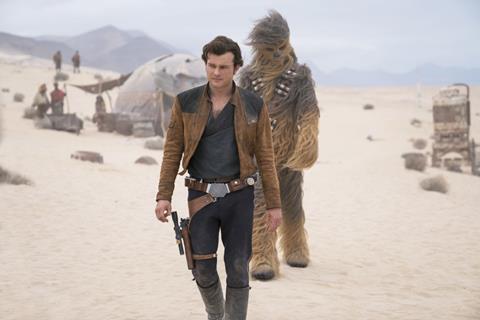 MAY 28 UPDATE: The latest release from Disney's intimidating content stable has delivered a disappointing launch as Solo: A Star Wars Story took off with a confirmed $63.1m internationally that fell well below projections.
WALT DISNEY STUDIOS MOTION PICTURES INTERNATIONAL
By Tuesday after the long memorial Day weekend in the US, Disney executives reported the tally had risen to $69.7m internationally and $172.7m worldwide.
The one positive note for Disney is the latest tentpole release pushed the studio past $4bn at the global box office for the year-to-date. The $4.12bn haul comprises $2.4872bn internationally and $1.638bn in North America.
Lucasfilm's spin-off saga starring Alden Ehrenreich, Donald Glover, Thandie Newton, Emilia Clarke, Woody Harrelson, Paul Bettany and Phoebe Waller-Bridge earned $9.8m in China, $8.1m in the UK, $5m in Australia, $4.3m in Germany, and $4m in France.
It grossed $2.9m in Russia, $2.5m in both Spain and Mexico, $2.2m in Italy, $1.3m in both Brazil and Sweden, and $1.1m in South Korea.
Ron Howard took over directing duties after Lucasfilm fired Phil Lord and Christopher Miller and following the world premiere in Hollywood on May 11 and the international premiere in Cannes on May 15, reviews were by and large lukewarm.
Rogue One: A Star Wars Story – the first Star Wars spin-off – is the best comp and earned $1.06bn worldwide, of which $523m came from international and the $532.2m balance from North America.
Like Solo, that film also had a troubled production history yet critics were impressed with the end result and so were audiences. It opened top in China on $30.7m in January 2017, way ahead of Solo's weekend launch.
Meanwhile Avengers: Infinity War added $32.5m for a $1.283bn international running total, and climbed by $49m to $1.904.7bn worldwide. It ranks as the fourth highest global release in history and the highest grossing superhero release.
The superhero saga has become the third highest Western release in China on $336.8m, and stands at $91.5m in South Korea, $90.3m in the UK, $62.8m in Brazil, $58.8m in Mexico, $44.6m in Australia, $44m in France, and $43.3m in India.
FOX INTERNATIONAL
UPDATED: Deadpool 2 maintained its early momentum as the second international session generated $56.3m to propel the early running total to $279.1m.
The UK led holdovers on $5.2m for $28.5m, while Australia generated $4.5m for $18.6m, South Korea $4.3m for $26.9m (it has already exceeded the lifetime total of Deadpool), France $3.6m for $14.5m, and Mexico $3.6m for $15.9m.
Germany produced $3.2m for $14.2m, Russia $3.2m for $17.8m, Brazil $2.3m for $11.3m, Indonesia $1.4m for $7m, Spain $1.5m for $7.3m, Taiwan $1.4m for $7.9m, and Italy $1.3m for $6.9m. India has delivered approximately $9.5m, Philippines $4.3m, Argentina $3.5m, and Hong Kong $5.8m.
PARAMOUNT PICTURES INTERNATIONAL
John Krasinski's acclaimed horror-family drama A Quiet Place added $4.7m from 36 markets as the running total surged to $131.7m. The film is impressing audiences in China, where $4.1m powered it to $27.9m after two sessions. The final two markets are France on June 20 and Japan on September 28.
Sherlock Gnomes grossed $1.7m from 17 to reach $34.3m. The family film's third weekend in the UK generated $976,000 for $5.9m, and a third weekend session in Spain delivered $370,000 for $1.9m.
UNIVERSAL PICTURES INTERNATIONAL
UPDATED: Supernatural thriller Truth Or Dare used a $3.2m session to reach $41.9m and $82.4m worldwide. It opened in South Korea on $1.5m including previews and added $400,000 in its third weekend in Spain for $2.7m. Germany has generated $3.3m after three, and France $4.3m after four.
Comedy Blockers grossed $1.6m for $29.8m and $89.2m worldwide and opened in Russia on $763,000, Mexico on $451,000, and Hong Kong on $275,000. Breaking In stands at an early $2.1m, while The Phantom Thread has grossed $25.3m and $46.4m worldwide.
WARNER BROS PICTURES INTERNATIONAL
UPDATED: Rampage starring Dwayne Johnson added $2m from 58 territories to reach $319.4m, and $413.6m worldwide. The action spectacle grossed $638,000 in its second session in Japan and climbed to $3.3m.
China remains the lead territory on $156.7m, followed by Mexico on $12.8m, the UK on $12.5m, South Korea on $11.2m, Malaysia on $7.9m, and Australia on $6.6m.
Melissa McCarthy comedy Life Of The Party stands at $7.6m with Australia and the UK on $3.2m and $1.9m, respectively. Steven Spielberg's sci-fi adaptation Ready Player One has reached $443.3m internationally and $579m worldwide. Game Night stands at $48m.
SONY PICTURES RELEASING INTERNATIONAL
UPDATED: Peter Rabbit added $2.7m for $226.5m and earned $1.4m in its second weekend in Japan, where the family hit stands at $4.9m.