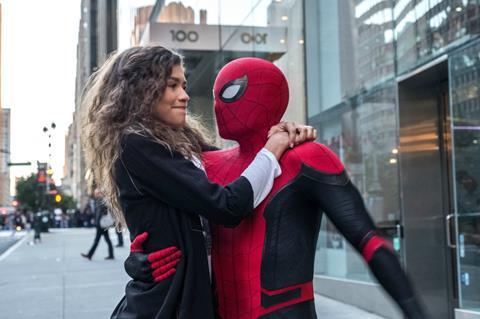 JULY 8 UPDATE: Sony Pictures' Spider-Man: Far From Home returned the spark to North American box office with a confirmed $185.1m that set a six-day Fourth of July holiday opening record.
The result contributed to a mighty $580m global running total in the film's first ten days and added to the sense of holiday weekend joy as the women's US football team beat the Netherlands 2-0 in the women's World Cup in France. Far From Home starring Tom Holland, Samuel L. Jackson, Zendaya, and Jake Gyllenhaal also set a new six-day opening record for Sony Pictures, and delivered the best six-day opening in the Spider-Man franchise.
It grossed an estimated $27.1m on Sunday after Saturday's $34m haul, and $93.6m from Friday-Sunday. This followed the $39.25m record Tuesday opening day, and a $27m Wednesday that ranks as the highest by any film in the Marvel Cinematic Universe.
Far From Home played in 4,634 locations over the opening weekend, which is the highest July location count of all-time, the widest summer release, and the second widest release of all-time.
The tentpole delivered the highest North American debut for a standalone Spider-Man film and Sony's best debut on IMAX, earning $15m on 414 screens.
Midsommar, Ari Aster's horror follow-up to Hereditary, opened via A24 in sixth place below forecasts on $6.4m over Friday-Sunday, and $10.9m since the Wednesday launch.
Disney-Pixar's Toy Story 4 ranked second on $34.9m after a 43.3% drop in its third session to reach $306.1m, while Danny Boyle's Yesterday ranked third through Universal after dropping 40.9% and adding $10.1m for $36.2m in its second session.
CBS Films' documentary Pavarotti from White Horse Pictures, Imagine Entertainment, Studiocanal and Polygram Entertainment became Ron Howard's highest grossing documentary after $458,110 elevated the tally to $2.9m after five sessions and overtook The Beatles: Eight Days A Week – The Touring Years.