Disney-LucasFilm could be about to rewrite the box office record books with a North American debut that insiders say could reach $220m.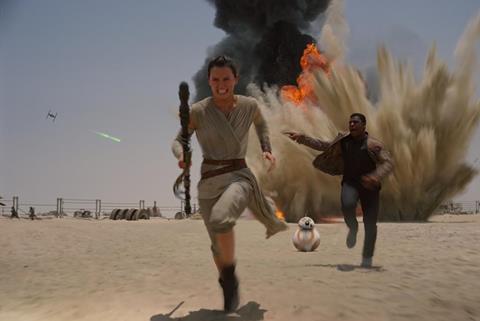 If JJ Abrams' Star Wars: The Force Awakens lives up to the hype and the predictions of industry observers, it could overturn the June heroics of Jurassic World and set a new North American opening weekend record for the second time in a single year.
Universal's global smash trounced the competition back in the summer when it achieved $208.8m at the North American box office and there is mounting speculation that The Force Awakens could top that figure.
The film is also looking good to beat the $43m Thursday night previews record of set by Harry Potter and the Deathly Hallows: Part 2 in 2011.
By Tuesday combined advance ticket sales had surpassed $100m, putting into the shade the previous mark of $25m set by The Dark Knight Rises in 2012, according to reports.
The film is the biggest seller in online ticketing service Fandango's history and MovieTickets.com has pre-sold more than double the level of tickets it registered for Avengers: Age Of Ultron, 20% more than Jurassic World and 33% more than the previous Star Wars instalment, Star Wars: Episode III – Revenge Of The Sith in 2005.
By Tuesday morning, advance tickets sold on MovieTickets.com accounted for 91% of all sales on the site over the past 24 hours. Monday sales were three times those of the entire site total from last Friday.
Disney executives, who staged a glitzy world premiere in Hollywood on Monday night, will also have their eyes on Jurassic World's record international opening weekend and global opening weekend of $316.7m and $525.5m, respectively.
The Force Awakens opens day-and-date around the world this week with the exception of China, which is expected to deliver a hefty result on January 9, 2016.