JULY 3 UPDATE: Jurassic World faces its sternest test yet as Terminator Genisys leaps to an early $28m heading into its first major weekend. Inside Out continues to build momentum and crosses $300m worldwide.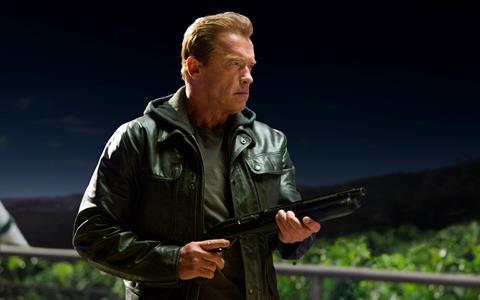 The Arnold Schwarzenegger sci-fi action from Paramount and Skydance Productions has vaulted from 10 to 38 territories and is now active in 10,326 theatres through Paramount Pictures International.
Terminator Genisys arrived at number one in Russia and South Korea on $2.5m from 1,081 sites and $1.8m from 1,085, respectively.
Star Jason Clarke's native Australia delivered $677,000 from 258 sites to rank number three, while Brazil generated $639,000 from 549 in second place and France $561,000 from 814, also in second.
The film opens this weekend in Emilia Clarke's native UK, as well as Mexico.
The North American running total by Friday morning had reached $15.5m from 3,758 venues including 363 Imax sites. Paramount projects a $41m five-day total over Independence Day weekend.
After three weekends atop the global box office the exploits of Jurassic World are well documented: Universal Pictures International's smash stands at more than $750m internationally and $1.25bn worldwide.
The law of the jungle dictates that only the fittest survive and while there is plenty of life left in Jurassic World, it will have to fight tooth and nail to overcome Terminator Genisys.
Meanwhile it would be foolish to underestimate the might of Inside Out, which was poised to leap from its $97.9m perch to cross $100m on Thursday or Friday via Walt Disney Studios Motion Pictures International.
There are no new releases scheduled for the widely admired Pixar release and a typical staggered roll-out is the order of the day. The global haul already stands at a little over $305m.
Marvel Studios' Avengers: Age Of Ultron has reached $919.4m and Cinderella $340.2m.
Enlight Pictures, Sun Seven Stars and Perfect Storm's Mandarin-language action comedy Hollywood Adventures is expected to post another solid weekend after climbing to $26m in China. IM Global handles international sales outside southeast Asia.
There should be more foreworks too from the Chinese action-thriller SPL2 starring Tony Jaa on $72m.
Warner Bros Pictures International pulls back the curtain on Magic Mike XXL starring Channing Tatum in 15 markets day-and-date with North America this weekend including UK and Russia.
San Andreas has generated $303.6m, Mad Max: Fury Road $211.3m and Entourage $12.8m.
In its second session, Universal and MRC's Ted 2 opens in five smaller markets via Universal Pictures International and reached $20m by the close of last weekend.
Minions stood at $53.4m by the start of the week and arrives in roughly 16 territories including Germany, Spain, Argentina, Sweden and India.
Insidious: Chapter 3 has grossed more than $36.9m via Sony Pictures Releasing International and arrives in Germany, while Spanish rom-com Ahora O Nunca (Now Or Never) has reached $4m in Spain.
Sony's local language Chinese co-production Monk Comes Down The Mountain (The Monk) from Chen Keige debuts in Australia and Taiwan. New Classics Media distributes in China and Sony handles the rest of the world. Annie arrives in Italy.
Spy has produced $108.1m via Fox International and Poltergeist $40.1m as it enters Italy. Guddu Rangeela opens in India.