DEC 21 UPDATE: Disney executives confirmed on Monday the space opera had set a new $528.9m global opening record and amassed $281m from its first five international days for the third highest launch in history.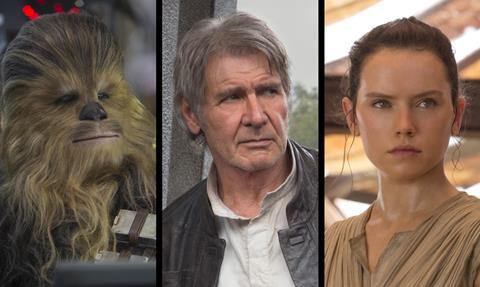 WALT DISNEY STUDIOS MOTION PICTURES INTERNATIONAL
UPDATED: An opening salvo on more than 30,000 international screens saw Star Wars: The Force Awakens set number one debuts nearly everywhere and included a record four-day industry debut in the UK of $50.6m.
The tentpole established new industry three-day marks in Germany on $27.5m, Australia on $19.6m and Russia on $12.3m.
The $529m global haul overtook the previous mark of $524.9m set in June by Jurassic World and included a record $247.9m North American opening weekend and overtook Avatar's $164.5m in 2009 to set the biggest December international debut.
The latest Star Wars episode fell shy of Jurassic World's $316.1m international record established in June, which included approximately $97m from China. It is primed for release there on January 9, 2016.
The space opera took $22.5m in France for the second biggest industry opening weekend of all time and $13.4m in Japan for the biggest debut of 2015.
The $11.4m launch in Mexico was the biggest ever in December, while $9.3m generated the third biggest opening weekend of all time in Spain, $9.4m in Italy scored the biggest December launch, $8.3m in Brazil delivered a record December launch and the industry's third highest and $6.7m in Sweden produced a new industry opening record.
The film took $8m in South Korea, one of only two markets where The Force Awakens did not open at number one although it was the biggest Western release in both.
The space opera scored industry record debuts in Norway, Finland, Austria and New Zealand and set number two all-time marks in Belgium, Chile and Israel.
This weekend produced the biggest three-day launch in Poland, the biggest five-day debut in Denmark and further December records in Argentina, Hong Kong, Singapore, Malaysia, the Netherlands, Switzerland and Portugal.
A muscular $48m global Imax mark added further lustre to the weekend, surpassing the $44m set by Jurassic World that included China. Imax claimed record weekends in the UK, France, Germany, Italy, Japan, Russia and Australia.
There was another Disney film in release. The Good Dinosaur added $9.2m from 48 territories for $93.1m. The Pixar film has amassed $12m in the UK and $10.5m in Mexico.
ASIA UPDATE
Mojin - The Lost Legend swept to a spectacular $85m weekend while Surprise - Journey To The West added $24m that elevated the running total to $34m.
LIONSGATE INTERNATIONAL
UPDATED: The Hunger Games: Mockingjay - Part 2 added $8.6m from 91 markets for $341.6m. Point Break, which opens in North America this week, added $1.6m from eight Asian markets including China to reach $43.2m.
FOX INTERNATIONAL
UPDATED: Bridge Of Spies grossed $4.6m from 49 markets for $60.4m, while The Martian has reached $369.9m and is slowing down. The Peanuts Movie stands at an early $18.9m and Victor Frankenstein has reached $27.3m.
WARNER BROS PICTURES INTERNATIONAL
UPDATED: In The Heart Of The Sea added $3.7m from 52 territories for $49.4m and stands at $5.8m in South Korea and $4.9m in Mexico. It opens in the UK this week. Creed stands at $8.9m.
UNIVERSAL PICTURES INTERNATIONAL
Spanish smash Ocho Apellidos Catalanes (Spanish Affairs 2) has amassed $30.6m after 31 days in Spain and consolidates it position as the biggest film of the year in the market. French comedy Babysitting 2 stands at $10.8m in France. Italian Christmas comedy Natale Col Boss opened on $1.4m in Italy.
Sisters opened in the UK on $1.8m including previews and rolls out everywhere in the coming months. Legendary and Universal's Krampus added $1.8M from 42 territories for $12.8m.
SONY PICTURES RELEASING INTERNATIONAL
UPDATED: Spectre earned $6.4m from 92 total markets including those licensed by MGM and stands at $642.9m. The UK running total is $142.9m and China has generated $84.7m.
Hotel Transylvania 2 added $1.9m from 65 markets for $281.6m, while local-language Sony production local-language Sony production Hilfe, Ich Hab Meine Lehrerin Geschrumpft opened in Germany and Austria this weekend on $1m.